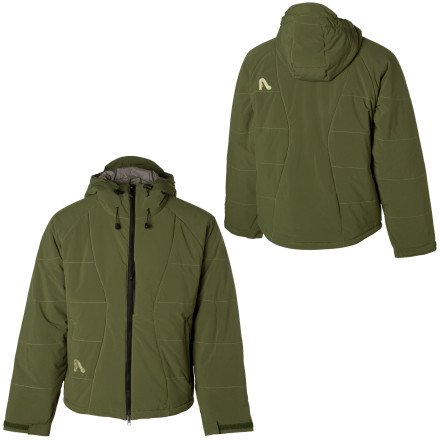 Detail Images
The jacket is soft and warm (good amount of insulation). The five pockets are usable and well placed. The sizing is on the oversize size so stepping down one size will work fine. The small I got fits like a big medium. The build quality is not on par with companies like Cloudveil, Mountain Hardwear or Outdoor Research. I got it on sale for less than $100 so it was good value. At regular price I would have gone with another brand. I did not give it five stars strictly for lower build quality and workmanship and not a regular powder skirt.
been skiing in the puff coat all season. Looks even better in person. Its the best jacket I've ever owned. I never get cold in it. Hood is nice and big so it fits over a helmet and cinches down if you need it to. Outside material hold up well in wet conditions and has yet to rip or tear on a tree branch. Its lightweight and just feels money when you have it on. Hand pockets are fleece lined. Sizing wise, it runs baggy, but not long. I'm 5'9'' 150lbs and I have a medium which fits perfect. I've gotten a ton of compliments from people who want to get one. Dude, its sick. Nuff said.
I'm a skinny tall guy, 6 foot and 140...
I'm a skinny tall guy, 6 foot and 140 pounds. Would the small size fit for me?
depends on what you use it for, a small will probably fit you but might be too short for skiing
this jacket is insanely good looking, and knows how to regulate climate right. I skied solitude and had an hour hike out out of the slack country, my buddies were dying but i couldn't have been happier. it actually has 5 pockets too, and its soo light. the material isn't super thick/strong, so if your gonna be in the trees a lot beware..i ripped the arm on a tree branch, but thanks to backcountry's awesome satisfaction policy, I'm getting a new one!
What is 10k waterproofing? If it snows or...
What is 10k waterproofing? If it snows or rains will I be wet?
No. That's very good waterproofing.
It makes me feel warm and cozy all over
light weight and very warm. Hood actually fits over helmet for those cold days when it blasting on top of little cloud lift.
-33 to -50 with wind chill is what one of the patrollers said and I did not doubt a word of it. This jacket kept me warm enough to ski in those temps for over 4 hours. The hood, however, was what really made the day. I've had frostbite on my face before and was not ready to experience it again. I skied with the hood up all day without a single hitch. I've tried that before with other jackets but they either weren't big enough, did not move right or fit funky. I didn't even realize I was skiing with the hood up after awhile. I even got a little hot but a quick up and down with the pit zips cured that. I'll never understand why companies don't put pit zips in puff jackets, they are usually just to warm to ski in... period! If you ski in really cold places buy this jacket.
Mike from Saratoga Springs
I bought the FL Puff in the Summer and recently wore this jacket through some Big Winter Storms (9 days) and some Deep Pow Pow here in the early going of the NorthEast. At first I did not think this jacket was warm enough, boy was i wrong..very deceiving. Actually there might be times that I'm too Hot. I use this jacket for Alpine skiing, but I spend a majority of my time in the woods floating on the freshies... I can honestly say i have zero complaint with this jacket, very stylish (It seems to be a play on a Patagonia style I've recently seen someone wearing). Tremendous value for the price. Get one and rip it up,,,no matter how you bring it!!
Just what I was looking for!
I was looking for a warm jacket -- and I found it. Yesterday morning it was 6 degrees below zero in Chicago (that's 21 below for you Celsius fans) with 30-40mph winds, and this jacket was great.

The fit is a bit slim (I wear an extra-large in European-cut cycling clothes, a large in most things, and a medium in Target's T-shirts, and this jacket in a large fits nicely). I think I remember another review commenting on the length of the sleeves -- and they are long (they extend to the middle of my hands). However, the sleeves are very comfortable cinched to my wrists with the velcro, and I'm actually looking forward to being able to pull my hands up into my sleeves when I'm on a ski lift.
I'm 6' 220lbs probably a perfect candidate...
I'm 6' 220lbs probably a perfect candidate for the Large but none left would I Farley out by being a fat guy in a little coat w/ the medium?
there's no mediums either bro. only small
i'm six foot 5 and 215 poundsi heared...
i'm six foot 5 and 215 poundsi heared another six footer say large is big enough, but there are only XL in stock. is that too big even for me?
Dude if you're 6'5" you better be looking at tall sizes or you're going to find everytime you reach for something the cuff of your sleeve will be up around your elbow. Also the XL won't be too big for you but look for a XLT
I'm 5'5" and 140lbs. should I go with an...
I'm 5'5" and 140lbs. should I go with an XS or a S? How much bigger is a S than an XS?(a little growing room would be nice)
, ☃bcs_badge_alumni_label☃
I am 170 lbs and 6' tall and I had to return the large because it was way too big. I ended up buying the medium and it fits fine.**just wanted to add from the BC team we just added a size chart for this item to clear up the confusion.
A guaranteed waterproof jacket with an amazing level of super warm Thermolite insulation. Used this probably half the time last season and I was never cold. In fact a lot of days I was a little too hot. The outer fabric is really durable and is actually surprisingly pleasing to the touch. It moves very well with the body probably thanks to it being designed for tele skiers (I rock it an I'm a boarder though). There are a couple gripes I have with it though. More like the subtle little features that truly make a jacket exceptional that were left out. First off, this thing doesn't have a powder skirt which is just silly. Secondly, the pitzips don't have a mesh lining to prevent snow from dumping in when you nose dive. Finally, and this is pretty minor but still another feature that I love in coats, no lycra cuffs. Otherwise it's an awesome jacket and you people should funnel some more cash in for this CO based small company. Maybe then we can get powder skirts!
im about 6 foot 190 lb what would a medium...
im about 6 foot 190 lb what would a medium or large be best
Probably the medium. I'm 6'3" 185 and the large is pretty damn big on me.
is the hood detachable or stowable?
is the hood detachable or stowable?