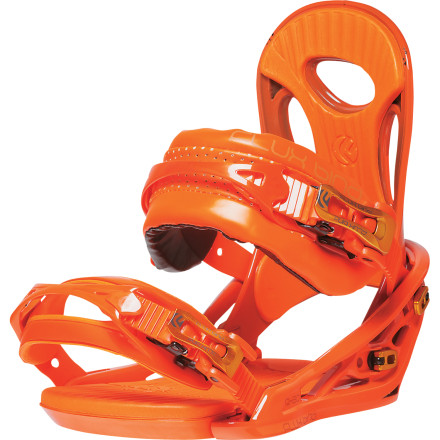 Detail Images
Developed for freestyle progression on all features in the park with an emphasis on rail destruction, the top-selling Flux RK30 Binding, uses a grip of technology to open up new combo-breakers and to help you to feel balanced and one with your board. Improved with a urethane composite highback, the RK30 now tweaks like never before while still being able to rebound and drive energy into carving.

All-new F-Tech Asym highback uses varied thickness with a thinner and softer outside edge for easier pressing and a thicker and firmer inside edge that meets your demands for response; an anatomical design and EVA padding keeps calves free from pressure
Urethane blend material in the highback makes it easier than ever to tweak, press and butter
Genetic baseplate was developed by testing the natural movement and form of the boot and uses a thinner inside section and a thicker outside section to balance the ride and create unprecedented board feel
Full-length dual-density EVA footbed uses an overhauled design that softens the blow from huge landings with less weight than before
F-Tech 3D Fit toe strap system is easy to adjust, rides robust, and weighs about as much as dust
F-Tech 3D Fit ankle strap conforms to your boot for a close fit and is cored out in the middle to save weight than reinforced with a TPU band
Tool-less adjustment is easy to dial in your forward lean on the fly
What do you think about this product?
Have questions about this product?
These bindings are awesome! Super flexible high back and super durable. Most bang for your buck for sure. They look fresh too.
Hi, I wear a (female) US 8.5 Burton Sapphire...
Hi, I wear a (female) US 8.5 Burton Sapphire boots (2010) and am after the RK30's- which size would be right for this?
Hey there! The size SM will fit up to a size 9.0 boot. You won't have any issue with a size SM and the Burton Sapphire boots!
I just found my bro's old skate banana and...
I just found my bro's old skate banana and want to make it into a dedicated jib deck, but I need some relatively cheap jib oriented bindings (160 and under at dogfunk's current sale prices). So far I'm thinking these, union contacts, or burton cobrasharks. What should I get? I'm open to other suggestions too.
I really don't think you'd be disappointed with any of those 3 options. I personally have ridden the contacts a bunch and they are perfect for a jib set up - comfy and soft. I have friends that ride the RK30s and cobrasharks and they seem to feel the same way about them. The unions are probably the softest option with the flux close behind and then the cobrasharks. Hope this helps!
Thanks. I've ruled out the burtons, but still not sure whether to go with the contacts or RK30s. I'm leaning contacts but kinda want to try something new with the fluxs (i already have union forces). Needless to say, I'm really indecisive haha.
ive tried both rk30 and contacts.. definitely the flux