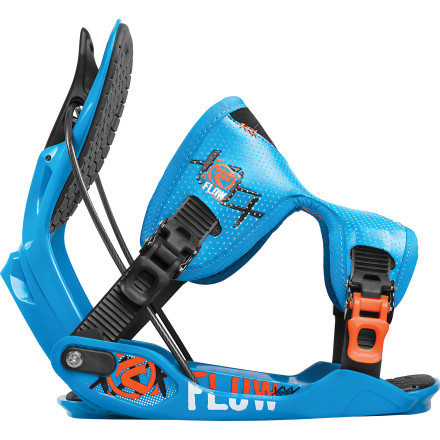 Park features, natural hits, or cushy cruising—the Flow Trilogy Snowboard Binding does it all with comfort and convenience. A molded nylon baseplate and highback deliver a softer-flexing feel ideal for both tweaked-out tricks and all-day comfort.
CI-Flex Powerstrap features large side cutouts for improved lateral mobility, and a 3D design for reliable toe/heel support
Airframe MINIRatchets help you dial in the perfect fit for your boots
EVA landing pads cushion impact from flat landings or choppy run-outs
What do you think about this product?
Have questions about this product?
Love flows with a passion! Biggest complaint with my trilogy bindings is that the ratchets on the power strap doesn't stay locked all the time. Spent the last week backcountry boarding in Alaska. Sadly almost every time I got to the top of the hill and pulled my board off my back, one or two ratchets were up. Readjusting in those temps is far from fun. So I hit up Wolf Creek and shred all day. They held true just cruising for hours. I never did any big jump, just carved around and popped off some humps. I still check on them quite often, but for calm cruising, they are excellent.
How well do these bindings collapse down...
How well do these bindings collapse down to fit in a travel bag?
hey there, not as well as a standard strap binding since the foot straps are one piece...
Actually they collapse even further than most bindings. If you remove the "powerstrap" from the binding, to put your board in a bag it will collapse almost flat, and you can just toss the "strap" in the bag separate. Takes only a second, I do it all the time.