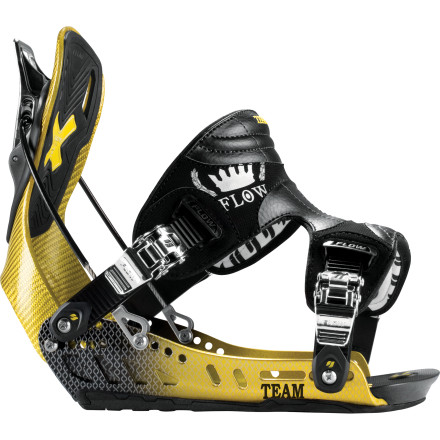 These bindings are seriously legit. They do everything Flow says they do. I just cant get over the convenience factor of sliding off a light popping my foot in and flipping the highback lock. I have to say they took a little getting used to on the first day, but after you get the technique, you are good to go! The gold carbon fiber looks really hot! unfortunately some of the paint chipped off on my when someone railed into me.
ISNT ANY OTHER LIKE THESE
These bindings are a must. I have them and i love them. Fit snug ride comfortably and i love the convenience of them they make transaction from the lift to the slopes quick and easy.
Are these the best cable system bindings...
Are these the best cable system bindings out there? Everyone who rides a lot says they work great, but do any other companies make a binding that stacks up against the Flows?
Best Answer
I would say these are the best because not only do you get the drop down highback but you get Flow's style of strap that is one piece and very very comfortable compared to other brands straps on the market.
the flow bindings get ice build up at the bottom hard to get on on the slop
SO are these bindings hard to get into on...
SO are these bindings hard to get into on the slopes?
Not at all. They just take some getting used to since it is a new process.
Best Answer
hey my friend kenneth again!...they are easy when standing up, better than any others...but can be very difficult when sitting down...so if you normaly like to or HAVE to strap up while sitting down then look elsewhere...did you ever choose ur board?
I love these bindings for what they are. They hold your feet in snug, they are really well built. The problem I had with them is that if you are at a park that requires strapping in on any kind of decline you are going to spend more time trying to get yourself strapped in to these than anyone with a standard binding. You just can't sit down on the ground and pull the highback up... I had to hike twice as far up the hill to get to flat land in order to put these on and this is a place I normally ride so these arent for me.
the best bindings period, buts spare parts can be a problem
I am a flow-Bro from 2000, I also ride c-60's on my vapor, which I really like but not as much as these. I actually have three pairs of these TEAM bindings 2002, 05, and 06, and 7 boards to swap them on.
These bindings are for the advanced rider only. DO NOT BUY IF YOU SUCK - if you have to sit down to get them in you will hate them and be unhappy. Now if your GOOD and ride all the time you will adore these beauties and never turn back. I get off the lift and don't ever stop I simply place my foot in place and reach back while in motion, there is no stopping or waiting ever. Thank god my friends with two straps like to boot up on the chair. yay.
In deep pow you actually have to reach down and scoop out the snow with your hand before kicking your foot in. Imagine that, it takes 1/2 a second to do, 1 second to boot in and go will still be your total time, unless you suck then you will wallow in it for a horrible amount of time and curse the day you bought these. I ride 70 days a year and just might be buying a 4th pair of these for my new prior spearhead because they keep making them better and lighter each year.
There is one bone I have with flow and it is a fairly serious one. PARTS< this is problem because the screws will break and the cable will break if you ride really hard fast and big like I do. You cant get parts at the retailers who sell these things unless your really really lucky, that sucks. Flow will tell you that they only keep parts for bindings two years back. so if you cable breaks 3 years later like mine did you have to beg the guy to search for older ones in the back so your $500 bindings do not instantly become paperwieghts. I've broken three cables total in the last 8-9 years btw. The two year limit to me is a terrible parts support policy considering their parts are not all something that you can mcgyver by going to home depot, some like the cable are proprietary and that's the end of line in that case. The good part is all you have to do is call them and they will send you whatever they have free and without a receipt no questions asked. They did not charge me anything for my three year old part and I do appreciate that because the warranty is not three years by any means even though they seem to honor it while they can (I was told I had been sent the last ever available 06 cable to be in stock though).

so a synopsis - the best binding period for the advanced rider. But you might want to order a new cable as soon as buy my next pair them just to be safe
TEAM FLOW RULES OVER THEM ALL.
I have the 08 Team FLows and they were great.

I constantly had to wait for my fam to hurry and buckle it, the response was great for the most part.

CONS: heel slip if snow is under your shoe when you strap in, and the hardware seems to fall off on the heel area during big spills (had to replace with nuts/bolts for home depot)

I bought some Burton CO2's to try something new, but i cant get over the convenience factor from the FLOWS.
I have been using flow bindings since year 2000.yep the very first flow series I have been on. which I can prodly say they are still going even tho they are like soft shells now :) I use them in the park which makes perfect sence. I also own a pair of flite4 s which i cant complain. I have a comment on one of the users who said the high back i hard to use especially when you are sitting. you should try to put them on when you are on your knees.you will see how easy it is. I really dont understand the hard to put on part either. you only adjust them once to your boot and voila!! never cranking anything again. I think thats one of the biggest pros of Flow that the straps dont wear out bcuz you dont use them constantly like the regular bindings. One more and last comment on buying a flow binging :) Regarding you skill and riding preference look for the flexibility and covering surface of the FLow's front piece.smaller the piece greater the flexibility = freestyle. Have a great and powderfull season
These bindings are great. They are very light, comfortable, and stiff. They are more comfortable than any two strap binding on the market and are just as responsive if not more responsive. They are also considerably faster to get into than any two strap binding with the possible exception of the K2 Cinch (which has a similar entry system) the Ride Contraband, and the K2 Auto, but the Flow Team is certainly the stiffest of these bindings and at least as fast. @ hanoihanco1481063 if you have to sit down to get into you bindings the Flow Teams are not for you, they are not for beginners. Also if you are constantly adjusting the strap you are using the binding incorrectly, you use the ratchets to adjust the fit the first couple of runs, then after that you are set and should not have fiddle with them. As for using a lot of force to pull up the clamp lean forward a bit and it is easy, but that would be hard if you are sitting down. I can often get into my Teams without stopping after getting off the chair.
Read This Review Before Buying
There's a reason snowboard bindings have stuck to a two-strap design for the past 3 decades. The FLOW's looked like a good idea, but ultimately they were more difficult to get in/out of than regular bindings.

1.) They are impossible to get into while sitting down because the back has to fold down in order to get your boot in. Strapping in standing up is only remotely possible on the flats, so you're screwed if you have to strap in/out on the slopes.

2.) The highback needs to be super-stiff to accommodate the clamp mechanism, so if you're into a flexy binding, you're out of luck.

3.) You have to exert a good amount of force to clamp/unclamp the highback which is in an awkward position, so you better have a good chiropractor.

4.) You still need to adjust the foot flap to get a correct fit, so the clamp just ads another step to the process of getting strapped in.

5.) The foot flap is nowhere near as responsive as the traditional ankle/toe strap combination.
i dont have enough money to afford these bindings, but i can tell you that the Flow, "the five" bindings (considarably lower priced) are the best ive ever tried. if those were that great imagine these...