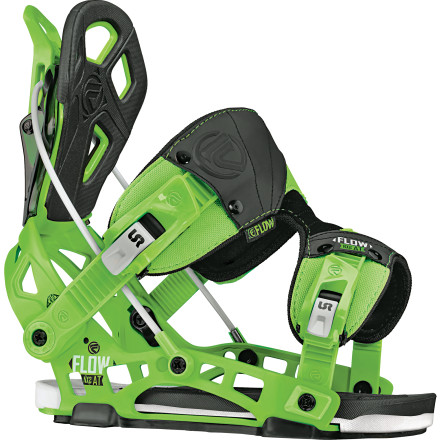 Videos

Community Images
The Flow NX2-AT snowboard binding is back and even better. It has gone on a diet since last year, with an aluminum baseplate that's slimmed down for a more responsive ride, but without sacrificing strength. It featuring Flow's New Active Strap Technology, so it's easier than ever to get into and out of quickly. Basically, when you drop the high back, the one piece Fusion strap loosens, and when you tighten them up, it snugs down for the control you need. The OC-Kush basepad fights heel bruises on harsh landings, and dampens chatter when the snow conditions are less than ideal. 2.5 degree canted BankBeds keep your knees in line for ergonomic shredding. Best of all, it's compatible with pretty much every binding mount standard out there.
Medium-stiff flex
Aluminum rockered baseplate
OC-Kush basepad
2.5 degree canted BankBeds
N.A.S.T.Y. active strap technology
1-piece Fusion PowerStrap
LSR buckles
Compatible with 3 hole, 4 hole, and The Channel snowboards
Sweet bindings and worth the money
Familiarity:

I've put it through the wringer
These are my 2nd set of NX2-AT's and that is a good thing. Got the 2nd set because they were on sale. Rode the Fuse-AT 28 days, then got my 1st set of NX2-AT. Rode NX2-AT the last 10 days of the season and was fortunate enough to be able to ride all conditions during that time. These bindings are the ticket to great riding days, very easy in, very responsive, very easy out. I got pinwheeled into a tree well my last day of the season, very nice to be able to pop right out of rear entry. Especially when you're upside-down kissing tree bark!! I ride 32's Prime boot and have boards from 155cm to 170cm by Lib-Tech, K2 and Never Summer. Bindings combined with the boots, make the day. If you are a Rider get these bindings, you'll love them!! If you are a casual slider, save your money.
Great bindings and worth every penny!
Familiarity:

I've put it through the wringer
Just returned from a 4 day trip to Salt Lake. Visited Snowbird, Solitude and Brighton. I purchased the bindings the week before the trip, but had everything setup to ride. The bindings are great and I could not ask for a better product. This is my first pair of Flow bindings and now I'm sold on their bindings for life. Easy to adjust to fit any boot type and love the quick entry. I used a size 10 DC Judge 2014 boa boots with these bindings. The fit was great and I never had an issue with the straps locking my boot to the binding. I did all mountain riding, but did not spend time in the parks. I did drops and jumps on the mountain and the bindings held their own on all terrains.
Flow No 'Mo (Flow NX2-AT - 2012/2013)
Gender:

Male

Familiarity:

I've put it through the wringer
I've had two pair of flow bindings and I'm finally giving up. Don't get me wrong... They have a great concept and the construction of the bindings is top notch. In the 6 years I've ridden flows, the only things that's broken is one of the straps on a really cold day.



The problem I had with flows is really two fold. First, the single (power) strap creates uneven pressure points across the tops of my feet. I really like a responsive ride and so I cranked them down. This result is the pressure points, restricted blood flow, and arch cramps. This doesn't happen with my current binding, which I ride just as tight.



Second, the rear entry design doesn't save any time. I didn't expect my first set to be too much a time saver, but hoped they would be more convenient. That wasn't the case at all. I was sure they had this resolved with their active strap technology, so I bought the Flow NX2-AT (2012/2013). In the new ones, the power strap does come forward when you drop the highbacks... It just doesn't come forward enough to allow your boots to slip out. You end up having to loosen the binding buckles just like the old ones -- or just like regular bindings for that matter.



At least with traditional bindings, I won't get the uneven pressure points. So after really giving flows a good long chance, I'll be a traditionalist going forward. Hope this is helpful.
I'm loving these so far
Familiarity:

I've used it once or twice and have initial impressions
One day of riding so far. initial impressions are that these provide incredible control and are not very forgiving. They fit my profile perfectly as an experienced intermediate rider so this is exactly what I wanted. If you are less experienced, Flow's less expensive bindings would be better for you as they are less stiff. I love the rear entry feature and is frankly what initially sold me on Flow as a replacement for my step in bindings (Switch). These are worth every penny as long as you know what you're getting. What's also really cool is that backcountry.com refunded me the difference between what I paid a month ago and the sale price they have now. So $60 back in my pocket and the best bindings I've ever owned. double bonus.
Solid, but not perfect.
Familiarity:

I've put it through the wringer
I bought a set of these to increase my run count on the small local hills. They are 90% of what I'm looking for in a rear-entry binding. When adjusted properly, they are nicely responsive. They also have most of the features you expect from a high-end binding, like a minimized surface area baseplate, cush padding, light weight, and canting. The signature feature is the NASTY strap, which is basically just a hinge that lifts the ankle end of the unified strap up when you drop the highback. This allows you to keep the strap tighter and still be able to get your boot into the binding. It's such a good feature that I couldn't see buying another Flow binding without it.



There is one major flaw, unfortunately. The ratchets are designed with a locking tab to prevent them from tightening unintentionally. These tabs inevitably unlock on their own after an hour or two of riding. If they unlock, the strap can snug down on its own to the point that you can't get your boot into the binding anymore. Since fast entry is the defining feature of a Flow binding, having to screw around with the ratchets defeats the purpose. It means that you basically need to check that the ratchets are still locked after every run.
Unbelievable product
Familiarity:

I've used it several times
By far the best bindings Ive ever worn. These bindings are sturdy, however extremely light and don't have pressure points like other bindings. The extra OG-Kush layer really makes a difference in feel when landing a big jump or landings on a rail. Unbelievably fast to put on, and never a loose strap
By far the best bindings Ive ever worn. These bindings are sturdy, however extremely light and don't have pressure points like other bindings. The extra OG-Kush layer really makes a difference in feel when landing a big jump or landings on a rail. Unbelievably fast to put on, and never a loose strap
Flow NX2-AT Snowboard Binding