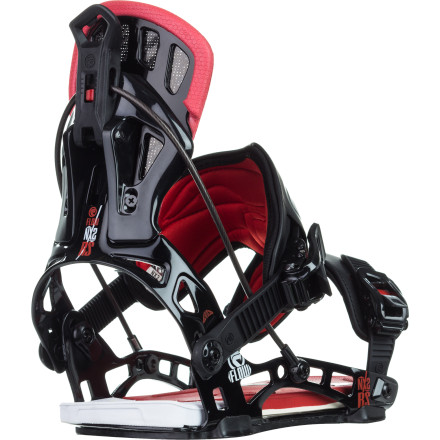 Videos
If edge power and control are what you're looking for, you're going to need a stiff binding to match that stiff board. The NX2 RS Snowboard Binding is Flow's stiffest binding, meant for picking apart high-speed lines and carving up groomers with no remorse. The NS2 RS is also packed with features that make it lighter, more comfortable , and easier to use, so this isn't just a stripped-down race binding.

The A-Fusion PowerStrap with N.A.S.T.Y. technology automatically lifts the strap when the highback is reclined to make getting into your binding quicker and more painless than ever while still providing tons of comfort and support. The H-Series baseplate is rockered so that it makes minimal contact with your board, allowing better board flex and feel without sacrificing response. Modular highbacks separate the upper and lower zones for targeted strength, support, and flex where you need it. Bank Beds canted footbeds are angled to mimic natural leg position for greater power and reduced fatigue, and KushControl EVA padding dampens vibrations for a smooth ride and absorbs impacts from big drops

ModBack highback with N.A.S.T.Y.
H-Series rockered baseplate with aluminum heelcup
KushControl EVA padding
BankBeds canted footbed
A-Fusion PowerStrap
LSR ratchets
Adjustable toe ramp
Universal Multi-Disc
Great binding, but ...
Gender:

Male

Familiarity:

I've put it through the wringer
Great binding, huge upgrade from my older Flow binding, although I liked that one a lot already. Rode it this winter for about 15 days. Fantastic 'NASTY'-System really makes it a lot easier to get in and out. I love it, always am much quicker than all the other boarders at the top of the slopes, and am able to get out of the rear binding at the bottom fast and safe even still gliding towards the lift entrance. The ratches allow adjustment very easily (with gloves on) and give you that possibilty to strap on when you can't get in from the back for any reason (steep slope, deep powder).

I'm wearing a Burton Driver X shoe and that Flow strap pushes a plastic piece, that enforces the laces of the shoe, down on my instep, that hurt for quite a while in the beginning. Seems to me like a typical problem when you use shoes of a other brand with Flow bindings.

then, I bought a size XL of the binding because Flow recommends that for my size of shoe, a US 11.5. But the binding still seems a bit big/wide, a large would have done easily.

Although the binding in general is very sturdy, I have to deal with a broken highback and a broken lever on one of them, as a result of a transportation damage (in a boardbag, on a flight from Vancouver to Switzerland.) now. Hope I can get the spare parts!
Freaking Amazing
Familiarity:

I've put it through the wringer
These bindings are top of the line. I've been riding in CO for 6 years now, 15+ days on the slopes each season (one season of 30+ days). It was time to upgrade at the beginning of this past season (2013/2014), I got a 2012/2013 Arbor A-Frame Board with these bindings. These bindings provide the response and feel of strap in bindings with the convenience of rear entry. These bindings are made to carve and respond very well to every movement (NOT for Park). These are meant for high speed and holding a tight line. The NASTY system is sweet and makes it easy to get in and out. Lastly, you can still strap in when you hike into powder and can't use the rear entry (did this multiple times). The ratchets aren't as big and easy to use as normal strap in bindings, but can still be used with gloves or mittens on. Only minor downside, it will take time to dial in this set up, but will save a boat load of time compared to strapping in and out. I'd buy this binding again even at full price, sturdy as all hell, awesome materials and components.
Great but the cant is a knee killer...
Familiarity:

I've put it through the wringer
Let me start with the fact that these are the stiffest bindings I have ridden besides Catek. They were fantastic for the first few rides and then I began to develop knee pain from the 2.5 degree cant leading eventually to blowing my knee out completely requiring surgery. I am kinda disappointed as Flow's are the only bindings that fit without boot out for my gigantic feet but as long as they're canted, I will not buy any more. If the 2.5 cant doesn't bother you though, buy these bindings...they are stiff and almost as good as hard boots, just not for my knees.
Flow NX2-RS Snowboard Binding