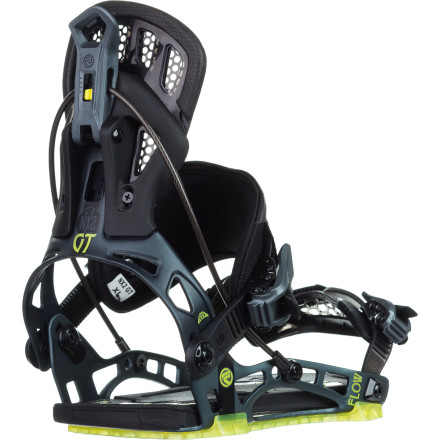 Videos
For hard-charging freeriders who demand lightning-quick response and dependable support, the Flow NX2 GT Snowboard Binding is the way to go. A stiff flex, tons of control, and of course convenient entry and exit make the NX2 GT ready to tackle any terrain whether it's at the resort or in the backcountry.

The Hybrid PowerCap Strap still has Flow's signature rear-entry system to make getting in and out of your bindings quick and convenient, but also features a toe cap for riders who like the feel of a traditional binding strap. It's also equipped with N.A.S.T.Y. technology that automatically lifts the strap when the highback is reclined to make getting into your binding quicker and more painless than ever. The H-Series baseplate is rockered so that it makes minimal contact with your board, allowing better board flex and feel without sacrificing response. Modular highbacks separate the upper and lower zones for targeted strength, support, and flex where you need it. Bank Beds canted footbeds are angled to mimic natural leg position for greater power and reduced fatigue, and KushControl EVA padding dampens vibrations for a smooth ride and absorbs impacts from big drops

ModBack highback with N.A.S.T.Y.
H-Series rockered baseplate with aluminum heelcup
KushControl EVA padding
Hybrid PowerCap Strap
Locking ratchets
Adjustable toe ramp
Universal Multi-Disc
bit dissapointed
Familiarity:

I gave it as a gift but have feedback to share
Pros: Looks great

Cons: Not as durable as hoped for, tears easy

Pretty bummed with the durability and quality of the Flow NX2-gt. All my son has ever rode is Flow and we have always been happy until now. After jus a few days of shredding the material began ripping. Then the high back keeps popping off. For nearly $400 I expected a far superior binding.
A work in progress
Familiarity:

I've put it through the wringer
Feel & performance of these bindings is 2nd to none---stiff, responsive, and confidence inspiring. They & point and shoot responsive & don't leave you wondering whether or not you are really in control. They really are that good. The option for rear entry using the reclining high back or side entry using the buckles makes for a binding that can be put on/taken off in deep pow as well as on groomers



Downsides:

1) this is my 2nd pair in 2 years. durability of the stitching and of the mesh is horrible. cosmetic or not, you pay a premium for this binding and should expect a premium product.

2) even if the mesh doesnt tear, it packs with powder which leads to taking snow home with you

3) ratchets are large and easy to use. problem is the locking mechanisms refuse to stay locked. 1/2 the time i put my board on, i have to reset my ratchets

4) flip lock mechanism on the toe strap (non ratchet side) dont stay locked down, especially in pow or tree riding. maybe they are catching on early season underbrush that is just below the surface?

5) hinge for the high back requires a plastic piece on the inner side for the bolt head. it protrudes probably 5mm in on each side causing the heel cup on both the base and the high back to be wider than necessary to accommodate the plastic piece. Gnu has managed to make theirs flush. the result is that your heel swims AND the plastic piece rubs your boot right at the point where the sole meets the upper. I have a brand new pair of Van's boots that are already damaged, and am afraid that plastic piece will eventually cause the sole to separate.

6) the bottom of the heel high back has the a flared heel cup and only allows the upper to provide friction, allowing for heel lift.

7) Canted footbed needs canted highback.

8) HEAVY

9) difficult to set up



I bought two pair. My girlfriend has already gone back to her Gnu's. I suspect I will go back to my mutants, once I get the straps replaced.
pretty sweet
Familiarity:

I've put it through the wringer
I will never go back to a traditional binding. The N.A.S.T.Y system allows you to easily slide your foot in and out when on the slopes. In response to dbap84207.. The mesh on the top of the binding is weak at best. I left my traps on the outside to avoid the mesh being torn. The mesh is more for cosmetics and not to hold your traps in.
So I got the best binding Flow makes.
Familiarity:

I've put it through the wringer
Having used flow bindings before, but being frustrated with trying to get my foot back into a tight binding, I decided to get the best one Flow makes. This binding does work a lot better than the older bindings. However I see two flaws:



First the footbed is canted so your boot sits in it canted, however the highback isn't canted. Not a big deal, I adjusted the back plate towards the inside to compensate. However the highback angle should really match your boot angle without having to do this.



Second but most disappointingly: The mesh on-top of the hybrid strap is incredibly weak. When trying them on in my living room I made sure to the ends of the straps fit under it smoothly, and I left them that way for days to make sure the straps "broke-in" to the correct radius. But on the first day out, of course ratcheting down the straps made them rip right through the mesh, and of course you can't even see that's happening in a snow-covered binding. So uncool for a $370 binding.



So I'm giving it 3 stars, because I do like riding in them but these two problems were easily foreseeable.
Flow NX2 GT Snowboard Binding
Excellent
Familiarity:

I've used it once or twice and have initial impressions
I've used traditional strap-in bindings, and for the sake of convenience I've used k2's cinch bindings. I have two requisites for my bindings, they have to be well constructed and stiff. I really liked K2's ratchet system, which is the reason I choose those over flow bindings in the past, but were too flexible and I never felt comfortable boarding at high speeds - plus the k2's were constructed out of plastic and I've had numerous breakages.



I recently picked up a pair of Flow NX2-GT and I couldn't be happier. The aluminum body is solid, the highback can be adjusted to your riding preference, and the ratchet system is quick and easy to use. These bindings give me total control and I'm able to confidently hit high speeds.


Binding sent from the future to kick ass
Gender:

Male

Familiarity:

I've put it through the wringer
This is Frankenbinding. These bindings are the bastard child of the ceaseless advancement in binding technology of the last decade, born from the amalgamation of all the best features of the competition, fated to rise above the competition and reign king of all that is holy in the world of snowboard binding.



1) The toe cap technology pioneered by burton/technine in 2003

2) The reclining highback technology championed by Flow since 1992 combined with the N.A.S.T.Y Active Strap introduced in 2012

3) V-Strap technology invented by Ride in 2009 and integrated as the Fusion Powerstrap.



Add the fact that these are by far the best constructed, most solid bindings I've laid my hands on and you've got yourself an indestructible package. Aluminum Alloy baseplate, aluminum buckles, these bindings are super responsive, stiff and strong.



If you've been hating on Flow before, it's time you took another look. This is not your grandpa's Flow binding. Fans of traditional strap-bindings will feel right at home with the snugness of the toe cap and fusion strap... but if you've been a fan of old-school flows (like me) you're in for a slap in the face: wake up, this is the future of snow, and this binding is it.



Slip on, tune in, drop out.
Hands down - best binding in this class
Gender:

Male

Familiarity:

I've put it through the wringer
Riding off the tram at the Bird, the faster your locked in and send it, the more freshies for you. I have tried all the others ( including past Flows which I never liked) . These are high-quality build, super supportive and the fit is spot on making them very responsive. Nicely Done