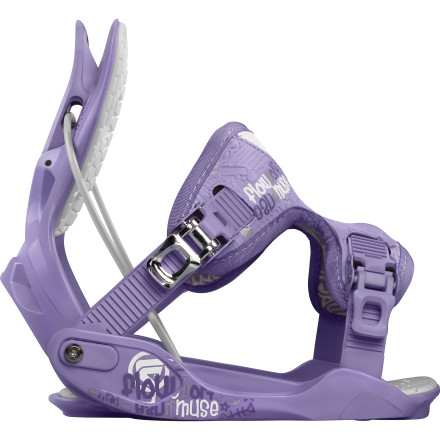 The Flow Muse Bindings offer all-mountain support for less fatigue at the end of a long day of riding everything. A soft, forgiving flex lets you rock 'n' roll through the park, and a comfortable CI-Flex PowerStrap distributes pressure evenly across the top of your foot to eliminate pressure points and hot spots.
Reclining highbacks ease ons and offs
POM plastic baseplates respond quickly and eat up chatter
Power Triangle links highback to the middle of the baseplate with a steel cable for increased control and power transfer
EVA landing pads absorb shock on big impacts
Great bindings, once you get used to them
I switched from regular strap bindings (Ride +Matix) after getting fed up with buckles that would not open, loose screws, pressure points, and general crappy quality... These Flows are awesome! They definitely take some getting used to, and you have to be patient with adjusting them to fit your boot perfectly, but once you have them adjusted for your own foot and stance, they are super easy to use. I have always had trouble with heel lift (and I have gone through many boots in the hopes of finding some that were both comfortable and kept my heel in place), but these bindings keep my my heel snug, regardless of what boots I am wearing. I would definitely recommend these to anyone who is fed up with regular strap-in bindings.
my daughter had a difficult time with these on the slopes. Hard to get on.
Unanswered Question
Are these universal or is there a right...
Are these universal or is there a right and left binding?
I have the 2010 Muse bindings. They are super easy to use and quick to get into once you have them adjusted right. You have to get them tight enough that you feel stable but if you have them cinched too tight you won't be able to easily slide your boot in and out which kind of defeats the purpose of the Flow's I used them a lot over the last season and never had any problem, they're still in one piece and lookin good after taking a decent beating.