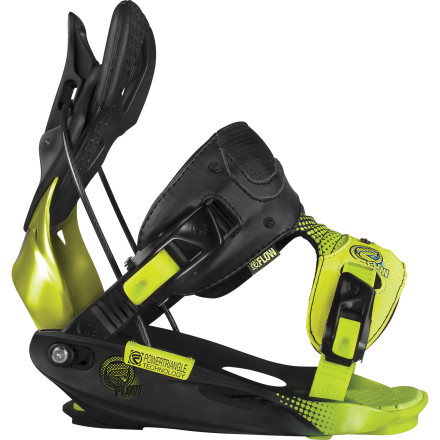 The Flow M9 snowboard Binding combines some of the features of its high-end NX siblings with a molded nylon baseplate that offers a slightly more forgiving flex and better board feel. The M9 still gives you Flow's famous easy-entry system, along with the option of traditional side-entry, a mid-stiff flex, and baseplates that are compatible with 4x4 and 3D systems.
SnugFit molded nylon baseplate for a precise connection and great board feel
EVA basepad with cushioning at the toe and heel for shock and vibration-absorption
Acive Straps automatically lift out of the way when you drop the highback to make getting in and out even easier than before
4-way adjustable support strap allows you to dial in the amount of control (vs forgiveness) for a custom feel
KushControl Highback Pad gives you added comfort and reduces ankle bite on sketchy landings and long heelside traverses
Active Power Capstrap allows you to choose between fast rear-entry or conventional side-entry
Offset multi-disk is 3D, 4x4, channel, and M6 compatible
Unanswered Question
Can they be mounted on a Ride Wildlife...
Can they be mounted on a Ride Wildlife with 4 x 2 holes?
Quick but Bulky
Familiarity:

I've used it once or twice and have initial impressions
Flow bindings are awesome at a few things 1) being the speed that you are strapped in 2) the pressure distribution is even on the straps. These are awesome bindings for beginners who hate strapping in and foot pain. Their downfall is that they are heavy and a bit bulky compared to conventional bindings.
Was really hoping these would be the convenient alternative to the traditional strap bindings I'm used to. Nope.

First, it takes just as long to step into them and tighten the bindings as it does with normal strap bindings.....you have to have the over-foot strap loose enough to step in/out, so you have to tighten/loosen the strap anyway.....not convenient at all.

Second, I found the strap to be uncomfortable over my forefoot.....this could very well just be personal preference, I admit, but I find the toe-box style strap FAR more comfortable.....this complete 1-piece strap just didn't feel right, and had to be super, super tight for me to feel "locked in".

Overall, this style of binding is just not for me.
In terms of what is more annoying (feeding the two straps through the buckles VS shoving your boot deep enough through the back of the binding to get the high back into position) I would say, once you get the hang of it, the flows are better. The key is the following:

#1 you don't need to excessively tighten these bindings

#2 leaving your bindings more loose than you think they should be (intuitively) this way, you can slip your boots in pretty easily
Unanswered Question
can they fit in the burton channel board/EST?...
can they fit in the burton channel board/EST? like the custom flying v for example. thx
Unanswered Question
Does anyone know if their tensor cable...
Does anyone know if their tensor cable (reclinable highback system) works allright now? (see my review above) I do not know if this is still an issue with recent models, or if it was an issue for anyone else...
I own a pair of 2010 Flow M9 Bindings and they are pretty good. It has the "3-D Power Strap", as they call it, which I like because I find it helps get a more responsive feel, since the strap grips your boot better than the two individual-straps system. I think they have good cushioning and are, on the most part, easy to use/adjust. The "Power Triangle" is basically a tension cord that can be adjusted to modify the tightness and angle of the highback, for a more responsive or loose feel. They have the reclinable high back which allows for easier and faster in/out. This is probably the biggest advantage I found when I first got them. I hated having to release and tighten the regular two strap system because it took too much time and sometimes was not easy at all depending on the tightness... Really makes it easy to slip into the binding (without having to adjust the strap, which you set the first time and forget about it basically) and secure the boot fast, so that you can head down the mountain almost immediately after exiting the lift.

However, the main critique I have about them, is precisely about their reclinable highback and the Power Triangle cable. You see, the highback is secured by the tensor cable of the Power Triangle. Now this cable if tightened enough can keep somewhat maintain the form it gets when secured tightly. What I mean is, that when the tensor is disengaged to release the highback, I found that after a while the cable was forcing the highback up due to the form of the tensor cable. the binding basically molded the cable to it under tension, which in turn forces the highback to close by itself, making entry/exit difficult and sometimes impossible without manually forcing the highback down.

Also, if there is enough snow accumulation on the bottom of the binding it will get difficult to slide in, since the strap is set to a specific height, so you have to really clean up the ice or the boot wont fit in there, or can be difficult to get in.

Overall I find them to be pretty good binding, but their easy access system could be better. I do not know if this has been modified (fixed) on the recent models... Be aware of this and investigate further when buying!
do the M9 bindings come with all the...
do the M9 bindings come with all the hardware needed to put them on the board?


Hey JB,



They certainly do.