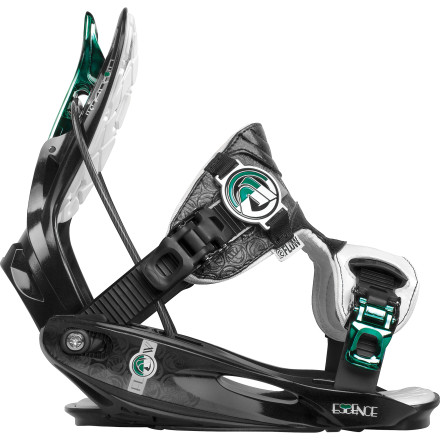 Isn't it soooo much fun sitting on your can and fumbling with multiple straps on a cold winter morning? Yeah, sarcasm sucks, but so does a slow-moving, frozen start to your day on the hill, which is why Flow is dedicated to bringing your focus back to what it's all about with the Women's Essence Snowboard Binding. With a simple push, slip, pull, and snap (two times) you can be locked in and shredding without ever touching your cheeks to the snow.
A single I-Flex PowerStrap distributes pressure over a wider area of your foot for more feel with less cramping and discomfort
Power Triangle directly links highback to center of baseplate, cutting weight while increasing responsiveness
Synchronous Length Adjustment (SLA) provides easy adjustment of the baseplate length for ideal fit to your boot
Movable toe ramp with EVA cushioning pads increase comfort on hard landings
Lightweight fiber-reinforced nylon Ventilated highback includes integrated backflare so you don't catch a boot heel
Free+ allows tool-less forward-lean adjustment without having to step out of the binding
It's so easy goin' with the Flow!
Had never used Flows before and was a little nervous, but I love them. Only took a coulpe of runs to get the set-up perfect then never touched them again all week. Super fast, comfy and look the goods. Try ém - you will not be disappointed. The only problem was waiting for my friends to strap-in!
I got these at the beginning of this season and over the course of the season have fallen in love with them. Admittedly I had some problems getting my boot in them at first, but I think it was partially due to me trying to tigthen the bindings as much as they would go because that's what I did with my old bindings. But after a while I learned the great thing about Flows is you dont have to make them so tight, they still provide better support even when looser. Once I realized that I had a much easier time getting my boots in. They just took some breaking in and me learning how tight they had to go. In the past I've always had Burton Escapades and I always got cramps on the sides of my feet, especially my front foot. All season I never once had a foot cramp with the Flows. I love them and I'll never go back to traditional bindings.