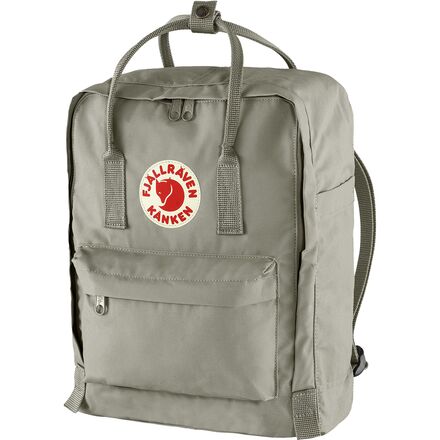 Detail Images

Community Images
Originally designed for Swedish school children in 1978, the Fjallraven Kanken Backpack keeps your daily essentials securely stowed in classic Scandinavian style. The water-resistant Vinylon F fabric keeps books and notepads protected during light rain, and the removable seat pad gives you a plush place to sit your rear while you wait for the bus.
Vinylon F fabric is exceptionally durable and water resistant for reliable day-to-day use
Top carry handles and shoulder straps provide versatile carry options
Removable seat pad gives you a comfy place to sit while waiting at the bus stop or lunching outside
Front zippered pocket provides quick access to essential items
I really really love this brand this backpack is durable and light. i ordered the frost green one and its really great. its a modern and stylish color and the design is fantastic. i bought another one from amazon earlier and it arrived the same day as this one. i checked it and its a fake one but this one is 100% legitimate. its a really amazing backpack and i just love it.
Keeping that Kanken Tradition alive.
Familiarity:

I've put it through the wringer
Kool for Kanken Kindergartner...
Best thing to me about this pack is the quality and material. This polyvinyl will keep your stuff protected, shed that early morning rain heading to school and keep those show-and-tell dinosaurs safe. Great fit for my little one and he loves the classic UN Blue. You can also purchase some accessories from Fjallraven to add some more to your pack. Shoulder straps and a sternum strap with a whistle! The Fjallraven is quality, durable products that don't disappoint from generations of experience.
Perfect for kindergarten
Familiarity:

I gave it as a gift but have feedback to share

Fit:

True to size
So when shopping for backpacks for my 6 year old to start school with, we found out the choices are pretty limitless. From Disney Princesses to Hello Kitty, TMNT to Minecraft, you have every option under the sun. Of all these choices, my munchkin decided on the Fjallraven Kanken and I couldn't be happier. Not only is the bag really well constructed, but I won't be replacing it any time soon as her tastes in pop culture change. The bag is really light weight and overall does not have a ton of structure aside from the removable pad in the back. This makes it great for putting on a tiny back or any time that you want to be able to carry some stuff but don't want to overwhelmed by a ton of bells and whistles. The fabric is surprisingly very water resistant. The amount of rain and snow that she will encounter waiting for the bus won't have a chance of getting through. The two side pockets are deep enough for a water bottle or light sweater and the front pocket handles any additional things that she wants to throw in. Overall, we have been super happy with the bag and expect that she will be wearing it for years to come.
The Kanken is Awesome! I love everything about it. The bag feels cheap but the more you use it, the more you appreciate the classic/modern look and it's durability. The Kanken Classic is somewhat small but it can hold quite a bit. It 's perfect for work or to take on vacation. It can easily handle lunch, water and a layer in the main compartment leaving you space in the exterior zippered pocked and also room for a tablet, book or small laptop in the interior sleeve. Fjallraven has been using the Vinylon F fabric since 1978 so you know it can handle most anything. The synthetic material is great because is can take abuse and also keeps the water out since the fabric expands with humidity/rain. Also, each Kanken comes with a removable seat cushion that is great for sporting events or placing on the ground so your bum won't get wet/dirty.
Impressed
Familiarity:

I've used it several times
This is the my new work bag that totes around my computer, headphones, and some folders. It is a bit small, but I have an obnoxiously large Dell computer that has to go in a little sideways to fit. If you are a student carrying around super heavy textbooks I would consider going with a larger bag with more support.

Pros:
- Square shape perfect for books and tablets.
- Multiple strap options- you can wear it as a backpack or button the shoulder straps down and carry it from the top as a tote.
- Color options- these things are in every color!
- Front pouch- nice for phone, pens, and things you like to access easily.

Cons:
- Flimsy straps- the straps are not made for heavy loads.
- A bit small

So cute.
Familiarity:

I've put it through the wringer
I love this bag! I use it as a stylish diaper bag. It has enough space to hold essentials and baby stuff, but isn't bulky like most backpacks. I love the square shape, and the colors are perfect. The color is slightly off, it's a little more true to navy than pictured. It's not as blue.
Hey Anne,



This pack is 16 L.
I got this as a gift for my little sister.

She is a teacher and will undoubtedly enjoy stuffing books and other teacher-y things inside this diminutive pack.
Perfect fit
Familiarity:

I've put it through the wringer

Fit:

True to size
I love this bag in every way. I've been traveling extensively and this has been my go to carry on bag and everyday use bag. The bag may appear small but it holds a whole lot of stuff. I can slip my iPad in the inner sleeve and have my wallet and phone in the small outter pocket and litter the inside with whatever and I've never had any discomfort even with big bottles of water jammed in there. I would like the two small outer side pockets to be bigger but that's my only "complaint." I also appreciate that the zippers zip like a giant U so you can fully access anything in your bag without pulling everything out in frustration. Well designed. Sturdy. Pleasing to the eye. Comfortable. Practical. Unisex.

What more do you need?
This bag is 100% authentic, isn't it?
Best Answer
If by that you mean that it's actually made by Fjallraven and actually made of the fabric it claims to be made of, then yes. But I'm not entirely sure what you're asking.
Hi WARANOON,



We purchase all of our items directly from the vendors themselves. So... yes, this is "100% authentic"
Great light adventure, and commuter bag
Gender:

Male

Familiarity:

I've put it through the wringer
This Swedish classic is a simple and clean bag that can be used for a variety of light adventure activities. I've used this bag for the past couple of years and I can tell you from experience, this thing is tough and durable. This is really not a technical bag at all, so keep this in mind, no shoulder padding, one main compartment that has a sleeve for a laptop (it can fit a 15 inch Macbook Pro, it's tight but it does fit like a glove), and the bag has a small zippered outer compartment big enough to hold your wallet, keys, etc. What I really like about this bag is its simplicity in design and appearance. The backpack straps can be snapped down against the back face of the bag to stay out of the way if you want to carry it like a briefcase. Also the bag's upper handles can be snapped together when you want to keep things nice and clean, or I've even used it to stow a jacket or extra layer there if I needed to have it easily at hand. Keep in mind the water repellency of this bag does wear out over time, but you can refresh it with Fjallraven Greenland Wax, or a similar canvas wax. Overall, this is a durable bag that will last for years, and is great for use in commuting to work or school, or non-technical, light day hikes.
Release the Kanken
Familiarity:

I've put it through the wringer
I've worn this pack on my commute every workday for the last 2 years. I've jammed clothes, beers, laptops, books, and bicycle tools into this thing without any problems. The front zippered pocket has enough room for keys, wallet, knife, lip balm, gum, cigarettes, lotto tickets, etc. Best of all, it straps down perfectly to my bike rack. It's lightweight and has worn out nicely for a more vintage look.
Why is this in the women's section? Pretty...
Why is this in the women's section? Pretty sure they're unisex.
Doc,



The Fjallraven Kanken pack is definitely unisex. Thanks for the question.
hi, I want to know the size of the backpack...
hi, I want to know the size of the backpack is classic?
Zheng,



We have the dimensions for the Fjallraven Kanken Backpack listed in the tech specs, but it also has a volume of 16L.
These backpacks are pretty cool for casual use, and very popular in Scandinavia. Mostly used by youths.

PS: it's Fj�llr�ven, not Fjallraven. (it means mountain fox)