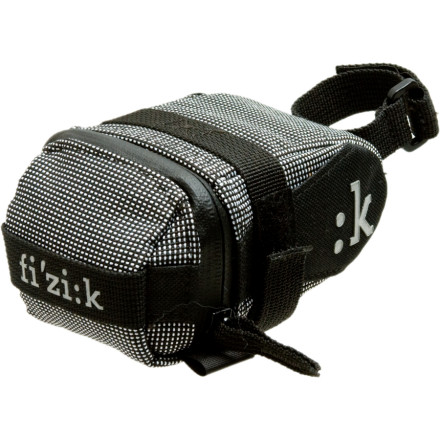 Colors

Detail Images
Description
All things considered.
Fi'zi:k saddles are known for their craftsmanship, so it only makes sense that the same high-quality construction should find its way into the Fi'zi:k Saddle Pa:k. Its rounded lines look great, snd they flow nicely into the bottom of you Fi'zi:k saddle. The Pa:k is water resistant right down to the zipper, and it's even silver on the inside so you can see what's in your pack.
Water-resistant
Taillight strap
Silver lining
I'm not one who's overly concerned about bike weight, so I decided to this pouch would work to carry all the necessary items. Its small, but I was able to cram everything in there.

I was able to fit a 27.5 tube and 2 CO2 canisters inside and on the outside I have the CO2 nozzle (applicator) and a tire lever attached to it.

The velcro seems to be holding pretty well, but I put a ski strap around it, just for some added support/bracing.

I think I may upgrade to a bigger one in the near future.
dig it
Familiarity:

I've put it through the wringer
First, Im not a weight weenie. I dont stress about grams.



Its a small pack. It carries a tube (road), levers, a CO2 and small tool thing. It works well for that.



I havent had issues with the velcro, but, I ran a very small bit of electrical tape around the velcro, laterally, so that there is no way in heck it can come undone unless I want it to. (Ive had too many saddle packs come off on rides, so I dont risk it anymore.



Yeah, the tape adds a gram or two, but I dont care. If its stupid and it works, it isnt stupid.
Perfect for the Essentials
Familiarity:

I've put it through the wringer
I purchased the small and it is perfect for 1 road bike tube, 1 C02, a tire lever, and one small wrench. This is all I could ever see using this for as anything more you'll need to go up a size. Easy to attach and stays secure while riding!
Good pack for my cross bike
Gender:

Male

Familiarity:

I've put it through the wringer
I use this on my cross bike that I use for gravel riding. It works just fine. Fits a 700x35 tube, my tire levers, and a multi-tool no problem. I've been using this for the past four months with no issues. Secures nicely on my saddle & seat post with little movement.



Looking at the other reviews, it looks like some people are having issues with the Velcro. I haven't had the issue with mine.
Good, but still not satisfied
Familiarity:

I've used it several times
I purchased this bag since I had been using a smaller lezyne bag and needed some more storage space. I have the medium can only fit one spare tube, tire levers, some cash and that's pretty much it. I can not make my cell phone fit which I prefer to have with me when going on longer rides. Maybe there's some tetris formation of these items I haven't figured out yet, but it seems I'm still in need of a larger bag.
Stylish, and practical but I can't use!!
Gender:

Male

Familiarity:

I've put it through the wringer
I must admit that in a world of black bags this one caught my attention. Turns out it looks great and is also functional. I have the medium and easily have room for spare tube, inflator head, two CO2 cartridges, tire levers, multi-tool and room left over for an ID and a few bucks. That's everything I need on a ride-why pay $thousands for a light weight bike and then load it down with useless stuff??



Update: See the velcro strap that holds the bag to the seat rails-it's curled outward. It has ruined two NEW pair of bib shorts that cost $250! Picked the fabric badly where this strap caught inside right leg. Can't recommend.
Needs wider velcro
Familiarity:

I've put it through the wringer
Bought this pack after breaking two ICS clip packs. It seems really good, but over the weekend I had two incidents of it un-velcroing itself and dropping down onto the wheel. First time was on my road bike and second time on my mountain bike. I bought the same pack twice - once for each bike, and the issue applied to both.
Awesome bag
Familiarity:

I've put it through the wringer
Great bike I have 2 of them and some friends have them as we'll. the medium will fit a mountain bike tube and your tools. A small will fit your tools but not a mountain bike tube as well.
I use this for my road bike and it's a good bag. I have the medium, which is able to fit 2 tubes, my phone, and credit cards.
I tried the ICS clip version of this. Twice. But if you ride rough enough roads or trails, the clip can't hold & ejects the bag. This velcro version is much more secure. The medium size can hold everything you need for super-serious riding. Big enough without being too big. Give it a shot.
Good bag. Poor seatpost strap design
This saddle bag was big enough (ordered a M) to fit two tubes, two CO2 cartigages and valve, a Soma multitool, 3 tire levers, cardboard and hand wipes. Nice looking and a cool shape but the strap that wraps around the seat post doesn't lay flat (velcro) creating an abrasive surface that rubbed my shorts, in turn snagging them. No matter how many times I tried to flatten it during the ride it still flipped up. $190 shorts compared to $20 bag. Definitly returning it.
Will the seat post strap fit around a flat...
Will the seat post strap fit around a flat carbon TT bike seat post? Thanks
Looking to hold (1) tube, (2) C02 with...
Looking to hold (1) tube, (2) C02 with inflater, iphone, and tire levers. Is this big enough?
This is a little smaller than I thought. I am able to cram two tubes, a tire lever, a gel pack, my iphone, and some cash in but it is really tight. If space is a huge issue get the medium which is slightly larger and will be a lot better for you.
I'm happy with its size - I'm able to get a Blackberry Tour, 3 tire levers, spare tire, co2 cartridge and a gel pack inside