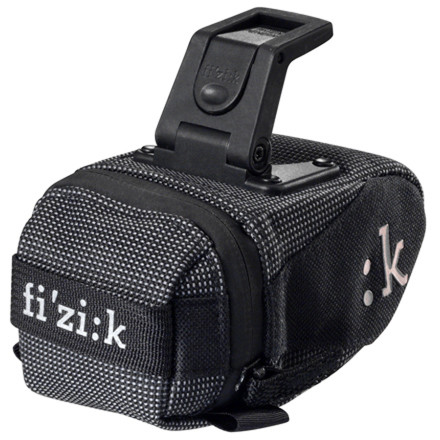 Description
Your saddle was made for it — literally.
Your carbon beauty deserves nothing but the finest accessories. After all, streamlined aesthetics are nearly as important as functionality. Yet, every time that you head out for a ride, a frayed, tenuously anchored bag dangles from your pristine Fi'zi:k saddle. You don't want to leave without the bag, but you simply cannot head out with your pockets stuffed like a chipmunk's cheeks either. Fi'zi:k addresses this conundrum with its sleek, integrated ICS Saddle PA:K.
The engineers at Fi'zi:k give us a cure to this age-old problem with the often-forgotten-fact that its best-selling saddles are Integrated Clip System (ICS)-specific, which means that they have a tiny plastic receptacle under the saddle shell. The Fi'zi:k ICS Saddle PA:K has a male end that plugs right into this ICS opening. The Saddle PA:K recesses directly under the rear of your saddle, instead of lower on your seatpost. It has no Velcro straps to affix it to your bike, which eliminates the likelihood of shorts-to-bag abrasion.
The bag material is waterproof, and the zippered enclosure is reinforced in order to give it added resistance to water. The ICS clip on the bag has three positions to allow you to customize the angle of the bag beneath the seat.
The Fi'zi:k ICS Saddle PA:K is available in the sizes Small and Medium. The Small bag is ideal for the essentials: A tube, two CO2's, and a pair of tire levers. The Medium bag provides enough room to add a multi-tool and a second tube to your arsenal. The ICS PA:K is available in the color Black, and it includes two rear reflective patches and a loop to affix a rear tail light.
Just so you know, the following saddles are ICS-compatible, provided that they're 2007 models or later: Aliante Carbon, Arione Tri 2, Arione, Aliante Gamma, Pave HP, Vitesse Tri, Vitesse HP, Gobi, Nisene HP, Rondine, Nisene CP, Pave CP, Vitesse CP, and the Rondine CP. If you're unsure whether your saddle is ICS compatible, simply look for the ICS receptacle beneath the shell.
Share your thoughts
What do you think of the
Fi'zi:k
ICS Saddle PA:K
? Share a...
Just enough
Familiarity:

I've used it several times
True to the item description, this saddle pack has just enough room for the essentials. I purchased a medium for commuting to work and it conveniently fits levers, multi-tool, and a spare tube (out of the packaging) in it. Low profile coloration, which is super nice and easy to take on/off. Thus far no complaints!
Broke 2, but still love the concept
Familiarity:

I've put it through the wringer
The first bag I bought was for my mountain bike. The clip broke and I lost the bag on the ride along with my keys. No longer trusting it to hold up for mountain biking, I used the second bag on my road bike. That bag held up for about 5 years (with some bumpy dirt road riding) with one repair (replacing a broken rivet with a bolt. This time it only broke on one side of the clip. I like the ease of removing the bag so much that I am buying another one to replace it.
Where's my tools?
Familiarity:

I've put it through the wringer
Loved the look of the bag and really thought the integrated seat clip was awesome....until one day I got back from a ride and the bag was gone, just the clip was still attached. It had sheared off during the ride.
Took a gamble
Familiarity:

I've put it through the wringer
I was hesitant on buying this bag with all the terrible reviews with the clip breaking. I have an ICS compatible fizik saddle and really liked the idea of this bag so I gave it a shot. I'm not sure if this actually made a difference or if luck is just on my side but this is what I did right out of the packaging. Made all the necessary adjustments to make sure the fit and angle is what I wanted. Took some high strength epoxy(I have lots of this stuff at work so that may have led me to do this) and stuffed the problematic joint thorougly to hold it together. Probably over 8k road miles now and the bag is still sitting happily under the saddle.
Physique saddle bag (pun on name!)
Familiarity:

I've put it through the wringer
The larger bag works better than the smaller one, as I can carry two tubes as opposed to just one. I had the same bag for two years and after heat and wind and such, the little grommet connecting to the side of the bag gave way. Two years of use is a great investment for the price. Easy zip bag and easy clip into the saddle. All the way!
Great little bag
Familiarity:

I've put it through the wringer
Been using this for two years now on my Giant Defy Advanced 0 with the Fizik seat. Was concerned how well the clip would hold up but it's surprised me with its secure fastening. It seems a small bag but it holds a spare tube, a C02 inflator, a tube repair kit and three plastic tire levers. It's all tight but it's right, no wobble from the mount and no jiggling from the things inside.
Nice bag
Familiarity:

I've put it through the wringer
If I had the choice, I would not use a saddle bag at all. This is a nice option for when I am going long distances and need my jersey pockets for food. Easy to mount right into the Fizik saddle. I like that it does not attach with Velcro. I had problems with Velcro from other bags catching on my shorts eventually leading to holes. I can fit a tube, a few tools, co2 and a tire lever with room to spare.
DITTO
Familiarity:

I've put it through the wringer
Same thing happened to my bag last night Went to do a quick 22 mi evening ride on my roadie and noticed that the bag was hanging to one side. The clip broke on the right side of the area that is stamped onto the bag. Fizik needs to finally address this once and for all. Imagine all of the other broken bags out there that have been sold through other stores. I have the medium and it was filled with one tube, patch kit, and the lezyne dual air canister kit with ample room to hold much more. It lasted exactly one year.
Terrible Reviews / Good Results
Familiarity:

I've put it through the wringer
Wow, this bag has a lot of terrible reviews, but I decided give it try anyway. I'm glad I did, because its worked perfectly for me, so far. Admittedly, I use this saddle bag exclusively for road biking. I would never trust this system on my mountain bike. I chose the smaller bag and I can fit one tube, one CO2 cartridge, one mini multi-tool, 2 tire levers, and a patch kit. It's a tight fit, but you can get it all in there if you pack it strategically.
Enough space
Familiarity:

I've put it through the wringer
I bought the medium size and I can pack 2 inner tubes, 2 CO2 catridges, 2 tire levers and a mini tool. I haven't had problems with the clip.
Very Disappointed!
Familiarity:

I've used it several times
Read the reviews about the bag becoming detached from the saddle but was hoping that maybe those cases were related to mountain biking. Since I was buying this for my road bike I thought I'd take a chance since I have a Fizik saddle. Fell off after 1/2 a dozen rides on good roads. Luckily I didn't trust it enough to put money or keys in it so only lost tire irons, tube and patch kit. Can't believe they're still getting away selling these.
Broke
Familiarity:

I've used it several times
Had 4 now, all of them broke. the plastic that attaches to the seat snaps. Great concept, terrible product.
Broke it
Familiarity:

I've put it through the wringer
Wanted this bag to work. Great concept. Poor materials. Broke just like all the others shown in the reviews.
Works fine for me
Familiarity:

I've put it through the wringer
I just read some of the negative reviews on this site, and I read similar reviews before I bought this bag 2 years ago. After 2 years the bag is still holding tight on my road bike, and I've ridden over bumps and rough sections that made me check the bag, but it's still there.
Based on the number of complaints about the clip breaking, I would never consider using this bag on my mountain bike. But I put everything in my Camelbak anyhow on the mtb.
I like this product a lot.
Test run
Familiarity:

I've used it once or twice and have initial impressions
Well. I bought this bag before reading all the reviews and am sad to hear that its common for the clip to break. My question is, does it mostly happen when its clipped into a mountain bike? I could see how all that jostling would break the clip. I do a lot of road riding and If mine breaks I'll update this review.

That being said, I love the design and chose the smaller bag of the two Fizik makes. I can fit a spare tube, multi-tool, tire levers, and a CO2 cartridge but its a tight fit. Previously I had a specialized velcro bag that always bounced around and was difficult to get into but this bag holds firm to the saddle and is easy to access.



UPDATE - 2/17/2015 - the fizik bag snapped off from the clip, true to all the other reviews. It happened when I rolled off a curb with much force - kind of depressing that it couldn't hold up. I'll be reaching out to fizik regarding warranty. That being said, I'm not sure I would recommend this bag to anyone else based on this break.
Cheap Crap
Familiarity:

I've put it through the wringer
I've had two of these fizik saddle bags on my MTB and both have broken and I lost both bags along with everything in them. The plastic is junk and snapped. Make it will an alloy morons!! Yes, it's a few cents more we would pay you the difference.
Innovative Design, Need version 2.
Familiarity:

I've put it through the wringer
I've used this small bag on my Arione Versus for well over a year now. I've rode with it in all types of weather and it holds up just fine. The material is a thick and fully waterproof (I've taken out the tube and put my phone in there on wet rides). The small size has just enough space for 1 tube, 1 CO2 cartridge/applicator, and levers. Maybe even a gel and some money or car key if you get daring. I like the clip and adjustable design of it. Aesthetically, this is the best looking bag out there.
My only issue with this bag is the plastic clip. After one year of being shoved around it's grown a little loose and I worry it is going to fall out of the seat on a bumpy rides. Also even when I tighten the screw it still flops around a little bit which is annoying when climbing or going slow pace. Mine is still holding strong to the bag itself though unlike the previous reviews. I think if they made a better clip in the next version this would be a 5/5 no questions.
Au Contraire, I Like this Product
Familiarity:

I've put it through the wringer
Lots of negative reviews of this product, but I have to say, it's worked well for me so far. I would agree that the plastic insert that attaches the bag to the saddle is designed in a way that could easily snap if pulled on in the wrong direction once inserted into the saddle. But so far so good. I do like how easily it attaches to the saddle - literally snap and click. I've bought the small bag and the next size up. Like all good products, maybe Version 2 of this will solve the problem for everyone.
Lost but not found
Familiarity:

I've used it several times
This in theory is a great bag. Although very small my main problem is the attachment ingagement. Somewhere along a 3hr ride it flew off. Never to be seen again. I appreciate the design but it needs a few more revisions before I'd buy this again.