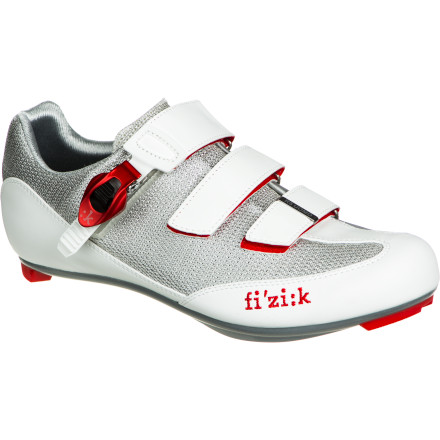 Detail Images

Videos
Description
Peloton quality and a crit racer's price.
We have to admit that it took us a bit to distinguish the differences between the R3 and Fi'zi:k's newest creation, the R5 Uomo Shoes. Some points are obvious, like the replacement of kangaroo leather for Microtex on the uppers and a carbon-reinforced nylon outsole instead of the R3's carbon fiber. However, we're more apt to call those differences enhancements to both comfort and value. Now, the shoes feature more ventilation and a rather comparable level of stiffness at a fraction of the cost. And with only a 20 gram difference between the two, it calls into question, how much do we actually love leather and carbon?
So, besides $100, the question begs to be asked, what are the differences between the R3 and R5? Well, it all comes down to materials. Starting at the closure system, Fi'zi:k replaced the Sailcloth fabric found on the hook-and-loop straps R3 with its go-to-material, Microtex. Essentially, this is the same synthetic leather that's found on everything from Fi'zi:k bar tape to the uppers of the R5. In addition to these straps, the R5 features the same micrometric aluminum ratcheting buckle. This system allows you to fully tune the fit and volume of the shoes both pre-ride and on-the-fly. The bottom two straps control the snugness of the fit at the metatarsal and instep areas, and are best adjusted before you hit the road and left alone thereafter.
The ratcheting strap is what dictates the entry and exit adjustments. The loading lever is made from aluminum that's been mated to a stainless steel base. It has a double-click adjustment capability with a full-release mechanism at the base of the lever. Together, the three strap system eliminates any internal foot slippage that depreciates your efficiency. To evenly distribute pressure across the top of the foot, Fi'zi:k made the strap dimensions wide. The strap design allows you to easily lengthen or shorten the strap in order to precisely dial-in the volume of the shoe. Under the closure, you'll find a well-ventilated, nylon mesh tongue. This is another subtle difference between the R5 and R3, whereas the R3's tongue is removable for cleaning and volume-control.
To further control slippage, the R5 Uomo has shaped the heel cup at the aft position of the shoe. This feature keeps the foot in the perfect position on hard up-strokes and while climbing out of the saddle. As a result, you're powering the pedals comfortably and efficiently. At the outsole, you'll see the largest differentiator between the two models. Where the R3 features a multi-layered carbon fiber sole with Tepex and a Mobius rail, the R5 makes use of a carbon-reinforced nylon outsole. And while this keeps costs down, it doesn't inhibit either comfort or power transfer. In fact, the R5 retains a low stack height and a high level of rigidity. But, like the with the R3, Fi'zi:k engineered-in trace flexibility. So, the outsole creates a direct power to the pedals, while allowing enough movement to guarantee comfort after 80 kilometers.
And on the topic of comfort, Fi'zi:k went above and beyond to make the R5 extremely breathable. In fact, you've probably already noticed the high level of mesh ventilation along the upper of the shoe. This feature keeps your feet breathing and comfortable on long summer days in the saddle. And for the insole, Fi'zi:k included its own Superlight Insole. And while its not custom moldable like with the R1, it does incorporate a thoughtful design that assures comfort by absorbing road vibration and supporting your arch system.
The Fi'zi:k R5 Uomo Shoes are available in odd and even sizes ranging from 40.0 to 48.0 and in the colors Black, Black/metal red, and White/silver/grey. Please note that the R5s are only compatible with standard three-hole cleat systems.
Great Looking, Comfortable, No Stiffness
Familiarity:

I've put it through the wringer
I race road bikes, and train at least 6 days a week on the bike.
I have had these shoes approximately 2 years now, and were purchased to replace my LG shoes. They are lovely looking shoes (in black with red accents), are easily the most comfortable shoes I have ever had. My only gripe with them is the non-existent stiffness. May be this is the result of the added comfort, and I shouldn't have expected a stiff AND comfortable shoe at this price point?
Just wish manufacturers would provide us (the customers) with a comparison across their product range in areas such as stiffness and comfort.
Great Intermediate Shoe
Familiarity:

I've used it once or twice and have initial impressions
These shoes are great. Especially at this awesome discounted price. The size chart posted wasn't right. I went through a couple pair and ended up with a 44.5 which shows a US 11 on the box.
Great shoes at the discounted price
Familiarity:

I've put it through the wringer
I have had these shoes for about 3 months now and probably put around 500 miles on them already. My initial impressions upon opening the box was that they are aesthetically pleasing. Even the shoebox was very nice (I still have the box and store my shoes in it)!



When I put them on for the first time they felt like they weren't a great fit. The top strap is adjustable and I had to get it to where it I felt like my feet were pretty cinched in tight (I have flat feet). Eventually I broke the shoes in and they felt a lot more comfortable than they did when they were new.



The breathability is amazing! I ride in Arizona so having good airflow is extremely important. The lateral sides of the shoes are basically mesh but the medial sides of the shoes are all leather.



Overall I'm very pleased with the shoes. I would've like to have gotten a cloth bag to store the shoes in (I mean if you're going to pay full price of $180 it should at least come with one) but I paid $90 dollars for these. And for $90 I am completely satisfied with the shoes. However, I would not pay full price for these because I feel like they're not worth that amount.
Buy the ticket, take the ride.
Familiarity:

I've used it once or twice and have initial impressions

Fit:

True to size
I recently purchased the Fi'zi:k R5 Uomo and could not be more excited. My initial impressions of the R5 have been pretty positive. I was super stoked to find that shoes fit true to size. Like most consumers, I was a bit nervous after reading a couple different reviews that had concerns about the fit. But, after throwing these bad boys on I was relieved to find that they fit properly. Because these are a recent purchase I have not had a chance put shoes through their paces on any long rides but once do I will be updating this review. Stay Tuned Folks!
Unanswered Question
Do these shoes fit a wide foot?
Top shoes - love them
Familiarity:

I've put it through the wringer
Top shoes - love them. I've been using these now for 4 months and have enjoyed them far more than my Shimano shoes. No hot spots and plenty stiff enough for me. Plus they look great. Quality is very good at this price - Highly recommended.
Average - Not too impressed.
Familiarity:

I've used it once or twice and have initial impressions

Fit:

True to size
I'm giving these shoes an average rating. The fit was ok, I could tell they were breaking in a bit after a few miles of riding. I have a wider foot and these were ok with a normal thin cycling sock. I was disappointed in the sole – they felt very squishy to me. Note that my last pair had a carbon fiber sole and was very stiff. I realize now that a stiff sole is definitely a must-have for me. I returned them to purchase something with a wider footbed and stiffer sole.
Not sure what others are talking about..
Familiarity:

I've used it several times

Fit:

True to size
Purchased these shoes a couple weeks ago when they were on sale. They were just over $70, and for that price I can't complain. Even if i were to have paid full price, i still wouldn't complain. Between my running shoes, casual shoes, boots, etc. I average a sz. 46. I ordered a 46, and they fit wonderfully. I have average-high arches in my feet, and average or maybe slightly above average width; and again, they fit great. The heel is comfortable, the sole is stiff with ample padding, the toe isn't too narrow and is easily made wider or narrower with the toe strap, and for a <$100 shoe, they are well made. Its been 35C+ the past few weeks, and with a thin cycling sock these shoes breathe well and don't have any hot spots.

Would the R1's fit better? would they be more well-made? would they be more comfortable and breathable? Maybe. But they also cost $400. These shoes were less than $75 and they do they job just fine.
Sizing chart is wrong
Familiarity:

I returned this product before using it
I ordered these in a 43 which chart said was a US 9.5. Inside the shoe they are clearly marked US 9. I sent them back They also were not impressive in construction .


Please don't buy these...
Familiarity:

I've put it through the wringer
Made the mistake of purchasing these. What an uncomfortable pair of shoes (many other verbs could be added before uncomfortable). The pair I received were extremely uncomfortable (yes I said it again) with hot spots forming small fires after an hour ride. There was also a major "bump" in the inside leather that caused horrible pain on my toes. No arch support and the sole flexes way to much. Do yourself a favor and DO NOT BUY THESE. I repeat DO NOT BUY THESE. Purchased the R1's and even my initial 1st try on they are infinitely more comfortable. Did I Say don't buy these. There, you've been warned!
Great looking shoe....unfortunately the run really small. I would guess about a full size too small.
Worst Shoe Ever....
Familiarity:

I've used it once or twice and have initial impressions
While these shoes have a great look and style the R5's, which are the lower-end of the Fizik line have the worst fit on the planet. I have an older pair of R2's and the fit with them is nothing more than perfect. No hot spots and they run cool for so much leather. But these R5's are tight in the toe and sloppy in the heel. I thought they were broken when I first put them on. Stick with the better Fizik shoes.