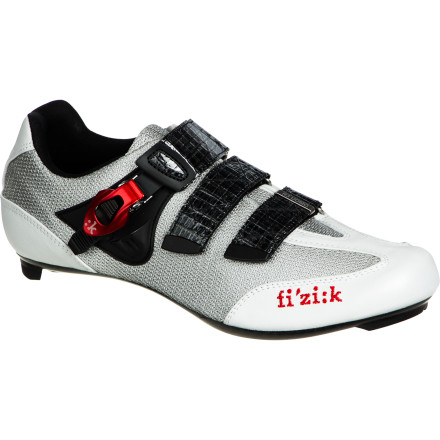 Description
Sails for your feet.
If you're examining high-end road shoes from Fi'zi:k, you'll notice a few subtle differences between its top R1 Uomo offering and its R3 Uomo Shoes. First, the closure on the R3 utilizes a lightweight aluminum buckle in place of the R1's Hex/MC carbon fiber version. Second, the insole of the R3 is Fi'zi:k's Dual Density iteration versus the 3D Flex design. Besides these minor changes, the shoes are practically identical. They're handmade in Italy with the same craftsmanship and attention to detail that only come with this revered tagline. Features such as an advanced carbon fiber sole design, ultra-soft kangaroo leather uppers, and durable sail cloth straps are all present in the R3 package.
For a secure, adjustable retention, the R3 Uomo incorporates two hook-and-loop straps along with Fi'zi:k's lightweight, durable aluminum ratcheting buckle. This system allows you to fully tune the fit and volume of the shoes, both pre-ride and on-the-fly. The bottom two straps control the snugness of the fit at the metatarsal and instep areas. These straps are best adjusted before you hit the road and left alone thereafter.
The ratcheting strap is what dictates the entry and exit adjustments. The loading lever is made from aluminum that's been mated to a stainless steel base. It has a double-click adjustment capability with a full-release mechanism at the middle of the lever. Together, the three strap system eliminates any internal foot slippage that depreciates your efficiency. To evenly distribute pressure across the top of the foot, Fi'zi:k made the strap dimensions wide. The strap design allows you to easily lengthen or shorten the strap in order to precisely dial-in the volume of the shoe. Also, each strap has been crafted from fully-adjustable length sail cloth in order to bolster durability, while maintaining a low overall weight. For a complete control over volume, or simply to efficiently clean the inside of the shoe, Fi'zi:k designed the tongue pad to be fully-removable.
To further control slippage, the R3 Uomo has shaped the heel cup at the aft position of the shoe. This feature keeps the foot in the perfect position on hard up-strokes and while climbing out of the saddle. As a result, you're powering the pedals comfortably and efficiently. This has been further heightened by a variable stiffness sole construction. The base layer is an ultra-stiff carbon fiber plate. Meanwhile, the second layer has been positioned close to the heel. This layer is constructed from a material called Tepex, which is a little more malleable than the carbon fiber in order to accommodate and support multiple heel and arch sizes. Encompassing both of these layers is a polyurethane Mobius rail that strikes the ideal balance between elasticity and rigidity. Together, the multiple layers work hand-in-hand with the insole and 3D upper to keep the heel in place and to maximize comfort.
For the insole, Fi'zi:k included its own Dual Density EVA insert. And while it's not moldable like with the R1's 3D Flex, it does incorporate a supportive design that assures comfort by absorbing road vibration and supporting your arch system.
The Fi'zi:k R3 Uomo Shoes are available in odd and even sizes ranging from 40.0 to 48.0 and in the colors Black/red/white and White/royal blue.
Pretty damn sexy shoes!
Familiarity:

I've used it once or twice and have initial impressions
To tell you the truth, when I decided to grab this shoes, another pair of 60% off Lake had already been in my shop cart. Fell in love with R3 at the first glance, what a pair of sexy shoes! The only problem is... I'd rather not wear them out without a shoe cover (practically, the Kangaroo leather would not be as easy as microfiber to clean).



The comfortability is decent. Kangaroo leather is super supple (though looks delicate). Nylon mesh looks like a substitution of heat molding. This mesh is slightly stretchable and holds foot precisely without uncomfortable pressure (unless you have wide feet, it would not fit you...). My another pair of R171 failed to fit my low instep, but this stuff is totally suitable to me. I'm very glad about it.



I've just tried the shoes for a time so dare not to discuss the performance of them... yet IMO it's meaningless to doubt the stiffness of a full carbon fiber outsole :)



The issue of its compatibility with SPD-SL cleat (also mentioned in another comment) is EXISTING! But it could be easily solved with a little plastic washer. Without this problem the R3 shoes would be worthy of 5 stars.
Defective?
Familiarity:

I've put it through the wringer
There's a lot to love about these shoes. The fit is great for my wider feet. The latching mech is simple. The look is loud and IMO great. However.



There's a large lump in the footbed of my shoes. It seems there was some sort of fiberglass flap used to install screws for the cleat holes. When they layed this down, it was extremely uneven. This has created a large lump directly under the ball of my foot. I only noticed after getting bruising on the ball of my feet. This is where the majority of the force is applied to the pedal and likely the most critical area of the footbed. I've tried emailing Fizik with no response. Since 30 days had passed I couldn't return them either.



The screws that hold the ratchets on also needed lock tight. They would back themselves out after a few rides.
Light; High Quality; Decent Fit
Familiarity:

I've put it through the wringer
Very light, if that's your thing. 370 g (with Speedplay cleats) vs. Sidi Genius's 400; 420 (!) for Lake CX 236--even with the supposedly miraculous Boa set-up); 400 for Northwave Evo's. More comfy than Sidi; way more so than Lakes. Having said that, I wouldn't say they're, like, form-fitting. Reviewing shoes is like reviewing bibs. Or, even worse, saddles. No one has a physiology that's identical to anyone else. Moreover, any shoe (once you crank it down for minimum slippage/power delivery) will give you the dreaded 'hot spots'/numbness. If not, you're a freak of nature--a lucky freak of nature--and I wish I were you. Seems like no shoe I've ever owned (and I've been around a while) can ever get tight enough, either, without some discomfort. And the Fiziks are no exception. I have wider feet but not at all extra wide. I think maybe it's that most shoes stretch? But a smaller size would mean a fair amount of constriction. Anyway, I just deal with the discomfort. Not hard to do with these shoes, esp. since I seem to end my rides with better numbers, consistently. I've tried to rule out other variables besides the Fiziks. But I think they make me go faster--truly. Regarding the fit issue: Luckily, it looks like I can trim-down the Fizik's straps. Just waiting out a little more break-in time; don't want to be too hasty with the old scissors, regretting it later on. Anyway, I would go ahead and buy these--esp. at this price. No-brainer.
roomy toe box
Familiarity:

I've used it several times
I need a roomy toe box because i have a hot spot just next to my little pinky toe bone. This shoe has ample toe box room. Material is very supple compared to my specialized expert shoes. The appearance of the shoes is very classy. The best looking road shoes in my opinion. I'd prefer to get the boa system model. I believe that's called the R3B but the R3 was on sale and I couldn't justify the price difference to the fully-priced R3B at the time.
Fi'zi:k R3
Familiarity:

I've used it several times
Great looking shoes, very comfortable firm support for your feet, don't flex too much and at a great price. I already had one pair of the R3 in black and now just bought the white ones.
What size should I order? I am a 9.5 US and wear a 42.5 with Specialized shoes
I'm a 9 US and bought 43 in this shoes. Fit perfectly. I'm assuming you should be 43.5. you can always exchange them.
Problems with SPD-SL system
Do not buy small-medium size if you intend to use it with SPD-SL system. I got the 41.5 size and the curvature of the sole is blending the cleat too much and could not engage properly with my pd-5700 pedals. This is a big design flaw.



I had to workaround this by using a washer and loosing some screws, not a great solution and defeats the purpose. Unfortunately it is already too late to return this flawed product. Very disappointed that Fizik did not do more thorough testing across their shoe sizes.



Note: I had no problems with the same setup with my Giro Empire.


Did not hold up.
Familiarity:

I've put it through the wringer
Well, I received these shoes as a gift, and had very high hopes for them. Unfortunately, they fell apart in less than a year. One of the strap end plates came off, and the heel pads broke, and fell off. The heel pads are held in with tiny screws, and the screws constantly came loose. I didn't even really walk a lot in the shoes.



They were comfortable while they lasted, and had pretty good ventilation, as well. Living in Phoenix has a way of testing a shoes ventilation, and these did pretty good. The fit was a little on the loose side, in the toe box, and the overall fit was true to size. I never experienced any hot spots, or weird fit issues. I used both Look, and Speedplay cleats on 'em.



In conclusion, if they hadn't fallen apart, I'd still be wearing 'em.
Comfortable, Lightweight Shoes
Familiarity:

I've used it once or twice and have initial impressions
These are great shoes. You can't beat the discounted price. The only thing one need to worry about is the size. If one has wider feet like I do and as other reviewers mentioned in their posts, it is recommend getting one size higher. I did some try outs at REI, checked out few other shoes to make my decision. I needed 44.5, I got 45.5 of these shoes. I like the nice mesh outer it feels nice and comfortable inside also provides some flex. I highly recommend.
Jury is still out-not any more...
Familiarity:

I've used it several times
I had similar issues with size chart as others. My Giro Factors are my favorite shoe at size 45. Using the chart I ordered the R3's in 44.5 but they were very tight. CC was very responsive and shipped me a pair of 45's that seem to fit OK although a little tight in width of forefoot. I had understood that these had a more generous toebox than average but I do not agree with that. They are gorgeous shoes and manufacturing looks great-time will tell. I'm a little disappointed in the ventilation-there are no air inlets in sole-ventilation is left up to the mesh uppers. I get a little bit of 'hot foot' on soles of feet but I'm in GA where we are biking in 90+ heat. I'll give them a few more rides before I pronounce them as hot shoes. Sole is light weight and super stiff. I really want to like these shoes so maybe a few more rides to break in. I think they are the first shoes I've owned in years that I've had so many comments about how sharp they look.

Follow up: I ruined two pair of socks because the blue inner cuff bled blue dye on them from sweat. Finally returned-too many negatives.
Incorrect size chart
Familiarity:

I returned this product before using it
The size chart for a US 10.5 reflects 44. When the shoes arrived the tag inside the shoe did note 44 but the US size in the shoe was 10. When I tried on the shoe is was 1/2 size too small. Beware when ordering. It appears there is an error in the size chart. When customer care contacted they promptly reshipped next size and sent authorization for return.
Comfy, high quality, great ventilation
Familiarity:

I've used it several times
I came from a pair of 2013 Giro Empires, size 43 the most comfortable cycling shoes I've ever used. I also bought the R3s in size 43. However, in high heat and humidity, the lack of ventilation in the Empires caused me to look for shoes that were more for the summer.



The 2014 R3's fit that bill nicely. The nylon mesh makes up a large part of the shoe, so it was extremely nice to feel some wind in my feet on these hot summer rides. The fit compared to the Giro was nearly identical, the toe area being slightly smaller. If you have wide feet, I guess these wouldn't fit very well.



These don't have high arches that seemed to plague the 2012-2013 version of these shoes. They're supposed to be totally redesigned for a wider selection of feet sizes.



Overall extremely comfortable, extremely good ventilation and they look awesome.
Incorrect size chart info
Familiarity:

I returned this product before using it
The shoes look real good and seem well made. I really liked them. However it's too small for me. All my cycling shoes from other brands (Bont, Shimano, Specialized) are size 43. I checked the size printed in the shoe and while it is indeed size 43, which is what I ordered, it also says it is US size 9. The size chart in Competitive's product page says 43 = 9.5 (US). Checked Fizik's official website and the size chart is even farther off. I still want them, immediately RMA'd for replacement to a larger size.
Great quality, narrow fit
Familiarity:

I returned this product before using it
Just received these in the mail and two things stand out:

1. The fit and finish is superb

2. They look much better in person than they do in photos



I tried them on, and the materials are nice and supple - they fit like a glove.



I'd heard rumors about them having a "wide toe box". Unfortunately, they are pretty standard cycling-shoe width, which is fairly narrow. I wear a D-width dress shoe and my feet hang over the sides of the carbon soles on these. I ordered a size 46, and the sole measured about 96mm at its widest point. In comparison to other brands, these are as narrow as DMTs, Giros and regular Sidis. Specialized S-Works (2013, regular) are slightly wider, and Shimano R170s (regular) are even wider still. Those with wide feet can squeeze into the R3s because of the supple upper material, but you'd be more comfortable in something wider.



I wear a 46.5 Sidi Genius 6 Mega, and they are a little roomy for me in the toebox (not the forefoot). I was told to size down 0.5 for the R3s, but I think I should've sized up to a 47, because the R3s were also slightly short. Even the few mm of width that extra size would've given me still wouldn't be enough to make them comfortable. Oh well...



As for the sizing questions - it'd be great if Competitive Cyclist and other websites would start providing some actual measurements for their shoes. I'm sure it would prevent a lot of returns, and the lasts probably don't change much from year to year.