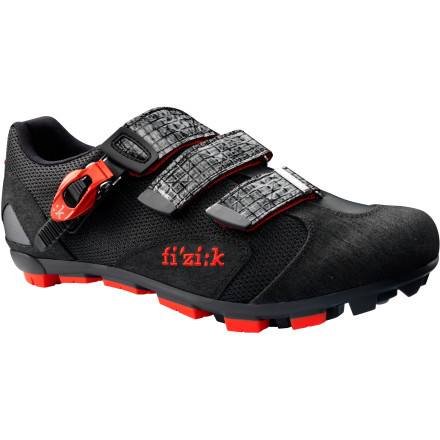 Detail Images

Videos
Description
Hit the trail with style.
Riding in the mud doesn't mean you have to wear boring shoes. The Fizik M5 Uomo Shoes bring a pop of style to any trail adventure along with a big dose of techy performance to improve your ride.
The M5 Uomos come with a ratcheting buckle and two hook-and-loop straps that let you adjust the fit for a customized and comfy ride. Fizik's Superlight insole also provides arch support and a bit of cushion to absorb vibrations and keep your feet happy. Once you have the fit dialed, the stiff carbon-reinforced nylon sole efficiently transfers power to the pedals and minimizes hot spots, and has just enough flex to keep your heel in place while carrying your bike up a steep ridge or scrambling over large rocks.
Anti-scratch leather and mesh upper
Ratcheting buckle with two hook-and-loop straps
Carbon-reinforced nylon sole
Rubber traction lugs
Superlight insole
Fine for Recreational Riding
Familiarity:

I've put it through the wringer
After a few months of cycloross (lots of racing) and two mountain bike rides they are falling apart.

They also came off of my feet on a few run-ups so the heel isn't so snug.


The felt a little too narrow as well. I liked the looks and quality of the shoe however.
Excellent shoe but do run small
Very comfortable shoe that looks great!
Familiarity:

I've used it several times

Fit:

True to size
After shipping the wrong size back, I got my size 45's and they fit like a glove! I usually wear a 44-45 so they are true to size. They are a very good looking shoe that form around your foot without any pinch points. The fasteners hold firmly and the soles are very stiff for excellent power transfer. You can't go wrong with these shoes.
Very comfortable shoes.
Familiarity:

I've used it once or twice and have initial impressions
I looked through all the reviews on the Internet to find clues on sizing before buying (I have not received mine). Let me tell what I found out. I do only use european sizing, so I have no clue to whether the conversion chart is correct. First, these shoes are very true to size compared to non-cycling shoes. I take 44.5 in other shoes and 44.5 in Fizik. Second, these shoes are very true to the old Fizik lines. I have the old R3 and R1 and they are exactly identical in size. Third, being true to size means that the are a bit smaller than other brands I have used. I would rate them ½ a size smaller (thus going in 44.5 in fizik would compare to 45) than the following other brands I use: Shimano, Bont, Sidi, Rexton. I would rate the as almost exact the same size as Diadora and about ½ a size bigger than Carnac.



Beside sizing, these are very nice shoes. I cannot vote for the long term durability yet, but they feel nice and of much higher quality and with much greater attention to detail than any other shoes I have tried below 150$. The only weakness is a rather large heel cup which may for some be too big (but I have small heels so I guess only few will really notice).



Do yourself a favour and buy Fizik Sidas 3D insoles as well.
Wanted to love these...
Gender:

Male

Familiarity:

I returned this product before using it
great look. great craftsmanship. Heel cup is just too shallow. Tried the 45. too much room, had the straps tightened all the way and had play. the heels just slip out. Tried the 44.5 and they're just too tight. Heels still slip though. I think its a design flaw.
Runs small
Familiarity:

I returned this product before using it

Fit:

Runs small
Beautiful and well made shoes, but as others have said, it does run small. I wear size 44.5 in specialized road shoes, so I ordered that size first, but they were very tight. Hopefully the 45s I just ordered will fit perfectly.
Nice shoe, but ran small.
Familiarity:

I returned this product before using it

Fit:

Runs small
I went with the 46 based on another reviewers mention of extra roominess. I range between a 12-12.5 with a normal width but found my toes just a little too long. The toe box was snug, but since I didn't ride these before returning, I can't say if it was too snug. Had good arch support. I really felt like these things wrapped up my feet like a glove. Hope the 46.5s I just ordered do the trick. I would have liked to go straight to 47s but of course those were sold out in the color I wanted.
Comfy Squishy Feely Shoe
Familiarity:

I've put it through the wringer
Right out of the box these things feel great. They are very roomy so thin socks with small feet will end up with lots of play. I tried a thicker footbed but that was too much. They are well made! They look awesome and worked well right out of the box. The roominess does cause some issues on the trail. There is a tremendous amount of heel lift so much so that my foot has come out of the shoe on occasion. The other problem is that it feels like my foot is rolling to the outside. I think that they may have compromised comfort for stability. It hasn't happened yet but your toes are vulnerable to striking rocks if you step off abruptly.
fizik M5 shoes
Gender:

Male

Familiarity:

I've used it several times

Fit:

Runs small
Having tried the R5 shoes from the same manufacturer, I was pretty sure the M5 would fit me - and they did. The local bike shop just didn't stock the M5 shoes in my size (even sizes only) and, when I went online, I found these at a reduced price - which was nice.



I didn't do any "breaking in" but found I didn't really need to. I just installed my Time ATAC cleats and took the shoes with me to ride the (273 km) Confederation Trail in P.E.I. and rode 60 - 80 Km / day. They felt good from the start and were easy to adjust on the go. No issues with my feet (even though one big toe has been swelling - due to an old injury), the toe area seemed to adjust and the heel area felt just right (snug but not too much so). The shape of the shoe / sole did not make make the outer areas of my feet feel sore (like my Sidis do), even though my lower legs are somewhat bowed (I know, they make orthotics for that).



Size comparison? I wear size 43 in Ecco shoes (and can get snug or loose fit depending on how I draw the laces); in these, I needed size 43.5, which is the same as my (9 yrs old) Sidi road shoes. They also seemed snugger at the heel, than some other MTB shoes I tried and much better than my (15 yr old, worn-out) Diamont MTB shoes. Note that the two lower velcro fastening straps can be re-positioned to allow for a narrower or wider set-up, with the same range of adjustability.



The Fizik folks got these right. I would recommend these even at full retail price. Made in Italy / high quality , exellent fit and feel - and they look good too.



Highly recommended!
I sent these back.
Familiarity:

I returned this product before using it
I have worn size 45 shoes for 20 years and ordered these in 45, despite the website chart showing I should be in a 44 or44.5. They did not even come CLOSE to fitting. I sent them back and chose not to re-order because they seemed very thin-these might do as a dry weather super lightweight xc racing shoe, but I would not consider them for every day week-in, week-out all weather riding.
Not for a narrow foot
Familiarity:

I returned this product before using it
I bought these to replace some Sidi shoes that are getting pretty worn out. I have a narrow foot and these Fizik just won't work for me. I had the velcro straps pulled as far as they could go and the ratchet buckle was at the end of it's adjustment. They were tight enough at that point but were creating hot spots on my feet. I had to return them. It's shame because they seemed like nice shoes otherwise. The fit just didn't work for my feet. They should work for someone with average to wider feet, though.
Would not buy again
Familiarity:

I've used it several times
I purchased these shoes in June 2014 and have put about 125 miles on them so far. I wear regular size 10.5 and ordered size 44s per the size chart. Two issues have come up with the shoe so far. First, very surprisingly to me, the fit is not tight and my heel lifts out of the shoe. My toes are at the end of the shoe as they should be, and I have all velco straps as tight as possible and the ratchet buckle is also as tight as it can go. Even with this the shoe is not tight on my foot, which is surprising to me; I actually expected to have the opposite problem meaning to have a low volume shoe that wouldn't give me enough room. The second issue is a design flaw in my opinion. The outside edge of the shoe (meaning the side along your little toe) is not protected well from roots or rock hits (you can see this mesh area in the photo above just in front of the "Fi'zi:k" name). I already have a hole developing on the left shoe through the mesh. I bought these shoes to replace a pair of Specializeds that were less expensive and did a better job of holding up to the trail. I really want to like these shoes but I will be replacing them very soon due to the fit on my feet and the lack of durability.
High Class Kicks
Familiarity:

I've used it once or twice and have initial impressions
Are you a fashion conscious, all mountain shredder on a budget? Well good because these are pretty much perfect.



With a unique style these carry plenty of "bling" factor, and are sure to turn heads on the trail. These are no slouch in the performance department, with a mid-stiff sole that is as equal parts comfort and performance. And the price, $179 retail are you serious? High end shoe but someone up the chain forgot to include a high end price tag.
6+ months and still loving these shoes
Familiarity:

I've put it through the wringer
Bought these to replace some sidi dragons. These are a great fit if you have slightly wider feet. I always find bike shoes to be narrow. Sole stiffness is pretty high but will soften with time and I don't feel the cleats at all. I run my own touring company rockymountainbiking.net and have to be in these shoes a lot while on tours and can say they are super comfy. I added some super feet soles which is well worth the money since most factory soles suck.
Single problem makes for a big issue
Familiarity:

I've put it through the wringer
Sidi advertises the surface the insole goes on being smooth as a big feature. I never really realized that was a feature until I got these shoes. For the cleat Fizik cuts a hole all the way through and then doesn't fill it properly. This leaves the insole unsupported right below the ball of your foot--the most critical area for support. I didn't realize this until I started developing foot pains after many rides--something I never had a problem with my sidi or specialized shoes. I upgraded to the M1 which has a different design which avoids this problem and it has been great. Honestly the design and construction of this shoe is irresponsible.

Apart from that though the shoes are pretty nice, they keep little trail debris out and fit me quite well. The rubber on the sole provides better than average traction over rocks and logs. The design of the buckle isn't perfect either. To release the tension requires quite a bit of force and is a little bit too difficult to do on the bike. Compared to my old shoes it's significantly more difficult. It's not a deal breaker at all though you just have to be a bit more careful and aware of how you like them when putting them on. I didn't have any problems with my feet getting too hot even when riding in the 102F heat of Southern California.

If only the sole was a better the shoe would be at least 4 stars. A little gripper rubber on the bottom and a slightly redesigned buckle and its 5.
Ferrari chic, Kia price.
Familiarity:

I've put it through the wringer
It's unnerving that Fi'zi:k can get away with selling these kicks under $250. Why? Because it makes selling anything more expensive really, really hard. Impeccable construction, double-stitching, and higher-quality materials than many far more expensive dirt boots.



From a comfort perspective, they feel like a pair of Sidis, but are stiffer than their entry-level offerings. Italian slippers that your feet feel immediately at home in. They do get a bit warm - the leather used on the toe, while very resistant to impact, does not breathe. Then again, if sweaty feet bug you, there's bigger things to worry about. Sole stiffness, as mentioned, is quite adequate for most pedaling applications. I wouldn't place them in the same realm as the uber-rigid race shoes available for more scratch, but there's enough flex that off-bike they're quite tolerable.



Fit is slightly wider than the likes of a Sidi Dominator at the forefoot and comparable in length, while the heelcup is narrow. There's quite a bit of volume to work with, and my low-volume forefoot had trouble getting enough retention from the straps - something to keep in mind.



Overall? Styling, comfort, and construction quality win me over on these. At the $200 pricepoint, unless you're seeking something to high-post your way up a fireroad at mach bitch (read: not having fun), I'd put these on the BUY list. If they fit, that is.
Unanswered Question
How does the M5 sizing compared to the...
How does the M5 sizing compared to the R3?
How do these fit compared to a Mavic,...
How do these fit compared to a Mavic, Shimano, or Sidi shoe? Run big or small?
Best Answer
I can't speak to this shoe, specifically, but I have the R3s, and I think they fit just a touch bigger, both in length and width, than a Sidi shoe. Width is similar to Shimano, and length is probably close as well, if not a bit longer.
Agree completely I actually purchased these they are about as narrow as Shimano or Mavic but longer. So far great shoe, I have completed 2 lengthy endurance races in them and they are great for the application where you might encounter some long steep hike a bike. Still stiff when you pedal but enough toe flex where you can hike steep unrideable sections of trail.



Some points:

They did seem to snug up after being soaked for a long period of time, I wont say shrunk but snigged up.

Durability: They are starting to wear already but I am rough on shoes. Will see how they hold up in the long run.

Cleat plates: Both mine stripped yes I might have over torqued but not by much, ended up taking some out of old pair of shoes that went into the dump.