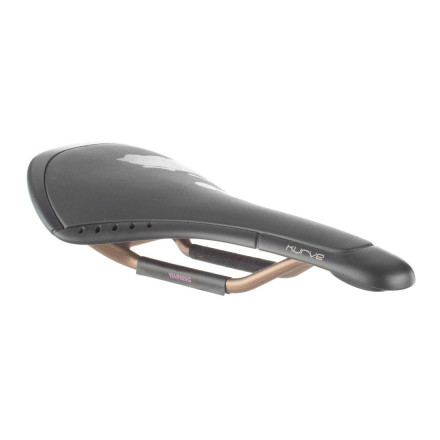 Detail Images
In its continuing effort to create the world's most comfortable high-performance saddles, the design team at Fizik went back to the drawing board. The result is the KURVE, a new line of saddles featuring innovations that bring increased comfort and customization to the Fizik saddle family. Designed specifically for riders with average flexibility who change positions while riding, the Fizik KURVE Chameleon Saddle proves that comfort and high performance need not be mutually exclusive.
Why Chameleon? Well, in an effort to eliminate some of the guesswork from choosing the saddle that suits you best, Fizik developed Spine Concept, a fit system that divides cyclists into three groups (Snakes, Chameleons, and Bulls) according to riding style and flexibility. If you're a Snake, you're very flexible and prefer saddles that are flat and narrow; Bulls have less flexible spines and as a result rotate their pelvises forward, an adjustment that requires a saddle with a larger, deeper pocket. Chameleons fall somewhere in the middle. They change their riding position periodically to manage their body's weight distribution and prefer saddles that are flatter than Bulls, but a bit wider than Snakes.
But let's talk about what truly sets the Fizik KURVE apart from the rest. In standard saddles, comfort comes from some form of foam padding; but foam takes a little while break in and can degrade over time. Instead of padding, KURVE saddles rely on the base of the saddle for comfort. The KURVE's composite Re:Flex shell behaves like a sensory receptor, mirroring your movements in the saddle as you ride. Key contact points in the shell -- such as those under your sit bones and perineum -- are constructed using fewer composite layers, thus enabling them to respond to pressure from your body. The new design means KURVE saddles have a more rounded top than their traditional counterparts -- that's the Re:Flex shell waiting to do its job. Once you hop on the bike, the saddle flexes, conforming to the shape that fits you best. Best of all, since KURVE saddles don't rely on padding for support and comfort, no break-in time is required -- just install it and ride.
Fizik didn't stop there though. The KURVE Chameleon Saddle also features the company's new Tuner insert, an interchangeable nosepiece that allows you to customize the flex of the saddle. Need a bit more forgiveness while piling on your early season base mileage? Simply install the more flexible nosepiece for a softer, gentler ride. Want to muster every last watt of power from your legs during this weekend's time trial or triathlon? Switch to the more rigid nosepiece for more stiffness and less flex.
Like many of Fizik's top saddles, the KURVE Chameleon also features TwinFlex technology (the shell is comprised of interwoven fibers that flex like a hammock), WingFlex technology (small slits in the side of the saddle flex when pedaling, allowing free thigh movement with each downward pedal stroke), and the Fizik Mobius Rail (a one-piece circular rail system constructed of cold-forged aluminum alloy is stronger and lighter than individual rails). By themselves, each feature provides immediate benefits to the rider, but when combined with the Re:Flex shell and Tuner insert, they create a saddle that proves high performance and comfort can coexist.
The Fizik KURVE Chameleon Saddle is Black with an embossed animal logo. It measures 278mm in length and 144mm at its widest point. It is compatible with the Fizik ICS system of bags and lights.
good idea but major flaws
Familiarity:

I've put it through the wringer
Very comfortable. I like the concept and the flex that is built into a thin shell. But many flaws in execution.

The shell has been known to crack. And mine has started to show some cracks after a few months of use. I've read about it and have a few friends who experienced it. I was willing to live with that risk given that I've read good things about their warranty policy. However one unexpected issue I faced was that the saddle causes massive abrasion to shorts. I had a few pairs of Assos bibs (including a brand new one) completely abraded by the saddle. I don't use a saddle bag so it's not caused by a bag or any Velcro. I thought it might be caused by the rails. For some reason, Fizik made these rails with a rough texture and also a carbon wrapping around it. Maybe it's for a more secure grip but I don't see other manufacturers doing it. I taped the rails to try and solve this problem, which isn't ideal in the first place, but it's still happening. I've heard from other Kurve users that they faced the same issue and they suspect it's the plastic edge of the shell. Now I have to try and find other saddles to replace the Kurve which is actually a very comfortable saddle. It's been a frustrating and costly experience.
So Far So Good
Familiarity:

I've used it once or twice and have initial impressions
I've used the saddle for the first couple rides of the year and so far I am impressed. No issues with the saddle cracking yet, however that may change with more miles.
Issue with cracks fixed w Kevlar
Familiarity:

I've put it through the wringer
I'm on 3rd saddle. The first 2 cracked! I contacted Fizik and they promptly sent me new ones after simply emailing them a photo of the cracked saddle. The 3rd one I have now has the Kevlar reinforcements. I don't feel any difference in the performance or comfort with the added Kevlar.
Unanswered Question
Just an FYI...Fizik's 2015 Version of this saddle has a Kevlar reinforcement layer that renders it impervious to tearing!!!! Should be released shortly...
Fizik's Most Comfortable Saddle
Gender:

Male

Familiarity:

I've put it through the wringer
I recently visited a bike shop that used Bontrager's gel sit bone measurement device. In the world of Bontrager's bike saddles, I measured just between their 138mm (Red) and 143mm (Yellow) sizes. In the world of Fizik Saddles, I'm a Chameleon. The Kurve Chameleon (144mm width) I've been riding was uncomfortable initially. For my first go, I started out on a 51 mile ride and had the saddle adjusted too far forward. Before I started out on the 111 mile beach ride, I adjusted the saddle back and ensured it was at a zero degree angle. After the final adjustment, and 111 miles, all was good.



The Kurve RE:Flex is a great design concept with two oval cut-outs on their saddle shell with a goal of providing flex for the sit bones. Using my thumbs and depressing on the space provided by the oval cut-outs, I found there to be pretty decent flex. I think Fizik could have used a different material that would have provided more flex that would make their RE:Flex technology 10x more beneficial and comfortable. Great Idea though Fizik!!



Often times, we roadies lean our bikes up against a wall or post using the edge of the saddle (you don't want to lean your frame up against anything and scratch it! No way!) The Kurve is designed with a hard plastic outer shell that doesn't scratch easily when leaning your bike up against any walls or objects to park your bike.



Please Note: This saddle uses 9mm Rails, not the standard 7mm rails you may be use-to using when installing a saddle. You may need to buy an adapter or an entirely new seat post.



Another note: The rails do not include any measurement markings to help cyclists figure out their adjustments on the seat post.



Overall, I've ridden this saddle well over 5,500 miles and haven't had any issues with cracking or wear at all, I'm 5'8" and 145lbs.



Other reviews I've read have all praised the Kurve for it's comfort and I have to agree, this is one comfortable and good looking saddle.
Ridiculously comfortable, but it cracks!
Gender:

Male

Familiarity:

I've put it through the wringer
Oh man...this sucks, because this is an amazingly comfortable saddle...Mine cracked, I've only put in 500 miles on this saddle.



I've attached a picture. I'm returning the saddle for a refund. I've inquired with Fizik to see if they know of this issue. I mean, right here on comp cyclist are three reviews all stating the same issue.





Really, it's too bad my ass has never been this happy. The comfort is sublime. excellent shock absorption; goes a long way towards mitigating what comes up through the post.



Far more comfortable than the many conventional offerings I've tried...




Amazing saddle, but
Familiarity:

I've put it through the wringer
Fizik support has been amazing and have replaced the saddle, but then the 2nd unit also collapsed. It seems they fall apart around 3000 miles!
Disappointed
Familiarity:

I've put it through the wringer
I loved this saddle so much and would've given five stars all day until recently. After roughly 2,300 miles ridden on it, the underside of the carbon fiber shell cracked causing the saddle to sag a significant amount. I couldn't figure out why all of a sudden it felt like my saddle height decreased and I was torching my quads. The I checked the underside of the saddle and say a crack running side to side in the middle of the saddle. This was causing me to sag lower and put more pressure on my quads.



So, at that price tag I would not recommend buying one just to have it fail before it's first riding season is over.