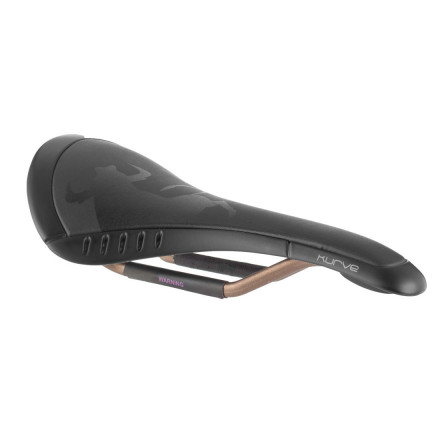 Detail Images
Most of us roll our eyes when we hear the phrase 'comfort saddle'. After all, the term calls to mind images of boardwalk bikes and saddles with cutouts so large they look like medieval torture devices. Designed for riders seeking a saddle with a deep pocket and a slightly wider profile, the Fizik KURVE Bull Saddle proves that high performance and comfort can coexist.
Why Bull? Well, in an effort to eliminate some of the guesswork from choosing the saddle that suits you best, Fizik developed Spine Concept, a fit system that divides cyclists into three groups (Snakes, Chameleons, or Bulls) according to riding style and flexibility. Bulls have spines that aren't quite as flexible as Snakes and Chameleons and, as a result, rotate their pelvises forward when they ride, an adjustment that requires a saddle with a larger, deeper pocket. Bulls can also experience some discomfort from their sit bones on traditional saddles, and will benefit from a wider saddle with a bit more of top-to-bottom wave to decrease pressure in sensitive areas.
But let's talk about what truly sets the Fizik KURVE apart from the rest. In standard saddles, comfort comes from some form of foam padding; but foam takes a little while break in and can degrade over time. Instead of padding, KURVE saddles rely on the base of the saddle for comfort. The KURVE's composite Re:Flex shell behaves like a sensory receptor, mirroring your movements in the saddle as you ride. Key contact points in the shell -- such as those under your sit bones and perineum -- are constructed using fewer composite layers, thus enabling them to respond to pressure from your body. The new design means KURVE saddles have a more rounded top than their traditional counterparts -- that's the Re:Flex shell waiting to do its job. Once you hop on the bike, the saddle flexes, conforming to the shape that fits you best. Best of all, since KURVE saddles don't rely on padding for support and comfort, no break in time is required -- just install it and ride.
Fizik didn't stop there though. The KURVE Bull Saddle also features the company's new Tuner insert, an interchangeable nosepiece that allows you to customize the flex of the saddle. Need a bit more forgiveness while piling on your early season base mileage? Simply install the more flexible nosepiece for a softer, gentler ride. Want to muster every last watt of power from your legs during this weekend's time trial or triathlon? Switch to the more rigid nosepiece for more stiffness and less flex.
Like many of Fizik's top saddles, the KURVE Bull also features TwinFlex technology (the shell is comprised of interwoven fibers that flex like a hammock), WingFlex technology (small slits in the side of the saddle flex when pedaling, allowing free thigh movement with each downward pedal stroke), and the Fizik Mobius Rail (a one-piece circular rail system constructed of cold-forged aluminum alloy is stronger and lighter than individual rails). By themselves, each feature provides immediate benefits to the rider, but when combined with Re:Flex and Tuner they create a saddle that proves high performance and comfort can coexist.
The Fizik KURVE Bull Saddle is Black with an embossed animal logo. It measures 265mm in length and 146mm at its widest point. It is compatible with the Fizik ICS system of bags and lights.
Won't fit Trek seatmast, even with 7x9
Familiarity:

I returned this product before using it
Even with the right side 7x9 (I also tried 7x10) clamps this saddle won't fit a Trek seat mast. The distance between the rails just isn't wide enough to slide over the body of the seatmast, which is required to then let the rails clamp into the sides.

I think this would work well with a top clamping, conventional style seat post, but it appears to be a no-go for mine.

Looked to otherwise be a nice saddle, very stylish, but can't mount it so can't comment on comfort.
Instrument of torture
Familiarity:

I've used it once or twice and have initial impressions
I bought a Bull Kurve after using the Aliante as my favorite for several years. I'm amazed to read all the great reviews that say this saddle is comfortable because riding the Bull was torture for me. It felt like it was made of cast iron and after a 60 mile ride on it I was sore for days. I called it an a**hatchet and gave it away. I'm back on the Aliante and happy again.
Unanswered Question
is there a trick to getting this to work with a Giant Propel vector seat clamp? Right now the rain don't sit flush on both sides and I can't tighten it down.
The Saddle is great, very comfortable, light and stiff when it needs, make sure you are propper fit on the bike once you got the sweet spot your done great job ok Fizik
Great fit
Familiarity:

I've put it through the wringer
Switched from one of the Fizik saddles with the "comfort channel" This is a much better seat. Highly recommend it if you are on a Alliante