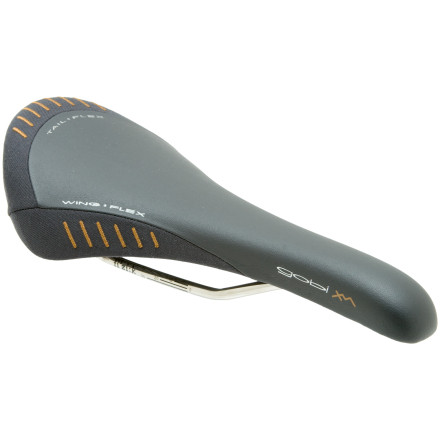 Detail Images
We've always considered the Gobi XM Saddle to be a mountain bike friendly cross between Fizik's Arione and Aliante saddles. It features a somewhat flat profile with WingFlex technology like the Arione. The shell has tines, like a comb, which are suspended in place by an injected elastomer, creating controlled flex. Likewise, the TailFlex works the same way. These flex zones are designed to give more than solid plastic and as a pattern of use emerges, the sections soften to yield to your body. The rest of the nylon shell is reinforced with carbon fiber giving it enough extra strength and stiffness to shed any extra grams.
The K:ium rails (pronounced "Koom," rhymes with zoom) offer a better ride than titanium rails. They're 8% lighter, have greater strength to weight ratio, and absorb more trail chatter. The vibration damping is thanks to silicon being added to the alloy. There is also some chromium content. It makes the rails nice and shiny and increases corrosion resistance, which helps with overall durability.
The Fizik Gobi XM Saddle is designated as an XM, or cross-mountain saddle and is available in Black and White. It's longer than the Aliante and has a similar width to the Arione at 290mm long and 130mm wide. The Microtex covering offers just enough traction for your rear to be able to stay planted when you're digging hard on the pedals up rough climbs, but the slick finish on the thigh glides won't keep you from being able to shift yourself fore and aft on the saddle when you need to find the right weight balance. The Gobi XM Saddle possesses Fizik's Integrated Clip System (ICS), a means by which to attach a Fizik blinky light or saddle bag directly to the saddle without the need for straps.
Comfortable
Familiarity:

I've put it through the wringer
The Gobi XM saddle is an all around comfortable saddle. I would guess that most people would be comfortable on this saddle. Enough padding to take the edge off, but also sleak enough to ride without noticing its there. I have also ridden the Aliante and Arione saddles on my road bike. This is the most comfortable of the three. The weight is also in line with competitive cyclist's actual weight vs the advertised 224 grams on the box.
Good for any bike
Familiarity:

I've put it through the wringer
I've thrown this saddle on my XC, AM, and SS commuter bikes and it is my favorite hands down. It has never put my legs or butt to sleep, it's comfortable on long rides, and it looks good. I am 150lbs, 32in waist, 6' tall for reference - although saddles are mostly personal preference. Very satisfied with this saddle.
I have been a huge fan of Flight saddles for over 15 years. I had a chance to try a Gobi on a borrowed bike on a trip this spring and then immediately got one for each of my bikes when i got home. It is that good.
I have two of these saddles and they are the most comfortable saddle I have ever used. Everybody is different, but for me it is perfect. nearly indestructible on a mountain bike as well.
There are some things to skimp on, and some not to. Do not skimp on your saddle. I trained on this saddle, and rode this saddle for 1000's and 1000's of miles... literally. No pains, no numbness, no sores, and no "aftereffects." Saddle is still on my ride, and still getting lots of use. Nice and long for lots of seating position changes to boot. Couldn't be happier with this saddle.
What are the dimensions on this saddle?
What are the dimensions on this saddle?
Best Answer
290mm long x 130mm wide
This saddle rocks! I'm a pretty big guy (6 ft, 215 lb) and had a hard time finding a saddle that gives optimal support and comfort for larger framed individuals. I found it in this saddle. Great length, side cutouts makes for easy out of the saddle manueverability, done several 3 hr plus rides with it and no saddle soreness to speak of. Bottom line: great saddle functionally and visually.
Most comfortable saddle ever!!
I've tried a few saddles, mostly WTB ones (Pro Comp, Silverado, etc), but this is by far the most comfortable for me.
I guess it's personal preference and everyone is different.
So, I'd try out a few from LBS or friends.

You "derriere" won't be disappointed.
Is there a cut-out and/or gel under that...
Is there a cut-out and/or gel under that soft seat?
Best Answer
Nope, no gel, not cutout, but it does have ample "performance" padding in the rear (not soft padding, the good dense stuff) and a flexible shell that is pretty nice on the long rides. The nose is not as padded as the rear.
no cut out or gel
saddle just has the right shape and right amount of good, high quality foam

my personal fave
This is a great saddle (for my shaped derriere). It's not the lightest but it sure if comfy for long rides.