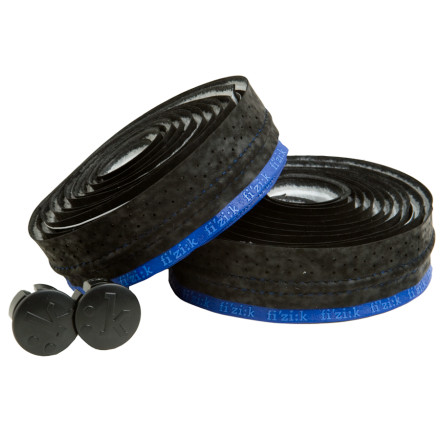 Community Images
Nothing makes a year-old bike look new like fresh bar tape. And sometimes the monochrome look isn't enough, which is why Fizik makes their ever-popular Microtex Handlebar Tape in a duo-color design. It's known as the Dual Handlebar Tape, and each roll has a dominant color (either black or white) with a thin border made from a secondary color. The secondary color has subtle Fizik logos embossed into it, along with stitching in the secondary color. "Stitching?" you might ask. Indeed, there's a double-stitched air cushion built into the Dual tape to provide added shock absorption, which works with the foam padding in the tape to kill off road vibration.
The Fizik Dual Tape comes with Black Fizik finishing tape, and Fizik-logoed bar end plugs. Available in numerous color combinations.
I don't like the mushy feel of some cushioned tape but this one is just right. It's not too hard and not too soft. I combine it with the fizik bar gel for the perfect amount of cushioning as my aluminum frame isn't always the best for dampening road vibration. It's also not overly bulky. Great grip from the tape. It's also very durable. I got over a year out of my first roll and the only reason I needed to replace that was because I was switching out the handlebars and housing.
Great bar tape. I really like the colored stitching in it. I wrapped it to hide the red edge so my bars didn't look like a candy cane. Overall I'm happy with it.
Best tape I've found so far in the couple years I have been a roadie. Excellent vibration dampening and looks awesome with the colored dual stitch. The paper on the adhesive backing is a pain to get started, be careful not to just pull or your libel to rip the adhesive right off with the paper.
Another great fi'zi:k product
Sexy looking and most importantly, very comfortable and shock absorbing. Great tape. You can't go wrong with this tape. Guaranteed to improve your ride.