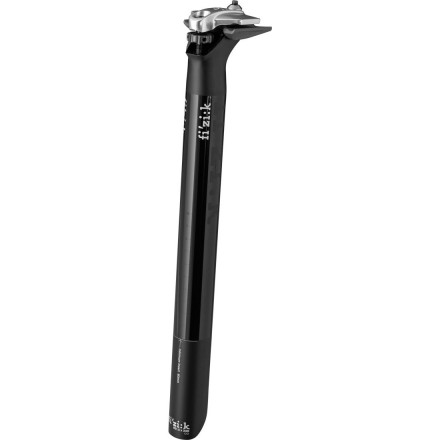 Colors
Description
Saddle intelligence applied to the seatpost.
It's the reason you see Fizik saddles stocked on such a huge percentage of factory bikes and pro machines alike: Fizik has always been highly progressive in its approach to saddle design and technology. More recently, however, the company has expanded to bring some new ideas to some other cockpit components, including stems, handlebars, and in the case of this fine piece you're reading about, the Fizik Cyrano R3 Seatpost. It's like no other post on the market, and not just because of its sleek design.
Now, if you've ever spent 10 minutes fussing with the adjustment of your saddle on a standard post clamp, or if you've ever broken a saddle rail out of the blue, or if you've ever brought home a new carbon-railed saddle onto to find it doesn't fit on your existing post's clamp - any and all of the above are address in Fizik's excellent new clamp interface. For one, the clamp interfaces with a flush 45.5mm of the saddle's rails, reducing necessary clamping forces and more evenly distributing them, so rail breakage is far less likely. Secondly, a small adjustment wheel that rotates a threaded bolt makes saddle angle adjustment stupidly simple, and lastly, Fizik wanted the Cyrano to be compatible with virtually all saddles on the market, regardless of rail dimenions, so the Cyrano can accept almost any rail type, from rounded metal rails to ovalized carbon rails up to 10.3mm tall.
The Cyrano R3 is machined from their proprietary Ergal aluminum, a particularly strong and light alloy that permits a great degree of manipulation. It's 3-D forged, firmly attaching the clamp head to the post and allowing for variable wall thicknesses moving down the post to save weight and allow a bit of flex to smooth out road vibration. The post has a 25mm clamp offset, but is also entirely reversible - set it back in a traditional road position, or reverse it for a more aggressive time-trial-like position when necessary.
The Fizik Cyrano R3 post is anodized a glossy black, with the Fizik logo appearing in both black and white. There are also measurement marks on the back of the post. The lower half of the clamp is anodized black while the top is matte silver. The post weighs 215 grams and comes with a silicone ring for marking your post height. It's available in four diameters (27.2, 30.9, 31.6, and 34.9mm) and three lengths (270, 330, 400mm).
Does not serve its intended purpose
Gender:

Male

Familiarity:

I've put it through the wringer
Pro: A thing of beauty. <br ></article>Cons: Does not serve the purpose of holding the saddle in a prescribed position. No matter the bolt torque, the saddle would slide backward until the saddle rails stopped it from moving any further. <br />Noisy mess - my post developed a creak that sounded like I was riding a sick duck. No amount of greasing or degreasing the would stop the noise. Distracting and embarrassing.<br /><br />I'm going to turn mine into a bud vase.
Nice post at a great price.
Gender:

Male

Familiarity:

I've put it through the wringer
This is a very simple to adjust, beautifully made seatpost. Not super light at 236 grams for the 27.2mm, 270mm length, but respectable. I think that the bolt that adjusts the angle can be easily stripped, so it should be replaced.



I also had some seatpost slipping issues. I used some park carbon paste, and it seemed to have solved the problem. I thought it was a bargain at $76, at $45 it is a no brainer to buy it.