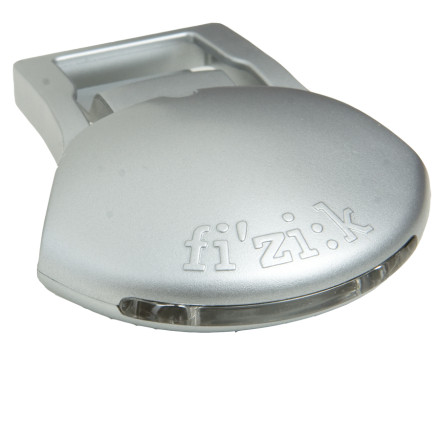 Props to Fizik for curing one of cycling's perpetual annoyances. There's nothing worse than going for an early morning spin and having your thighs brush again and again and again against the tail light you've affixed to your seatpost. You've gotta ride with a tail light -- we feel safer riding with a tail light but no headlight than vice versa, in fact -- and Fizik makes it worlds more pleasant now. Starting in 2007 most of Fizik's best-selling saddles are integrated Clip System (ICS)-specific, which means they have a tiny plastic receptacle under the saddle shell. The Fizik Blink Tail Light has a male end that plugs right into this ICS opening. The Blink recesses under the shell and literally becomes one-in-the-same with the rear of your saddle. Your thighs won't graze it, and you won't have to wince at the sight of a chunky light wrapped in an anything-but-streamlined fashion off the back of your seatpost. Your legs (and your shorts) will be happier, and your bike will look worlds better.
The Fizik Blink Tail Light has 2 bright LED's, and it works in your choice of a blinking or a constant mode. You can switch between these (and the off position) simply by pressing on the light itself. It uses one CR2032 battery, and you can swap the battery out without tools. Just so you know, the following saddles are ICS compatible provided that they are vintage 2007, not earlier: Aliante Carbon and Arione (no matter the rail type: braided carbon, Titanium, or k:ium), Arione Tri 2, Aliante Gamma, Pave HP, Vitesse Tri, Vitesse HP, Gobi, Nisene HP, Rondine, Nisene CP, Pave CP, Vitesse CP, and the Rondine CP. If you're unsure whether your saddle is ICS compatible, simply look for the ICS receptacle beneath the shell. Or feel free to contact us and we can help you make sure one way or another.
Unanswered Question
What color does this light omit?
Have you seen what real LEDs can do?
Familiarity:

I've put it through the wringer
This is very convenient because it snaps right into the seat, but does not meet the mail for safety. A good LED light can be really bright and noticeable. This light is not bright enough to catch the attention of motorists. There are much better options and I ended up replacing it with a Light-n-Motion.
Diggin' the Blin:k
Familiarity:

I've put it through the wringer
I really like the simplicity of this light. It snaps into the saddle with ease! I use this in addition to another rear light on my seat post for a little more insurance of being seen by idiot drivers.
What I like about this light is how small it is. I put this on my wife's bike because she has a fizik saddle. It' very small and not very bright but it's always there. If we are going for a night ride we put an additional (super bright) light on in addition to this. Clipped right into the seat.
Just wish it was brighter...
Not Compatible with all Fi'zi:k saddles
I ordered this light and it's a great design but is not compatible with my Fi'zi:k Gobi mtb saddle or my Fi'zi:k Aliante road saddle. Make sure the grey plastic Fi'zi:k clip on the rear of the saddle is removable prior to ordering
I love integrated products. fizik saddle accessories are really slick. I use this on both my mtb and road bikes for night riding. It's not super bright but as a secondary rear light it's awesome and looks trick.
A "Must Have" for Fi'zi:k saddle owners
This little light is awesome. I can always depend on it to turn on and stay on, which has been a problem with other pricier tail lights that I have used. And it seems to be just as effective alerting cars to my presence as any other tail light I have used. But more importantly, it is small and discrete keeping your bike looking sleek while cruising to, from, and around campus (rather than a big goofy red light dangling off your seat post). To install you simply pop out the Fi'zi:k logo under your saddle and clip the light in.
Write your question here... Will this fit...
Write your question here...

Will this fit into the female receptacle on a lookin seat? I currently have a light that shorted out that look close to yours. It has an SR logo.
yes it will fit in the Selle Royal ICS socket. Selle Royal is the parent Co of Fizik and the saddles come out of the same factory