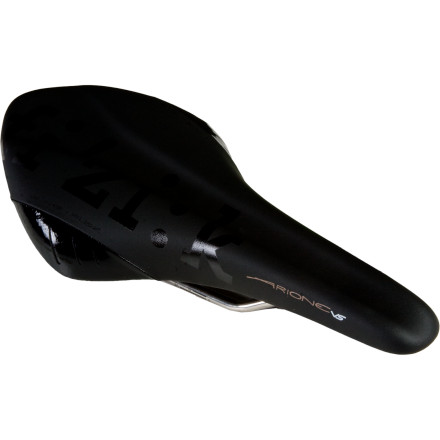 Detail Images
Description
Room to move around.
The Fizik Arione's board flat profile makes it distinct in a sea of same things. The reason for it is flexibility. We're not talking about shell flex, though it has that in spades thanks to their Wingflex Technology where the rearward part of the saddle conforms to your body as you pedal. No, what we mean is that the Fizik Arione Versus K:ium Saddle allows for more flexibility in where along the length of the saddle you can sit on it. The long flat top allows you to use a greater portion of the saddle as you react to changes in road elevation, effort, or hand position on the bars. And since this is the Versus version of the Arione, it's also supremely comfortable since it's built with more padding than the standard Arione.
The Versus range of saddles makes use of thicker foam than their standard Fizik counterparts. It is specifically shaped to provide more padding for your sit bones to keep them from getting tender on long rides. For your soft tissue, there's a channel that runs the length of the saddle top. It provides pressure relief and helps to improve airflow. Versus marks the first time we've seen a channel in Fizik saddles. The designs have been in development for quite some time, but they've just determined the shapes to be ideal through long-term laboratory blood flow analysis and thermal mapping of multiple groups of test subjects.
A crucial part of the Arione's appeal is the WingFlex technology, allowing the saddle to flex in key areas along the front of the "wings" of the saddle to yield a virtually custom fit without sacrificing the critical shell rigidity and support you need for optimal power transfer and comfort. Combine Wing Flex technology with the fact that it's slightly narrower and longer than the Aliante, your rear will feel fantastic and you won't give up one whit of style to get there. Fizik uses a material called k:ium for the saddle rails. According to Fizik, k:ium offers an 8% weight reduction in comparison to solid Ti rails, and thanks to its use of Silicon and Chrome, it has better vibration-absorption qualities and more corrosion resistance.
The Fizik Arione Versus K:ium Saddle comes in Black only. It's 100% compatible with Fizik's ICS taillights and saddle bags. They literally snap into the rear of the saddle -- say farewell to velcro straps and awkward clamps! The Microtex cover is perforated for airflow, and since it's a synthetic material, it's antimicrobial, fade resistant, and won't stretch or crack.
Great Saddle in the Drops
Familiarity:

I've used it several times
The stock Prologo saddle that came with my bike was getting uncomfortable as I spent more time in the drops. While it did the job while I was getting accustomed to riding, it was getting more uncomfortable as I spent more time in the drops.

While the VS X version has a deeper channel, I knew I didn't need a channel that deep, so I opted for the regular VS model. It works wonderfully! Enough channel to make it comfortable in the drops and while riding on the hoods.

I'm pretty flexible so getting low is no problem and the flat surface helps when I'm riding. The edges of the channel are not sharp so it makes it comfortable enough for me when I'm on the hoods or on the tops. I've heard that the VS X model is pretty sharp and can get uncomfortable at those positions.
Great
Familiarity:

I've used it once or twice and have initial impressions
Relief channel works very well, very comfortable saddle. Only works well if you're in a low position though, more upright positions are not as comfortable.
Awesome
Familiarity:

I've used it once or twice and have initial impressions
In the past I had a bad experience with Fizik Saddles because the lack of a center cut out. I really like the design of the saddles and the craftsmanship that go into them. However, my first experience with the original Arione was less than desirable in the nether area seven years ago. Now with the implementation of the Versus line I decided to return to the Fizik Arione for round 2. I am happy that I did because the Arione Versus is hands down the best saddle that I have put under my bottom. The relief channel does as advertised, and the saddle delivers. I received my saddle and immediately mounted it and went out for a 32 mile night ride with non-padded shorts. Yes NON-PADDED SHORTS! I test out all new saddles this way to determine if it really fit me. I had no issues in the soft tissue area, and found the saddle to feel like a supportive solid platform. NO PAIN ANYWHERE! The padding is firm and generous along the channel. I had no issue with channel collapse as posted in other reviews. My sit bones are dead on, and the wing flex worked to reduce pedaling interference. Awesome Saddle! I recommend before you decide to buy your Fizik Saddle review the Spine Concept link on their website. Initially I had the Antares, but I am definitely a Snake and not a Chameleon.
Great Saddle
Familiarity:

I've used it once or twice and have initial impressions
This saddle is pretty comfortable and fits great.
8th saddle close to hitting the spot
Familiarity:

I've put it through the wringer
I have tried 8+ saddles at this point. Hands down this is the most comfortable saddle once I had it properly situated (fore/aft and pitch differ from my other saddles)

There is little to no cushion to this seat, however the curvature and proper bend fit that Fi'zi:k uses made a great difference for my ridding comfort.

My next saddle i will likely move to another Fi'zi:k which is better suited for the amount of back bend i ride with.



Go to their website and review before purchasing.

http://www.fizik.it/spineconcept/