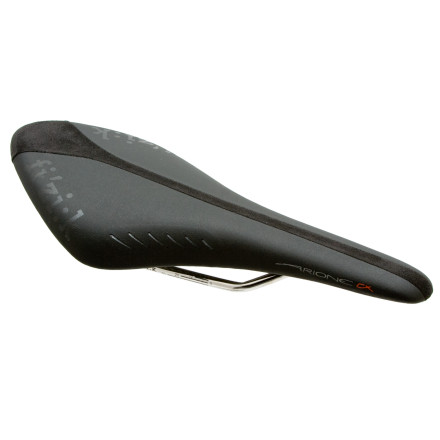 Detail Images

Community Images
The Arione WingFlex CX K:ium is built with the essential trait of the standard Arione: WingFlex technology. If you look at the rearward wings of the Arione CX K:ium, you'll see that they flex to allow for free thigh movement. Your thighs won't get pinched by the saddle wings with the downward force of your pedaling stroke. This flex -- known as WingFlex -- gives you a near-custom fit without sacrificing the critical shell rigidity and support you need for optimal power transfer and comfort. CX means one thing, it uses a lighter weight foam as compared to the non-CX version. This results in about 40g of weight savings and a slightly lower profile overall.
Formerly, the Arione WingFlex CX was available only in braided carbon rails. But Fizik now makes it available with K:ium rails. K:ium offers an 8% weight reduction compared to Titanium rails, and thanks to its use of Silicium and Chrome, it has better vibration-absorption qualities and more corrosion resistance. These saddles are ICS-compatible.
Love at first sit
Familiarity:

I've put it through the wringer
Is there any other saddle quite so elegantly shaped? Not to my eyes at least.
If it fits, I sits.
Familiarity:

I've put it through the wringer
Fizik makes some of the best saddles out there. Unfortunately, the perfect saddle is more a matter of personal preference than marketing hype, making it somewhat difficult to compare saddles on paper. I've had the Fizik Arione for about 3 years, and found that it works well for me. The shape is minimalist; the Arione is flat, narrow, and long. It seems on that on the whole, the Fizik saddles are not the lightest, but they do offer this saddle in full carbon versions for those looking lighten the load. I can't vouch for whether it will work for your particular sit bones, but the material and craftsmanship of the Fizik saddles certainly won't disappoint if you do find it to be the right fit.
Unanswered Question
Only the white comes up as an option. DO...
Only the white comes up as an option. DO you have the black/black stripe in stock ?
Great for a more aggressive position
I haven't yet found the world's perfect saddle, but the Arione CX is the closest I've found so far. The flat design allows for a more aggressive position (as opposed to the Aliante and it's nose that digs directly into your taint if you're in the drops), and the length of the saddle offers a lot of positioning options if you need to shift around mid ride.

+ Comfy enough
+ Great when in the drops
+ Nice low profile padding
+ ICS saddle bag mount is excellent.

- The saddle can occasionally creak when pressure is put where the nose meets the saddle rails
This is my third Arione saddle and I love it -- Arione's are now on all my bikes (road, 'cross and mt.) and odds are they'll be on all my future bikes as well. All aspects of the Arione--fit, comfort, weight, durability, look, feel, etc.--work perfectly for me. At 6 ft. and 185 lbs, I don't dare go with the more costly rail options, but I'm not willing to give up my beer and pizza so the 'standard' rails are more than fine.
what size is the saddle, it say one size...
what size is the saddle, it say one size but there has to be some dimensions some where.
, ☃bcs_badge_alumni_label☃
Width: 132 mmLength: 300 mm