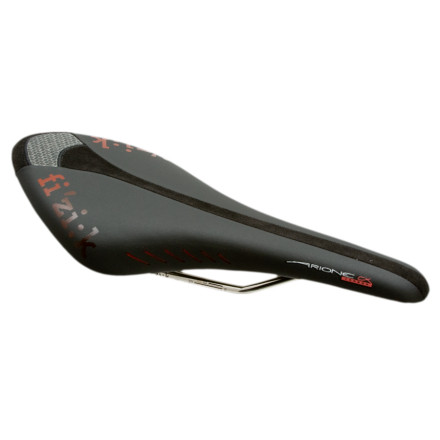 Detail Images
The non-roadie world might associate the words slim and elegant with black evening dresses and expensive wines, but the designers at Fi'zi:k associate them with the Arione CX Carbon K:IUM Road Saddle. The sleek, low racing profile, carbon shell, and lightweight foam bring this saddle down to a modest 189 grams. Thanks to Fi'zi:k's Wing-Flex construction, the wings on this saddle flex slightly with each downward push so energy can go straight from your thighs to the pedal.
What do you think about this product?
Have questions about this product?
The OEM saddle on my Bianchi c2c. If it were'nt white, I would use it on my FSR. Definetly the lightest, sleekest saddle I have ever owned with comfort to match. Gonna be a bit pricey to replace when its time!!!
Best saddle I've tried. Light and comfortable. Oh yeah, and dead sexy!