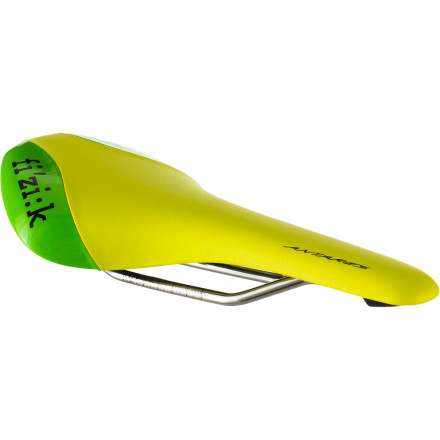 Detail Images
Fi'zi:k's Antares line of saddles consists of three models -- the K:ium, Braided, and 00. This model, with K:ium Rails, provides the most value, whereas the 00 is the lightest and most expensive version. However, all Antares saddles are designed for medium flexibility riders, or more precisely, what Fi'zi:k refers to as 'Chameleon.'
Fi'zi:k divides its saddles into three shape designs for varying flexibility, calling this its Spine Concept. Each level of flexibility is denoted as either Snake, Chameleon, or Bull, with the serpent being the most limber and the ox intended for muscular riders. If you can easily touch your toes, then the Snake would be your ideal saddle shape. However, if toe touching is just as much out of reach as podium spot at the Tour, then a Bull designated saddle will support best. But, the Antares' Chameleon profile fits right in the middle of these polar opposites.
Why is this? Well, the Antares' Chameleon shape is semi-narrow, and it's intended for riders who instinctively manage the body's position and weight over the saddle. This shape is perfect for competitive athletes and recreational riders alike. Additionally, this concept is reinforced through its forgiving, yet supportive, carbon-reinforced Rilsan shell.
The shell is lightly padded, covered with a durable Microtex, and supported by Fi'zi:k's proprietary K:ium rails. Essentially, K:ium is a combination of metal alloys, and a specific tubular design that increases fatigue resistance. The result are rails that are lighter than solid titanium, and feature a strength-to-weight ratio that's exceeds most alloys. This enables Fi'zi:k to keep this Antares just under 189 grams.
The Fi'zi:k Antares with K:ium Rails is 274mm long, 142mm wide, and is available in the colors White or Acid Green. It is also compatible with Fi'zi:k's line of Integrated Clip System products.
Not a pain in the ass
Familiarity:

I've used it several times
I bought this saddle before start racing amateur "Gran Fondo's" and I have to say that it is very comfortable when riding long distances, specially uphill. I'm not too tall (5'7") and slim (138lbs), so is a great option to buy if you are light.

Even when I'm wearing blue jeans, the saddle is great.
Nice saddle, if you're under 180
Gender:

Male

Familiarity:

I've put it through the wringer
Saddles are a very personal thing. The recommendation of many, including Clint at Competitive Cyclist, is to try out three or four, or as many as necessary, before selecting the best saddle for you. I didn't want to buy three or four saddles and return two or three, so I demoed the Aliante versus, the Arione CX and the Antares with carbon braided rails, before having my LBS order the Antares K:ium. Unfortunately, I didn't demo either saddle on longer than a 40 mile ride. BIG MISTAKE!!!



I'm between a "Chameleon" and a "Snake," according to Fizik's spine concept test, and my sit bones are about 130mm apart. I'm 5'7", big bone, 194 lbs, with a rather muscular built. After riding my Antares for nearly 500 miles, I had to take it off my bike, and slap my Specialized Toupe+ Expert back on. Had no comfort issues on rides 45 miles and under. But, on longer than 45 mile rides, by mile 49+, I had to get off the saddle often, just to get comfortable.



So, by process of elimination, if the spine concept is correct as far as flexibility is concerned, and I believe to that extent it is, then flexibility and rider built aren't a parallel correlation and the spine concept makes a terrible assumption that flexibility also equals rider built. And it simply isn't so. I was far more comfortable on the Arione CX than I was on the Aliante versus.
Fi'zi:k Antares K:ium Saddle Review
Gender:

Male

Familiarity:

I've used it several times
I decided to give this saddle a try after a great deal of research. I chose the white with red wings, as it perfectly matches my 2013 Specialized Roubaix SL4 Expert (gloss black/gloss red/white bar tape). I'm 62 years old, 5' 10", 170 lbs. and ride approximately 150 miles per week at an average speed of around 18 mph and on a good day 19 mph. In short, I'm a very average "Joe Bag of Doughnuts" cyclist. I've used the Specialized Toupe Expert Gel (143mm/titanium rails) saddle for the last year and a half and am a big fan of this saddle. I simply wanted to try something different and liked the reviews I had read on the Fi'zi:k Antares K:ium saddle. My initial impression when I took the saddle out of the box was that it appeared to be quite a bit firmer with less gel than my Specialized Toupe Expert Gel saddle. The materials used in the construction of this saddle, along with the quality of workmanship, are outstanding. The Antares felt lighter than my Toupe (which it is), however the rather long nose with no cutout was cause for concern. I installed the Fi'zi:k Antares K:ium in the exact position as my Specialized Toupe (height/fore/aft) and headed out for a 52 mile ride. Any and all concerns were put to rest in short order. This saddle fits my sit bones perfectly and the lack of a cutout turned out to be a non-issue. Just a few miles into the ride, it was as if I'd been on this saddle for a thousand miles. I have nothing but good things to say about the Fi'zi:k Antares K:ium saddle and would highly recommend it. Good luck and safe cycling to all!
Was it Luck or Nate?
Familiarity:

I've used it several times
It didn't take too many miles on my new BMC road bike to realize that the Fi'zi:k Arione saddle that came on it wasn't making my 50-year old butt too happy. When I asked Nate at Competitive (Extension 4364) for some suggestions for a replacement Nate emphatically recommended that I switch out to an Antares model. After completing the order and giving Nate my credit card info I began to question my blind reliance on Nate's recommendation. Hell, Nate had never even laid eyes on me and, anyway, what I obviously needed was a padded, gel-filled, dropped-front, cut-out saddle, not this thing that was just has hard and only marginally larger than the Arione that I'd found to be so uncomfortable. Well, I've now done several 50+ mile rides on my new Arione saddle and can now say with authority that Nate had, somehow, picked the perfect new saddle for me.