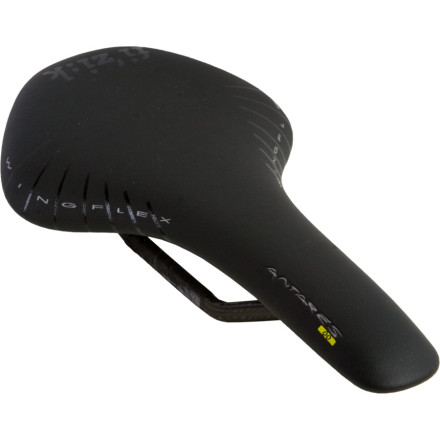 Detail Images
Description
A saddle with serious get up 'n go.
Casual spins on your exercise bike while you watch reality TV don't merit a stiff and aggressive saddle, but you'll want something powerful when you're hammering up mountains, getting in and out of the saddle, and sucking down oxygen like it's going out of style. When you need a saddle that'll hold you up and propel you forward without getting in the way, turn to the Fizik Antares 00 Carbon Braided Saddle.
The Antares is built around two buzzwords: weight and stiffness. It's heavy (not literally) on the carbon, with braided carbon rails that save 30g, equivalent to 20% of the saddle's overall weight. Their oval shape adds durability, and the textured surface makes for seriously secure clamping.
Carbon rails are all well and good, but the carbon saddle is where the Antares really makes its money. The shell is composed of a thin layer of foam sandwiched by two layers of carbon fiber, which provides stiff support while maintaining a flexible edge (Fizik uses its WingFlex design) for the ultimate combination of power and comfort.
While it's stiff, the Antares isn't a one-dimensional brick. At the nose, 10mm of superlight high-density foam padding provides targeted cushioning for riders who spend a lot of time in the drops or riding aerobars, and the fairly wide 45mm nose provides extra support when you're riding in the front of the saddle.
Braided carbon fiber rails
Oval-shaped textured rail design
Carbon fiber sandwich saddle construction
Superlight high-density foam padding
Carbon WingFlex flexible edge design
Microtex cover
Best of the Best
Familiarity:

I've put it through the wringer
Generally speaking, Fizik saddles are some of the best out there; most people can enjoy even their models below the century mark. However, the Antares 00 is an improvement upon all of the others in so many ways.

The most obvious advantage to dropping the extra coin on this bit of bling is an incredibly light, comfortable, and good looking saddle.

The detail that most don't realize is that the shell of the saddle is built entirely out of super-stiff, strong, and light carbon fiber. This translates into two great features:

1. Because the saddle shell does not flex very much, it provides superb support for your ischial tuberosities (sit bones), which helps to keep you from sitting on your soft tissues and causing nerve damage and/or blood flow stoppage (similar idea to a cut-out, but with more surface area contact)

2: This saddle will last forever! The first thing to wear out on a saddle is usually not the foam, gel, cover or any of the padding; it is in fact the saddle shell. By having a complete carbon fiber shell, it will take a very, very long time for this one to wear out. I typically run through saddles with composite shells in a few months; I have had this one for over a year with no sign of stopping in sight.

All in all, one of the best saddles, if not the best saddle I have ever used.
The Best Saddle for Form & Function
Familiarity:

I've put it through the wringer
I rate the Fizik Antares 00 as one of the best saddles in both form and function. Just on aesthetics alone, it stands above 99% or more of the crowd, all while including an excellent balance between performance and comfort. The fact that it's so damn light is icing on the cake with almost no saddle any lighter that comes anywhere near the comfort level of this beast.



Part of the lightness does indeed come from the lack of Fizik's ICS system as mentioned above. I have a number of Fizik saddles and will say it's a nifty attachment system if you go for that kind of thing. I personally am not a fan of saddle bags on high performance bikes and prefer just carrying extras in jersey within something like the Mann Bag. The light attachment is pretty cool though something like the Thunderbolt from Serfas provides an even better solution, in my view.



The only real negative to the Antares 00 is the uber sharp edges that do not welcome a single botched move such as leaning against a wall and pulling off or letting it graze ANYTHING. You'll have a tear of that fine edge before you know it. But if you're careful with your ride and make sure you never lean on saddle, it's not an issue. Besides, most of the top saddle tend to be rather fragile on the edges.



By the way, if you DO want this ICS system, you can simply move down to the Fizik Antares R1 with braided rails, this only 20g heavier than the 00, coming in at @155g. See the comparison graphic I cobbled together below, this a view of the underside of the R1 vs the 00. The top of the 00 wins out as it seems stiffer and with less going on, eschewing the multiple panels that seem to pervade much of the rest of the Fizik lineup.



- kh
GREAT FIT!!!!!
Familiarity:

I've put it through the wringer
GREAT FIT FOR ME ....ONCE I GOT THE FIT RIGHT THIS SADDLE WAS PERFECT!!!!
What is "ICS Compatible"?
What is "ICS Compatible"?
No ICS on the carbon Antares.
ICS is Fizik's proprietary system for saddlebags and lights that allows you to clip the accessory into a recess at the back of the saddle. It eliminates the need for velcro around the rails to attach saddlebags and is awesome. Install/removal takes literally 1 second and it sits higher up under the saddle for a cleaner look (and better airflow?). I've loved every minute of it for three years. Unfortunately, this saddle does not have that system.