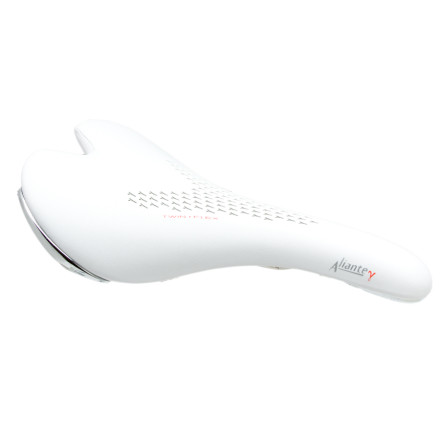 Detail Images

Community Images
If you think a saddle has to be uncomfortable, it's time for a spin on the Fi'zi:k Aliante Gamma K:ium Saddle and a reevaluation of your undercarriage happiness. Saddles, it turns out, can be comfortable, powerful, and versatile all at once. The foundation of the Aliante is its Twin Flex carbon-reinforced nylon shell, which is stiff enough to ride hard but flexible enough that it won't leave you with butt blisters. Fi'zi:k hooked up the center channel with an aluminized fiberglass rail, which adds some lateral flex to the saddle without compromising stability or power, like you do with a center cutout. Fi'zi:k wrapped the Aliante in perforated Microtex, which is durable and easy to keep clean, and finished it off with K:ium alloy rails, which are lighter than titanium while being just as strong.
Twin Flex carbon-reinforced nylon shell
Fiberglass center channel
K:ium alloy rails
Perforated Microtex cover
Glad I made the switch
Familiarity:

I've put it through the wringer
I have ridden an Arione for a few years. I thought I loved it. I could ride all day and not complain too much. I figured it was all part of riding a bike. The Fizik website told me the Arione was right and I did not question it.



Earlier this year, I switched bikes with a friend who had this saddle. I loved it. I was comfortable. I didn't even think about the saddle. As soon as I got home I purchased one. Best decision I have ever made.



The saddle does not allow for you to slide up an down to try and find a comfy position like the Arione, but you don't need to. This saddle cups your sitting region and allows for a large area to disperse your weight eliminating hot spots. It is not so wide that it encourages chub rub (the rubbing of thighs on saddle or other parts of the bike).



If you are like me and think the Arione is good, but you still think about your saddle on longer rides, then the Aliante is worth a try.
Fantastic
Familiarity:

I've used it several times
I love this saddle. I'm sorry I waited so long to replace the stock Bontrager saddle that came with my Madone 5.2.



The Bontrager Affinity 3 saddle seemed to "jam my junk" back into my body, creating an uncomfortable ride after an hour our so (and that's being kind). <Your mileage/junk may vary>



The Fizik Aliante saddle just seems to fit right. It has less padding than the stock saddle, but as it turns out, that's a good thing. I feel I can ride all day on this saddle and virtually not notice it - which in my book, is what a saddle should do - just disappear.



There may be lighter, sexier saddles out there - and I would encourage you to look - but if you're looking for a good basic "bull" (mid to low flexibility) saddle, I highly recommend this saddle.



PS - life's too short to wait for 1K miles to break in, in my humble opinion. I'll grant there is a break in period, but 1,000 miles? Sheesh. That's 3 months of riding for me. I can't suffer that long. Yeah, yeah, I know. HTFU. But not down there... at least not while I'm on my bike. :)


Solid Saddle, but better options
Familiarity:

I've put it through the wringer
I put a few thousand miles on this saddle, and wish that I would have spent the extra money to go to Carbon Kium version. This saddle has the same shape, but the ride just isn't as comfortable as a broken in version of the Carbon Kium Version. It may take a thousand miles or so, but the Carbon version feels like it was molded for you once broken in.
Solid saddle
Familiarity:

I've put it through the wringer
I've been riding one of these for the last 5000 miles. The saddle gives you a firm platform, with multiple positions to work with. It's pretty conformatable, especially for riding up on the brake hoods. Maybe not the greatest for spending a long time in the drops. The nose is a little wide and sometimes my legs rub on it.



The saddle is pretty durable. Before I installed the Aliante, I had broken the rails of two other saddles. 5000+ miles later and this saddle looks like new.
does the Gamma come in different widths -...
does the Gamma come in different widths - need 143
This saddle is 142mm wide so it should fit just fine.

Also, when I was looking for Fizik saddles I used there spine concent tool. Even though it is a little cheesy with the "Find the animal within you" tagline, it will put you on the best saddle for your body type.

http://www.fizik.it/spineconcept/
You'll be fine on the Gamma if you're looking for a 143mm width saddle
I ordered this saddle to accomodate my sore behind on my Pinarello Dura Ace I just got. In fact, there is no difference between this saddle and the stock saddle. I am just getting used to the original one and it will probably be fine. The Fizi saddle is made well and good looking, but again so is the original one. I returned it for a prompt refund.
I want to buy this Fizik saddle but I see...
I want to buy this Fizik saddle but I see that you are not offering free shipping for this item. Could I get free shipping if I buy this saddle from you? Ebay is offering the same saddle for $20 less, but I would prefer to buy this from you. I've bought my stuff from Backcountry before and gotten free shipping, if not its ok, thank you.
Please give us a call or jump on livechat and talk to one of our gearheads. Thanks
Super good Fizik saddle info:
http://videos.roadbikereview.com/?bcpid=1529573320&bclid=1815816745&bctid=1818365002


Check it!
This seat just made my day the first time I rode it. Great shape that did not have any hot spots, or cause any chaffing. Provides much greater cushioning than might be expected. Looks great on the bike as well.