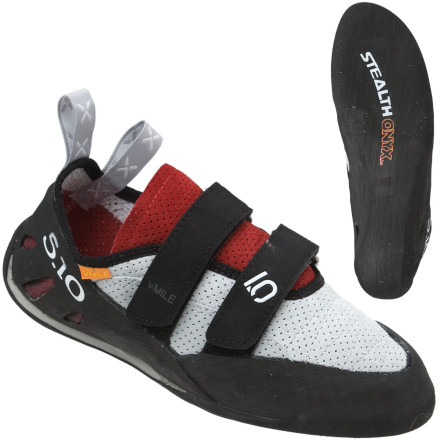 Detail Images

Community Images
Casting off on a 15-pitch trad route? Make sure you have the comfortable, supportive Five Ten V-Mile Climbing Shoes on your feet. These leather shoes feature stiff, padded soles that edge and jam well, provide good support in aiders, and won't kill your feet on the descent. Five Ten's Stealth Onyxx rubber gives the V-Mile Climbing Shoes top-notch friction for technical pitches way off the deck. They also used VELCRO®-Brand fasteners to make these climbing shoes easy to take off and put on at belays.
hi im 11 and i love rock climbing but are...
hi im 11 and i love rock climbing but are these shoes worth what u pay GO TO AGUILLE
Best Answer
If you're 11 you probably have pretty small feet, and you can always find small climbing shoes on sale. They come up a lot on steepandcheap.com and sierratradingpost.com seems to always have small sized climbing shoes on sale. Good luck!
Satisfied with the VMile's
Super comfortable. Made with real leather. A little bit of stretch. Feels true to size. Not the most grippy shoes I have ever climbed in, but I am willing to sacrifice a bit of grip from time to time for all day comfort. If you are super technical, I'd recommend a second pair of shoes for those days when you want to go all out, but these are great for general climbing.
The shoes work well, but I took the advice of the reviewers here and got a size 12, which is my street shoe size. I have literally an inch of space in the front of the shoes. I would size down at least a half size.
Long break in for great comfort
Familiarity:

I've put it through the wringer
Edit: These took a long time to break-in but now they are fabulous. They climb well in vertical to slab maybe slight overhang. They are relatively stiff. The heel cup is relaxed making a good all day shoe.

----------------

These are too narrow for me. I have the older version, the Ascent, and apparently those are so broken in I forgot how narrow they used to be, or 5.10 changed the last a little. Nicely detailed shoe, a good evolution from the Ascent. I ended up with the Acopa Legend for an all day shoe. It's stiff, edges fanastic, and still have enough sensitivity to feel under the toes. The Legend is significantly wider without being the least bit sloppy.
My third pair of five tens and my first Velcro closure. Great for multi-pitch all day climbing. I love the light color and perforations for those hot days on hanging belays, I can leave my shoes on. I bought the same size as my street shoes and they fit perfect for all day wear (medium tightness). I have long narrow feet, I had to cut back the overhang on the Velcro to stop it sticking to my slings, all good now. Despite the performance compromise (medium tightness, foam wedge) they are currently my first choice for performance at the gym, I think it must be the rubber, my other more aggressive fitting shoes are not five ten. The real comparison will be when I get my Anasazis!
Best All Around Shoes Ever
I've owned 4 pairs of climbing shoes, never have I found a top level of comfort and performance in a shoe. I'm mostly on long trad routes but have strolled up 5.11 sportys with no poblems and bouldered V6...I bought these to replace Tradmasters, the V-Miles replaced the tradies and my mythos. I'll never own another pair of shoe.
Hey guys, I have a question about the fit...
Hey guys, I have a question about the fit of these. I have a fairly high instep, so much so that the split tongue of the Galileo doesn't close. I was wondering if these had a similar fitting and if that problem would still occur.
I would wear the same size vmile as galileo, and the vmiles were way comfier. Don't forget that the galileo is synthetic, so it doesn't stretch like the vmile does, which is a TON.
Most go a half size down from their street shoe for a comfortable fit.
Basically a Redisigned Ascent
This shoe is great for long multi-pitch, walk off, routes where comfort is of the utmost importance. You can pretty much hike in these which makes them great for an all day relaxed bouldering session or long, all day routes. The EVA insert in the heel makes it feel like you are walking on clouds and the breathability is great!
I'm an intermediate level climber and got these to use in the gym mostly though I occasionally venture outdoors. They are very stiff which helps 'em hold on any little edge, but I guess they wouldn't be the best out there if you have to do a lot of smearing. Haven't any problems with slipping thus far though. I've been using them 3 times a week in the gym for about 4 months and they have shown very minimal signs of wear and tear. These run slightly small, but I still wear the same size as my street shoes. Even though they have leather uppers I haven't noticed much stretch.
Trad shoe? not necessarily
I got these by mistake but ended up loving them. They are listed as a trad shoe but I have bouldered with them outdoors up to v6 with no real issues. They stretched on me slightly so I would recommend getting a little bit smaller but not much. Also they have made for some great shoes to train indoors in.
are these listed in american or uk...
are these listed in american or uk sizes??
I haven't climbed in them yet. But as far as I can tell they're very comfortable. They have pretty stiff soles. It seems like they're easy on and off. I have the impression that they won't get as funky as other Five Ten stuff (like VCS). Also, they are very small for their size. All of my street shoes are 9.5. After talking to people at Five Ten and seeing them at a shop I got a 9.5. Thing is the 9.5s were significantly shorter than the physical length of my foot. I returned and exchanged, got a 10.5. These are still about the same length (maybe slightly less than) my shortest 9.5 street shoes. At 10.5, though, I don't think there will be any pain. I get it that different shoes have different lasts, are different shapes, and will be different lengths. But I don't understand why they made them this small, which is to say they made them diverege this much from regular street shoe sizing. It's as if they're trying to compound the shrunken (and painful) sizing that some climbers prefer.
Awesome shoes. They are super comfortable (for climbing shoes) and provide great grip and support. Feet stay cool, Very easy to get in and out from. I simply love the practicality and performance. Very recommended.
Why are the Gray/Red Five Ten VMiles about...
Why are the Gray/Red Five Ten VMiles about $20 cheaper than the Lt Gray/Red VMiles? Are they part of last year's stock?
I asked them about this, and purchased a pair, they are not last year's stock. My impression was that they were overstocked and that's why the price reduction.
These shoes have the reliability of other 5.10 climbing shoes. They provide support for precision climbing as well as comfort for lengthy routes or times in the gym when you just want to play for hours without your toes falling off due to pain and loss of circulation. True when selecting a size opt for a bit larger than expected.
Great shoes, happy climbers
The VMile is a solid shoe for those looking for a stiff platform/sole to help lock in on those tiny edges. It's much less sensitive, but once you have your foot placed, it can grab the smallest numbs and cling like a mad dog. These ran VERY small in sizes. I take a 10.5 in street shoes, and even an 11 in the VMile feels tight, so size up for sure.
Love shoes, but they are sized a little small
I love the stickyness of the shoes, and the solid platform is awesome. They came sized really small though - a specialist suggested sticking with my traditional shoe size because of this, and even then I could barely fit in them!
I bought vmiles to be my comfort shoes and they are quite comfortable once broken in. But they are also technically precise and that has been a pleasant surprise.