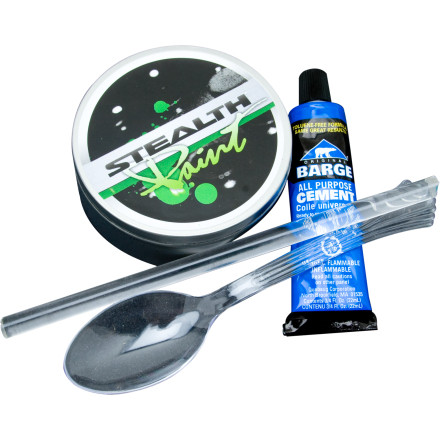 When your shoes start wearing thin and losing their grip, reach for the Five Ten Stealth Paint Kit. Made from Five Ten's proprietary Stealth 'Green' recycled rubber, this easy-to-use paint can be used in the comfort of your climbing dungeon or at the crag. Slather some on the sole of your shoe for that like-new sticky feel and get back to your project.
stealth paint demo, looks to be pretty old since he references the Jets
quick, cheap fix. Not permanent
Familiarity:

I've put it through the wringer
I got this to patch up a training shoe that had a blown out toe. It did the job I was looking for it to do; stop the deterioration of the inner sole and give the use of the toe back. I wouldn't use it on my redpoint shoes, but it save you from having to buy a new (or used) pair of shoes (or getting a resole) if the shoe still has a lot of good rubber still. It wears out pretty fast though so you'll need to apply a new layer every so often.
I used to have a pair of Five Tens and my new pair of shoes are Evolvs, I like the Five Ten rubber over the Evolvs because it seemed like it would stick on plastic holds and smear much better. I bought this in hopes to give a covering of the stealth rubber that I missed so much and was skeptical because of all the reviews about how hard it was and things like that, but I am hard headed and got it anyways. It is recommended to give a layer of rubber to the toe box of shoes or patch worn out shoes. My Evolvs are nearly new and have rubber on the toe box so now that I am not in such an impulsive state of mind I think I am going to return it before its too late. Plus I found out that I can just clean chalk and other stuff off my shoes more often and get a much better stick out of my shoes. Good idea but would appreciate a better conceptualized product. Maybe instead of using a type of rubber cement that doesn't dry so quick so people can get it on their shoes better or something, When I opened the box it looked like they just shredded old rubber and threw it in a can for people to buy again, Barge rubber cement which I'm sure you can find at a hardware store, a cheap plastic spoon, and then the applicator is just a clear plastic pencil sized cylinder that looks cheap. I haven't used it and other people just may not have followed the directions but I would rather put my money towards something else.
i admit that it is hard to get used to mixing the glue and rubber to get the right consitency. the mixture suggested by 5.10 didn't work for me. also, i was only using it to patch areas, not add a whole new level of rubber to the toebox. i have since stopped dragging my toe so haven't really needed to use it, but it worked fine for my patching application. definately took some practice though.
good concept but hard to practice
it's a package of rubber + rubber cement. major drawback includes

- hard to spread evenly

- bonding between new rubber and old rubber is not great


Waste of money. Went on lumpy and came off after less than one day of bouldering. Don't waste your money. If you want new rubber, get them resoled.
Rock and Resole in Boulder Co has a much better rubber paint. Rock and Resoles product is durable and much more sticky if you are looking for that extra bit.
Its cheap but its still not worth getting. I've tried to apply it twice on my shoes, and it does not go on as it may sem. Its dry clumpy and hard to work with. I even followed my instructions to the letter, and i cant seem to make it work. Like the other reviews, i do not recommend this product to anyone. And if any one did get it to go on smooth and work the way it should... How did you do it?
Good for 1 thing: patching small holes/abrasions on climbing shoes
My Evolv Pontas shoes were so great and I used them so much that I put a hole through the rubber in the left shoe's toe (probably a little too much toe drag on the wall too). In order to solve this, I used this kit, which I had lying around.

The directions are pretty clear and the kit comes with everything you need, but I still decided to add extra cement to make the mixture less clumpy. I evenly spread it on the toe area of each shoe with my fingers (gloved) instead because they are more precise. The rubber still clumped up some. Afterwards, I sanded the soles back down to their previous, smooth nature (because that is the best way for them to perform and last according to BJR in Blackheath, NSW, AU).

Overall, I do not recommend this to anybody as a resole kit. You will not be pleased with the results. Having said that, it will patch little holes in shoes adequately and prolong their life at least a little bit longer. I will probably be replacing my Pontas soon, but at least I can have somewhat precise toes in the meantime.
worst mistake of recent memory
This has to be the worst thing that you could do to your expensive climbing shoes. I followed the video instructions invodo.com and he had it totally smooth and good. I don't know how he is able to do that because mine is all clumpy and messy. I also had to apply twice (4 teaspoons) because it wasn't enough to cover the surface area of my one shoe. I applied it to my right foot and needless to say I won't do it to my left. I just hope I will be doing a bunch of slab climbs and not finger cracks until these shoes die.

Now that I think of it, my mocs blow out at the bottom at the same time it does on top, so it makes no sense to apply the rubber on top to increase the lifetime because when the bottom blows you can't wear them anymore.

PS. I also wish that five ten would go the extra step and come up with a better solution, like a pre-mixed rubber liquid that dries.

PPS. Wow, now the mocs are stiff at the top, totally kills the comfort. Someone shoot me.
Anyone used 5.10 stealth paint to improve...
Anyone used 5.10 stealth paint to improve the grip / reinforce the toes of Sidi Dominator or other hard soled mtn. bike shoes?
Not specifically, but I have experience using this on my climbing shoes (see review).

The finished rubber is relatively stiff and extremely coarse. The latter is a concern for climbing shoes (smooth soles last much longer..less rubber-rubber friction interaction) but on something like mtn. bike shoes it may work well.
As you would for any paint, though, make sure to do multiple thinner coats and not one or two think ones.
Did you ever try 5.10 Stealth Paint on your bike shoes. I have been thinking about the same application. Tons of rock gardens on the front range and some extra grip would be nice. Wondering if this is a better alternative to cutting out individual pieces for the lugs on the outsoles using the Stealth resole kits. Any input, experience is helpful.