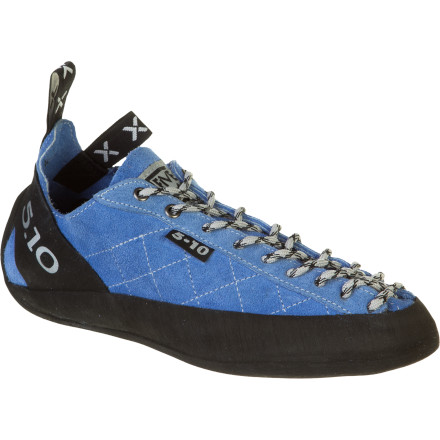 Detail Images

Videos

Community Images
The Five Ten Spire has been a best-selling climbing shoe for years thanks to its comfortable fit and excellent price. With bomber durability, the Spire survives the learning curve if you're a beginner and takes you from the climbing gym to outdoor routes.
Low asymmetrical curve and roomy toe box makes this shoe incredibly comfortable
Stealth C4 rubber provides excellent grip on any type of rock
Unlined leather uppers will stretch about 1 full size
Full-length laces allow a precise fit
First pair of Climbing shoes
Familiarity:

I've used it several times
Had these for the first 4 or 5 months I started climbing and they were awesome. I could climb for 3 hours straight and I would be just as comfortable in these than in any other shoe I wore which was nice for when I started. They are a full leather upper so if your just starting to climb get what is comfortable for you and make sure it fits snug but keep in mind that they stretch as you really begin to break them in, I wear a 8 in my street shoe and ended up going the same size in these which worked for a while and as long as I was on slab or mildly over hanging. When I would get on stuff that was much more overhanging it made me realize I should have gone probably a half size smaller to account for the stretch. Also my foot is sort of wide so having these lace ups was extremely nice to be able to adjust and tighten in different areas compared to hook and loop closure method. Also you can't beat the Stealth C4 rubber. It is the best out there and I miss it dearly not owning a pair of Evolvs. There is always ups and downs, just depends on what matters most to you.
The Best of the Best
Familiarity:

I've put it through the wringer

Fit:

True to size
For ages I've climbed in various La Sportivas. The Mythos has long been a favorite of mine. However, about a year ago I started giving 5.10 a try. I have a pair of Grandstones, which are my goto for most outdoor climbs, particularly cracks... but the Spire has quickly grown to become a favorite as well.



I have narrow feet... and Morton's toe (second toe is longer than my big toe). It often makes finding just the right shoe very tricky. La Sportiva Mythos have always been my standard. Supple leather, fit like a glove, and I can wear them for hours. Although the Spires took longer to break in, after a week or two of climbing they narrowly surpassed my Mythos as my favorite.



The Grandstones are a close second behind the Spires. The toebox on the Spires is a perfect fit for my toes. The leather, after a little break in, is as supple as La Sportiva Mythos. The toebox on the Grandstones can be a little sloppy, and cramps my Morton's toe. The Spires do not. I can wear my Spires for three hours or so before I start feeling some hot spots.



Whether its outdoor or indoor, crack or slab, there aren't any shoes that I can recommend as highly as the Spires. Grandstones excel in cracks and on long outdoor climbs, but the Spires just do it all, and they fit like a glove. Whether you're edging on a dime width flake or praying while you put all your weight on a smear on a slab... the Spires are trustworthy. Put your faith in them and they'll reward you.
i love this shop, i will surely comeback. i just REALLY HOPE you can ship directly to the Philippines even if i pay the freight service of UPS or DHL because most local forwarders here are a pain in the a**.
Keeps me coming back!
Familiarity:

I've put it through the wringer

Fit:

True to size
I have had my spires for 5 years and I just keep going back to them. I have tried multiple sport climbing shoes with the down turned toes and I just cannot stand them.
Five Ten Spire Lace-up Climbing Shoe
Really Happy with the Spires!
I'm new to climbing and mostly doing gym climbs at the moment and I really like my Spires. I bought them true to size as my street shoes (11.5) and they fit nicely, and I can wear them pain-free for hours. The laces have ridges in them which allows me to fit the shoe very snug to my foot. They leather doesn't stink, the dye doesn't transfer to my foot, the C4 rubber is sticky. I will be buying another pair, maybe a 1/2 size smaller to rotate when this pair needs resoling. Yes, the laces are long, but I just double tie the bow and it's manageable.
I definitely didn't buy these too big. Street shoe 11 this shoe 10. I went through the pain and suffering for about a week and they stretched just right. A little tight on one foot but still good. Sticky and surefooted. My first laced shoe and I kinda like it. Took them to the crags all last summer and they were great. Made in the USA which always jazzs me. So much gear we outdoor people use is made in China. Sooo sad.:(
Good beginner shoe
Gender:

Male

Familiarity:

I've used it several times
The Spire Lace is a good beginner shoe.

Positives:

1) Comfortable

2) Molds quickly to feet, break in time is minimal and effortless

3) Good grip

4) Will keep your feet happy when your not used to being in a climbing shoe



Negatives:



1) Not a lot of edging/toeing capabilities (which it isn't made to have)

2) Pretty stretchy leather



All in all a great shoe for those that are just starting out or those who aren't aggressive climbers and prefer comfort over performance.
Great Shoe
Gender:

Male

Familiarity:

I've put it through the wringer
I wasn't sure how I felt about these at first, but as I've worn them more and more I'm convinced I should buy another pair. These were my first pair of climbing shoes and they've been great. Things I love about them:



1.) The fit- I wear a 14 street and they actually fit as I'd want them. I ordered a 14 in this shoe and it's perfect.

2.) Nice toe box

3.) They don't stink

4.) All-leather, so they mold nicely to my feet.

5.) Pretty darn durable

6.) Comfortable - I can be in them at the gym for 2-3 hours and not have my toes hurt



In summary, great starter shoe, comfortable, with no down-turned toe


My first and still my fave
The 5.10 Spire was the first shoe I ever climbed in, and they are still my favorite. I've tried several other brands and styles, but I keep coming back to these (this is my 3rd pair). The C4 stealth rubber is great, the fit is perfect (I have slightly wider than normal feet and these shoes fit well), and I like the way I climb in them. My only tiny complaint is, well, tiny: the laces on these things are stupidly long. After lacing them up tight, I have enough left over to choke a horse (note: I do not actually choke horses). I have to triple-tie the bows to avoid stepping on the excess. But other than that, a great shoe, and after 20 years of climbing, still my go-to shoe!
great shoe right out of the box! husband has wider, higher volume foot and he really likes these. he normally wears a 13 street shoe, and we ended up with a 13 (eur 47) in this shoe. he tried a smaller size first, but opted to go with same size so his toes weren't cranked. he says they are snug but thinks he could wear them for a bit comfortably.
great shoe right out of the box! husband has wider, higher volume foot and he really likes these. he normally wears a 13 street shoe, and we ended up with a 13 (eur 47) in this shoe. he tried a smaller size first, but opted to go with same size so his toes weren't cranked. he says they are snug but thinks he could wear them for a bit comfortably.
Like many other people who wrote a review about this shoe, it was my first actual climbing shoe. It's a very comfortable shoe and excels at many things. One of those things is crack climbing. They fit perfectly in the cracks and stick in them like glue, until you pull them out. Another thing is smearing. It rocks (pun!) at smearing. If I wanted to climb 5.15, I could with these shoes not using the footholds, they're so good at smearing. Some leather shoes that are colored leave traces of the dye off on you and color your feet blue. But not this shoe. It comes off without a trace of dye on your foot. The only complaint I have about this is that it doesn't last very long, or at least it didn't for me. I had to get a new pair of shoes within 6 months because the edge was being peeled away from the leather. But otherwise I highly recommend this as a great beginners shoe at a low-ish price.
I was borrowing this exact shoe from a friend before I bought a pair of my own and so I already knew my perfect size and I'm very satisfied!

Great price, great shoe :)
As everyone else has stated
These are a great pair of shoes for beginners. My street shoe is about a 11-11.5, I ordered size 10's knowing that they would stretch, definitely a chore to get on the first time and not very comfortable my first two times climbing, but they loosened up extremely quickly, and now I don't even notice them even after wearing and climbing in them for hours. A few notes, the toe is rounded, and fitting it into a little pocket will just not work, also, the heel could be a lot better for heel hooking. But the laces all the way down allow for a very tight but not uncomfortable fit, the rubber will outlast your awful footwork, and the comfort of these shoes will really let you focus more on your climbing, and enjoying the climbing, instead of you constantly thinking about how bad your toes hurt. Definitely a recommend for beginner climbers. I gym climb about 3-4 times a week, and 8 months after purchasing these I'm still loving them
a great shoe for all levels and types of climbing
So I climb at a gym and rent out shoes...
So I climb at a gym and rent out shoes (11.5) I am normal a 11 in street shoes. The shoes I rent out are pointed toes and I want to try these Five-Ten Lace up shoes and Im not sure what size to get cause the toes on these are square????
Actually you should get a 10.5 or 10. 11 should be the largest size that you get because you need to have that sensitivity that only comes in the smaller sizes. The shoes also stretch so you should get the smaller sizes. Also, if you wear socks while you climb, stop doing it. Again, you need the extra sensitivity. So that's it, in a nutshell.
let me start by saying i've only just started climbing. as i began to learn about the sport and gear, i decided that quality shoes were the first purchase i would make.

i was a bit puzzled by the varied opinions on how uncomfortably tight climbing shoes should be. i'm an 11 in street shoes and decided to buy the 10.5s based on the fact that they would stretch a bit. they were snug and felt good for several minutes, but got painful not long after that. my toes were just barely curled. i didn't think that i'd be able to last like that for very long in the gym. what convinced me to return them and go for the 11s was actually what was written on the 5.10 box... climbing shoes shouldn't be painfully tight.

the 11s are PERFECT! i LOVE them! they have stretched a little, but nothing that tighter lacing can't overcome... they fit like a glove. i even bought two more pairs for the kids and found the sizing to be true to their street size as well (however, take the time to have your foot measured so you know what your real size is to start).
No toe crushin going on here
I am new to climbing and recently purchased a pair of those Mad Rock toe crushers. I returned them shortly after trying them on. OUCH!!!! How do people wear those things? That's like asking Shaq to fit inside a Voltswagon Bug. I searched for a climbing shoe that fit more like my street shoe and I came across these Five Ten Lace-Ups. Wow, what a great climbing shoe for the first timer. I wear a size 12 street shoe and I purchased these babies a size smaller. They do take a little getting used to, but they will stretch. I purchased a second pair of these a half size smaller this time with a much better overall fit and comfort.
Good all around climbing shoe
Four years of use from multi pitch climbs to the plastic crag (indoor) my Spires are holding strong with no re-sole. The Spires make a good all around climbing shoe that smears and edges nicely, but is not overly aggressive in both function and fit. I wear em on easy routes or when I just want to goof around. Size 11 wraps my US size 12 foot comfortably without the "Hammer Toe" effect. I recommend these to any level of climber.