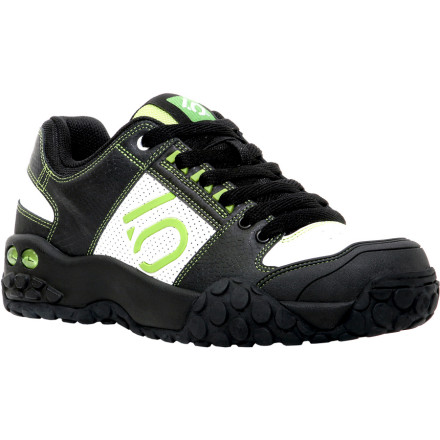 Detail Images
Shoes with a pedigree for speed. The Five Ten Sam Hill Impact Shoes were custom built for the UCI World Champion and wonder boy, Sam Hill. While he's been whooping everyone regularly the last couple years, his victory in the Senior Men's Downhill World Championship represents the first time the title has been won on flat pedals. His shoes? Five Ten.
Five Ten has defined rock climbing and bouldering shoes for a decade. Climbers consistently live on the edge, often placing only Five Ten's proprietary Stealth rubber between themselves and the rock they're scaling. That's a supreme vote of confidence. Stealth Rubber has various formulas for specific applications, but each shares a blend of high friction and high shock absorption. Five Ten Freeride Shoes utilize the Stealth S1 compound developed specifically to enhance the aforementioned characteristics, and produce the most durable sole in the industry. If performance is what you're after, Stealth S1 is what you want.
Performance minded Hill and Five Ten are a dream pair. Each works hard and innovates to remain at the pinnacle of their class. The Five Ten Sam Hill Impact Shoes provide supreme vibration damping, shock absorption, and durability. Nothing else is even close. Sam likes to be stylish, so the shoe isn't just comfortable, but it's got some flash. The latest Sam Hill signature model shoe gets what he calls Green Monster highlights to make the Five Ten logo pop over the black and white leather upper. The Hill shoe uses a traditional lacing pattern.
The Five Ten Sam Hill Impact Shoe is available in half sizes ranging from 7-12, and size 13.
are this shoes going out of stock forever?
Best Answer
Cesar L.,



I am sorry to report that we currently do not have a vendor order placed to replenish our inventory for this item. I do not expect that to change until we start bringing in Spring/Summer inventory at the change of the season. Check back with us then.
s
Familiarity:

I've used it once or twice and have initial impressions
They fit perfect, Excellent shoes!
Great shoes
Familiarity:

I've put it through the wringer

Fit:

Runs large
Rigid, and offer great support and protection. Highly suggest them! They are nice and wide, so if you have wide feet, you will appreciate, they fit perfect. The only DOWN...the front of the shoe is already losing its glue and coming apart.
These shoes are my "do everything" mountain biking shoes including downhill, cross-country and mountain trails. They work well for each and giving me the confidence that my feet will stay on the pedals no matter the type of riding. Their stuff flat bottoms are a nice alternative to clip less shoes & pedals. Although sometimes I wished they were a little more flexible and light. But at the prices i found at Backcountry.com, i could afford to but another pair. Overall, I like them a lot and expect to get long life from them.
Unanswered Question
I want these shoes but I wear a size 14....
I want these shoes but I wear a size 14. Do you carry any in that size??
These things DO NOT SLIP! Best quality shoes I've ever put on my feet. They are rigid, and offer a fair bit of support and protection. Highly suggest them! They are nice and wide, so if you have wide feet, you will appreciate them as much as me. I ordered a 10.5, my usual size, and they fit perfect.
These shoes are great they have great style and amazing grip on the pedals.
I cut them in half the minute I got them so I could write a review. No I didn't. The same FiveTen comfort you've grown to know right out of the box. More air in the sole for you guys and gals that like to hit the big drops and gaps, a little more meat on the outside of the sole so you can stick to the mountain. And the looks. These would look right at home on your pedals, on the golf course or in a tuxedo. All kidding aside, these are good shoes. Five stars *****
Where have you been all my life
I thought the shoes were a bit bulky at first but after a run or two, its size and weight is perfect. Coming from skate shoes (DC), my very first impression was that these were way to grippy. But I came to appreciate it quickly.
For me, the size is true. However, a friend of mine had to buy 1/2 a size up.
Wish I had bought these shoes years ago.
Well built, somewhat bulky
Overall happy with the purchase. Initially felt too wide, but it turns out the fit is good, just the shoes themselves are pretty wide. I run DMR V8's and they actually hang off the pedal somewhat. Aside from being rather heavy (which so far has paid off in durability) that's the only negative.
The soles are nice and stiff for efficiency and the rubber is grippy. You actually have to pick up the shoe and rotate it to change position on the pedals. Also happy with how freely your ankle can move, no restriction or rubbing at all. A well thought out product that works as designed.
Any chance you will get some 10.5 in any...
Any chance you will get some 10.5 in any time soon
unfortunately we do not have any 10.5's coming back in stock, sorry for the inconvenience.
Perfect shoe for what I do
I LOVE these shoes! I originally bought the Karver's (i'm a girl), but they were too bulky. So I got the Sam Hill's in the smallest size and they fit great. They stick to my pedals like glue on the downhill, but easy freedom when I need it. BUY THEM!
very good shoes. And very good grip
Got these for my DH for Fathers Day and he LOVES THEM! Fit is great- he's between 10.5-11 and went with 10.5 based on reviews and they are perfect!

Now... I just wish Five Ten made some more Women's versions that are a bit more stylish, please!
Very comfortable, and insanely grippy. Lots of padding in the uppers for a nice comfy fit. The white portions will look dingy when compared to the black of the Impacts after a few rides, but are easily cleaned. The only other shoes I would consider are other 5.10's.
Super sticky whether dry, wet or muddy. Sizes run true and the lace keepers are a nice touch. They seem to be pretty durable and are holding up well against the Hawaii climate. Slightly heavy, but the bottom line is they're totally worth buying if you wanna stay glued to your flats!
This shoes seem to be solid. I just got em, took em for a quick ride and they seem to stick like everyone says. flat rock gardens will be the true test, but as for the downhill factor they hold true and grip well. They are a little on the heavy side but they are worth the extra weight when it comes to your feet staying on the pedal! Sick shoe and solid construction!