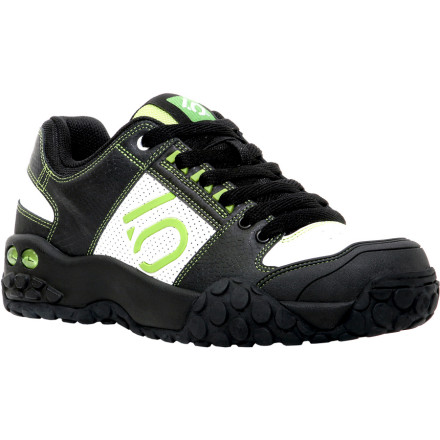 Detail Images
Shoes with a pedigree for speed. The Five Ten Sam Hill Impact Shoes were custom built for the UCI World Champion and wonder boy, Sam Hill. While he's been whooping everyone regularly the last couple years, his victory in the Senior Men's Downhill World Championship represents the first time the title has been won on flat pedals. His shoes? Five Ten.
Five Ten has defined rock climbing and bouldering shoes for a decade. Climbers consistently live on the edge, often placing only Five Ten's proprietary Stealth rubber between themselves and the rock they're scaling. That's a supreme vote of confidence. Stealth Rubber has various formulas for specific applications, but each shares a blend of high friction and high shock absorption. Five Ten Freeride Shoes utilize the Stealth S1 compound developed specifically to enhance the aforementioned characteristics, and produce the most durable sole in the industry. If performance is what you're after, Stealth S1 is what you want.
Performance minded Hill and Five Ten are a dream pair. Each works hard and innovates to remain at the pinnacle of their class. The Five Ten Sam Hill Impact Shoes provide supreme vibration damping, shock absorption, and durability. Nothing else is even close. Sam likes to be stylish, so the shoe isn't just comfortable, but it's got some flash. The latest Sam Hill signature model shoe gets what he calls Green Monster highlights to make the Five Ten logo pop over the black and white leather upper. The Hill shoe uses a traditional lacing pattern.
The Five Ten Sam Hill Impact Shoe is available in half sizes ranging from 7-12, and size 13.