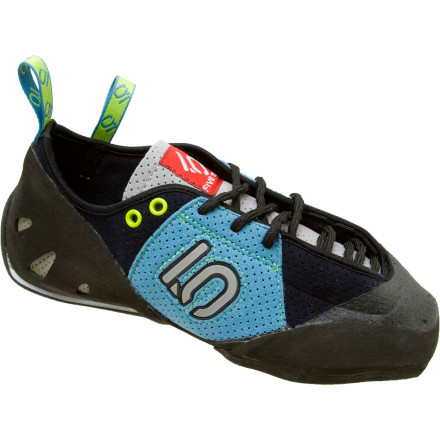 Detail Images
This shoe seemed pretty amazing. Just bought size 8.5 after referring to the sizing infos and trying 3 different other type of Five Ten in store (8.5 did fit my feet perfectly with those). It seems that the sizing for this shoe is way much smaller than what was displayed, can't barely stick my feet in. My girl friend that wears 7.5 for women tried it and did fit perfectly. Unfortunately, they are actually sold out, so won't even be able to review their performance.
This shoe edges very well and is pretty stiff. Although its stiff and slightly down turned it smears pretty well also. Although I like to be able to feel the rock under my feet which is very tough to do in these
The toe end of the shoe is amazing! Edging faces is a huge improvement. But the heel end gets no stars from me. Really hard to keep the shoe on while heelhooking anything!
rock Wrech sizing whut???
I have owned and wear 10+ pairs of 5.10 shoes. (mocasyms, anasazi's every kind, gambits, v-miles)

i am a solid 11 size street shoe guy...if i want a 5.10 performance fit i go down to a 10.5.
i sized these to go performance at 10.5. i could barely squeeze them on and could not stand the pain to touch my foot to the ground so i sent them back.
i thought the sizing was a bit off so i returned them ($7.50 later) and ordered the 11.

The size 11 was almost no different than the 10.5 and i returned them again for a refund. (Another $7.50) waste of time...

I am so glad i paid $15.00 to try on these two pairs of shoes from you guys...not
These things are awesome! Ive never had so much confidence in my feet placements before these. They are not that great for pockets though because of the toe box. They are also pretty comfortable and my feet are pretty wide.
I just bought these. Do they stretch out...
I just bought these. Do they stretch out at all? They are just perfect but a smidge tight right now.
Slightly, but not much as they are a synthetic shoe.
These do not stretch, I have had mine for a few months now and they still feel the same. They are awesome though and the snug fit gives me great confidence when im on tiny edges.
All reviews are pretty much dead on when saying that these shoes are great for slab. Except that they don't tell you the truth. These shoes are THEBESTFREAKINSHOESONTHEPLANETFORSLAB!!!! The 5.10 Rubber is amazing, and these shoes genuinely have made me feel like I could walk on a wall. You'll be able to confidently stand on stuff so small you can barely see it's there. And when time comes for cracks with serious edging or crazy smears, the shoes will be there for you.

Small pockets aren't so good with this shoe, I would say 2 fingers or less is a hassle simply because the toe box is so square. This has a huge advantage on 3in or wider crack though as the shoe shape allows some serious grip on the inside and outside rubber. Some cracks I don't even have to edge against anymore, I can just kick my foot in and walk up it.

If you like slab, cracks on slab, or overhang. Buy these.

Another note, the top rubber does tend to flake quickly, but it hasn't affected the performance of the shoe in any noticeable way. Where it flakes is more of an aesthetic part of the shoe instead of a functional area.
I got these shoes for christmas, and have had a good three months to use them (3-5 days/week gym & 2 monthly outdoor trips).

They are absolutely AMAZING on the small crimpy stuff, anything on a vertical face is going to feel like a shelf. I've several times been standing on some tiny crimp and felt entirely secure. If your local crag is all vertical or slab, this shoe is the one for you. The 5.10 rubber on this shoe is really durable, and will stick to almost anything.

The downside is that for anything that has any kind of pockets or anything that is past vertical, this shoe is almost useless. The front toe is squared off to be able to grab the small crimpy stuff, but won't fit in anything less than a 3-finger pocket. It has a slight downturn to the toe, but not enough to do you much good on the steep stuff.

In short: If you're not gonna be doing a lot of overhang and will be mostly face climbing, this is the shoe for you. If not, take a look around before you commit to this one.
Unanswered Question
Hey guys, i have a 5.10 Anasazi Verde...
Hey guys, i have a 5.10 Anasazi Verde Lace-up 7.5 which is perfect for sport climbing and Bouldering but not that comfortable for trade routes. So i was looking for a New pair of shoes, which size should get to theses babies ? I've just got the New Team 5.10 size 8 which is too tight unfortunate ( i just sold to a very HAPPY friend now ).. Any ideias ?
Cheers ..
I like these shoes alot. They make it really easy to stand on next to nothing. I wear a size 11 running shoe and bought 11's in these and they fit like a glove. They were a bit tight at first but stretched justttt a little to get that perfect fit. They wont stretch much because they are synthetic. The only issue I have with the shoe is that material on the top of the toe area flakes very easily. It is almost as if 5.10 did a half ass job with some spray on rubber. I'll be contacting them shortly to see if they have had any similar complaints.