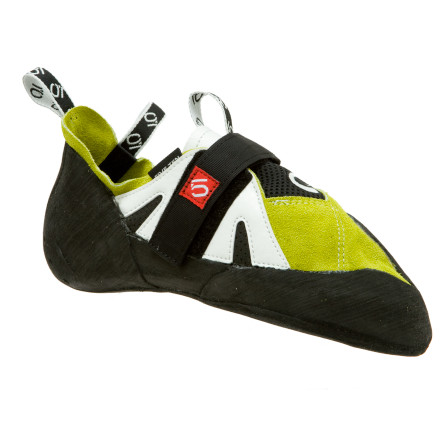 Detail Images
As the most sensitive climbing shoe ever built by Five Ten, the Project dishes out some serious performance on routes that demand exacting footwork. You don't want to send the crux of F-Dude and then fall off the technical slab above, do you? Five Ten's Stealth Mystique rubber sticks like glue, and the sole provides an ultra-thin 2mm forefoot to keep you in contact with every ripple. Slip your foot into the split-grain upper, cinch down the strap, and check off another proj.
Best aggressive shoe for me yet!
Love them so far! I haven't had them long enough to comment about their life, but I see no unusual wear. They stick like glue to even the greasiest smear and I'm super confident on dime edges. I have yet to have a foot blow off anything.

They break in very quick; it only took a couple short days of climbing. I got these shoes on sale so I ordered the smallest size in stock which was a men's 7/women's 8.5. My street shoe is a women's 7.5 almost always, but on occasion 8 (I like my street shoes snug with my big toe grazing or close to touching the front of the shoe). In retrospect, if/when I get these shoes again I will buy a half maybe full size smaller (they may end up stretching too much as they seem to be the perfect size at the moment after only 2 week of climbing).

I used to have solutions and they just didn't fit my foot correctly and were incredibly painful, even after months of trying to break them in. I have very narrow, long, flat feet with the same width throughout and a very shallow heal which makes it very difficult to find aggressive climbing shoes that fit my entire foot snuggly. Usually I'll have multiple pockets and the width will be too big for the correct length. The Project has a little pointy of a heal for my heal shape so there is a small pocket there, but that is the only place that doesn't mold around my feet. That is leaps and bounds above every other shoe that I've tried. AND these don't make me want to cry every time I put them on! (BTW, I might be a little sensitive about my feet…)

I only have a few complaints: 1. The heal cup doesn't fit my tiny heal 2. The strap doesn't come far enough up my foot to apply enough opposite pressure to keep the heal cup completely on (this is either because my heal is so very un-bulbous, I might need a half size smaller, or it's a flaw in the design... If I figure it out I'll update this post). 3. Lastly, there is a metal part to the closure system on the inside of the shoe that occasionally digs in and prevents me from tightening the shoe as much as I'd like.

Nonetheless this is still by far the best shoe that I've tried yet!
Like Having an Extra Layer of Skin
After getting broke in, they conform to your foot very well, they are decently sticky, they are confidence inspiring, and for the bouldering i do(v6 and less), they are fantastic. relatively easy to get on and off with the one strap design as well.

Although, they are very thin so be aware that traversing and outdoor stuff can be painful if your not careful. you feel everything in these shoes, which is great! until you hit a sharp angle too hard.

My one disappointment is that the heels are loose, common on these shoes i found out. they still stick heel hooks ok and I've never had a shoe pull off my foot, but there is space in the heel. and they will *fart when you walk in them as well because of this.

good bang for the buck and these are my favorite shoes at the moment for boulders.
Been climbing in the Projects of the last month or two and so far I love them! Extremely sensitive, light, and aggressive - great for red pointing those challenging routes. Although I mix these with some of my other climbing shoes, I use them pretty frequently (~three days a week) and haven't noticed them wearing down abnormally quick. Perfect for shorter, difficult routes or boulder problems. In terms of sizing, I would recommend going with your street size. This was painful at first (they're pretty small) but the shoes definitely stretch within a few days.

For the price, these shoes are great. Balance them out with some thicker, less aggressive style shoes and you're set for any route.
Dont buy it
The shoe is great for about 2 months then the rubber wears down and they need to be resoled.
Resoles are not available in 2mm rubber, so you lose all the sensitivity of the shoe.
After resoling its really just not worth climbing in.
if you have $100 for shoes every 2 months they're great.
I am completely loving these shoes. The rubber is super sticky and they are aggressive enough to do really technical moves, yet somehow not killer on the feet. They're so easy to get on and off between climbs as well that you'll love using them.
Does anyone know if the Five Ten Project...
Does anyone know if the Five Ten Project Climbing Shoe uses UK or US sizing ? It doesn't specify when I choose to order
Best Answer
The sizes in the drop down are US sizes.
I have had these for almost two weeks now, and I love them. during my first few bouldering sessions I could only have them on for about 20 minutes at a time because it felt like my toes were so smashed (despite ordering one full size ABOVE my street size). But now, after wearing them for 5 or 6 sessions at the climbing gym (probably bouldered about 15 routes, used them on the big wall 9 or 10 times), they are almost completely conformed to my feet. I can wear these for hours at a time now, and switch between these as my new Prisms on the big wall.

One concern I had when purchasing these was that they would be almost TOO sensitive... I am newbie climber, and everyone else seems to think that these are for hardcore climbers who have been at it for years. Well, I disagree. Using these right off the bat as I get into climbing has quickly taught me what works and what doesn't, how foot placement should work, and where exactly the holds are when I am not looking down. In short, they have helped improve my climbing, not been an obstacle. GET THEM! But order up... I am 9 1/2 street, and had to get these in 10 1/2.
Just received these in the mail yesterday. My buddy has had these for a few months and loves them (though he says they can get a bit painful on long big wall routes). I have used them for one session at the climbing gym, both bouldering and big wall. Thus far, I am enjoying them.

A little about sizing: I haven't quite figured out 5.10's sizing regulations... allow me to elaborate. My buddy owns a year old pair of 5.10 Piton's, size 8 1/2. They are broken in, and fit me perfectly. My street size is usually 9 - 9 1/2. My buddy's pair of Project's fit only slightly more snug than his Piton's... only the Projects are size 10 1/2. So I went ahead and ordered a 10 1/2 for my pair, which will fit perfectly after a couple weeks, I am thinking. To further complicate things, I also just purchased a pair of 5.10 Prisms, size 9 1/2...which happen to fit almost exactly as snugly as my new Projects in size 10 1/2 and as my buddies broken-in Pitons.

Anyways, I don't have much time on them yet, but loving them so far!

Food for thought!
Fruit Roll-up of climbing shoes.
You can literally roll them up and put them in your pocket.

A lot of reviews say these run tight, but I disagree. I wear a UK 40.5 Miura and the US 9.5 Project is aaaalmost too big. I expect it to be too big once all that leather break's in. These shoes have ZERO last in the sole. Again, there is no last, so my suspicion is that they will stretch a lot. The fit, as I go into week #2 with these kicks, is maybe a little big on a low-volume foot, but the velcro does help a little. Not a lot, but a little.

Without any mid-sole last, it's almost like a sock with rubber on it. You can feel the slightest nuances in every hold you put your foot on. Though, when it comes to standing vertically on a crystal or a screw-on, it's going to be all on you and your toes. Very little energy gets passed into the stability of the shoe.

The Five Ten rubber is good as always. All in all, not a bad shoe, but certainly worth checking out in the flesh first.
Just got these in the mail yesterday, so I'll update my review as these babies break in...

Right away I was struck by the sharpness and precision these shoes offer, even from a visual standpoint. This is my first pair of five ten shoes and I'm happy to see they've left out all the frills in exchange for more thrills. I bought this at my street shoe size (8.5) and could juuust squeeze my foot in. I have a wide toe box and these are a narrow shoe, but my toe barely makes solid contact with the point while my heel is in filling the heel cup, so I don't dare size up. As these have a full-leather upper, I'm hoping they will stretch to accomodate my flipper-shaped feet. The slipper design is easy to get out of but feels secure, and the single velcro strap instills a little confidence that I won't pop out of the shoe during a heel hook or similar maneuver.

Very excited to get climbing in these and try out the Stealth rubber. I've only worn La Sportiva until now.

EDIT: After a day of bouldering I've decided it isn't worth it for me to wait and see if these shoes will break in to fit my wide toe box. They're simply too narrow while fitting me perfectly length-wise.

I was, however, really psyched by the sensitivity of these shoes. On tiny, slippery holds my old Miuras lacked said sensitivity and I would often slip or miss the toehold entirely. These shoes made me feel much more precise and solid, even though I was in serious pain for most of the session. I'll be searching for a similar shoe with a wider toe box in the future.

Happy trails!
Based on Steph's comments about this being a great thin crack shoe I decided to give it a try. I'm a 10.5 street shoe and I wear a size 9 in the Moccs for reference, and the 9 and 9.5 were way too small in these. Ended up with an 11 which are comfortable (first time I've ever sized UP in a climbing shoe!). As mentioned they turned out to be a really good shoe for desert cracks, especially thin hands and smaller. The sole is thin and you really can wiggle your toes in for better purchase. They are precise on small edges but they are soft so I didn't think they were good for camping on edges. They have stretched to be a little big, so I can wear them with socks. I'd probably be better off with a 10.5. I'm not sure what 5.10 has replaced these with,maybe the Team, but it's worth trying whatever thin soled bouldering shoe they make for this type of climbing. Also worth noting that since the sole is thin, it's not going to last as long or be as durable as a Mocc, so it's definitely more or a quiver shoe.

photo is on Lightning Bolt Cracks, which has some thin hands, and some wideness and they did great on this route.
Best Answer
These shoes are unisex
These are a unisex shoe, but they are a lower volume shoe. The ankle is much lower compared to other Five Ten shoes.
this shoe works great with the original rubber but once i resoled them with thicker rubber i couldnt feel a thing and they didnt hold to the footholds so well
what is the life expectancy on this shoe?...
what is the life expectancy on this shoe? i would probably only use it as an indoor shoe, 2-4 times a week.
I've never used these specifically, but I have used other Five Ten shoes, and I would say that the shoe should last you a pretty long time. Plus, when it does wear out the rubber, you can and should get it resoled. Resoling shoes cuts down on money, break in time, and waste. There are a few places that do it, and you can pick your rubber that you want. Just google it. Hope that helps.
Best Answer
These shoes have extremely thin soles, only 2mm I think, as opposed to normal climbing shoes which have at least 4mm minimum. Thus, the life expectancy is pretty short, especially if you're climbing in a gym. I'd give them a few months of use before they start showing some serious wear, and a month or two more before you'd have to resole them or throw down for a new pair.
i wear a size ten street shoe how much...
i wear a size ten street shoe how much should i downsize with this shoe?
5.10 makes shoes profoundly small. I wear street 11 to 11.5. I own pair of La Sportivas Muira's US 9.5 Eur 42.5 and they fit perfect. I sent back a pair of 5.10 Projects size US 10.5 and got a pair of US 11 Euro 44.5. I will have to send them back too as they are still wicked tight. I suggest starting at street or only a half size smaller.
Do you have the money for a red point shoe?
These shoes definitely live up to their reputation, they grip like crazy and are the most sensitive shoe possible. However, the rubber on most shoes is twice as thick, so that although they are twice as sensitive, they also wear out twice as fast. So, in terms of performance they are great, if you have the money to replace them often.
How do these size up to the Evolv Pontas?...
How do these size up to the Evolv Pontas? I wear a 12 in those, 14 in street shoes, and didn't know where I should aim with these. 11? 11.5? 12?
I would look at the European sizing of your Pontas, because the European sizing is more universal.
Best Answer
These fit fairly small. If you were a size 14 street shoe, you can't wear these. They only come in size 12 or smaller, and you would need at least a size 13 in these for a tight fit. They are small. Also they are very narrow.
I usually wear La Sportiva and thought I'd give these a try. My street size shoe is a 12, and my climbing shoes are a 9 or 9.5 (42, 42.5) so I got these in a 9.5 and I could not even think to squeeze my foot into the shoe. I would need to get at least a full size bigger
I love these shoes! They are my favorite to climb in for hard bouldering routes and work best for overhanging toughies. I mostly climb in the gym, but have climbed with them outdoors as well. They are equally effective in either arena. They are super sensetive, so I always trust my feet because I can feel holds so well. After a while, they fit like a glove and wrap around your feet. The downturned last also provide lots of power as long as the shoe is sized properly. That being said, there are some specifics that need to be noted. These shoes stretch more than any shoe I've ever used. I wear a 10 in street shoe, 9 in most climbing (anasazi, mocassym) and bought these in an 8. They have stretched one size so far and I think they will stretch a bit more. I could have gone down to a 7.5 with the amount of stretch in these shoes. Keep that in mind when sizing. There will be pain at first, but it's well worth it. The shoes are so soft that it goes away quickly. This also means that relatively strong feet are required. Their softness means less support and more strength required from your feet. All in all, with the proper sizing and use, these shoes are like climbing barefoot if your feet were hands! Highly recommended!
, ☃bcs_badge_alumni_label☃
They Fit!
Typically in Sportivas, I have a slightly narrow foot and have not had much luck fitting Five-tens, but am loving my new Projects. Not only do I have a snug fit throughout the shoe (street shoe 9 = project 9), its super sensitive sole is IT for thin problems. Quickly became my go-to for Bouldering and steep Sport routes.