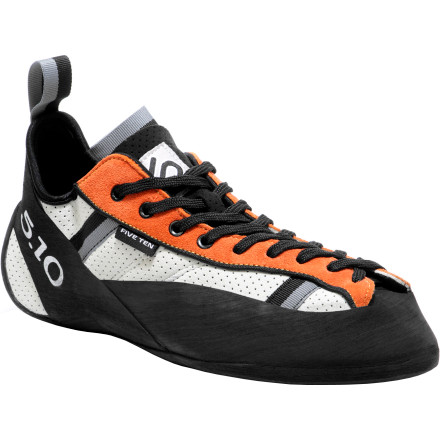 Videos

Community Images
When you're half way up 15 pitches of granite, you'll be happy that you began the route by lacing up the comfortable, high-performance Five Ten Newton Climbing Shoes. Thanks to an S-Lacing closure, these shoes leave no room for slop so you can bear down on the smallest edges with confidence. Five Ten also included a stiff midsole for extra support on the long stuff.
Stealth Onyxx rubber for serious friction and long-lasting durability
Full-length laces for a precise fit
Perforated synthetic upper allows breathability on hot days
Low asymmetrical curvature increases comfort for long routes
Share your thoughts
What do you think of the
Five Ten
Newton Lace-Up Climbing Shoe - 2012
? Share a...
I primarily use these shoes for longer routes with varied features and/or cracks. I love the lacing system and can really get it dialed in for whatever I want. The soles are super stiff making them great for edging, they smear really well and you can really get a good jam on.
High Comfort, Not Performance.
Gender:

Male

Familiarity:

I've put it through the wringer

Fit:

True to size
I bought this shoe to wear for easier/longer climbs and to hopefully get into crack climbing. I have been wearing them mainly outside for about 3 to 4 months once or twice a week and here is my initial impression.

Pros: These are VERY comfortable, I don't find my self trying to rip them off after each route, could stand in them for hours if needed. For easier climbs, (5.8-5.10a/b, V0-V1) they are great. They stiff sole edges pretty well, smears great and is very sticky and the padded toes makes stuffing them into cracks not so painful.
Cons: The toe is not very precise, cannot stick into small pockets (anything overhung seems to be a bit more challenging), the shoe is pretty wide and as other reviewers shared, small edges can be a challenge because your foot does not stay in place very well in the shoe.
Sizing: I wear 12/12.5 street shoe, bought these in a 12, after breaking in my toes lay pretty much flat, maybe slightly curled but as mentioned above, very comfy.
first shoe
Familiarity:

I've put it through the wringer

Fit:

True to size
This is my first climbing shoe. Started getting a little more serious about getting to the gym on a regular basis and playing around with top rope and bouldering. Very satisfied with the quality and durability of the shoe so far. I have been using it for about 4-5 months at least once a week indoors. It does not however have a very aggressive profile (allows for comfort and longevity) or the stickiest rubber (but still smears nicely). Using a toe on a small nut can be difficult but it does make you think about where you are going a little bit more. I sized to my street shoe and had a great result for fit. The laces really help dial it in.
about what you'd expect
Familiarity:

I've put it through the wringer

Fit:

True to size
I bought these because they seemed like an inexpensive way to access that sweet, sweet 5.10 rubber, in a shoe that would be comfortable for all-day, multi-pitch routes. They are comfortable and relatively sticky, but the wide toe box makes them a real challenge in smaller rocks. The metal lace eyelets were also completely mangled within the first few uses, which accelerated the chafing of the laces.
Very happy
Familiarity:

I've used it several times

Fit:

True to size
This is my first pair of climbing shoes in almost 20 years. I've been using them at the rock wall with my kids at our gym for about a month now. The shoes are everything they're advertised to be. I'm really happy with the construction, fit and performance. At the sale price, they are an awesome value.
Great comfortable shoe!
Familiarity:

I've used it several times

Fit:

True to size
The extra interior padding makes these super comfy to wear for extended periods of time, which makes it great for trad/multipitch climbing. Stiff sole translates to very good edging ability, plus the Onyxx rubber is fairly sticky (not as sticky as C4 rubber though) and smears well. I really have nothing negative to say about them and will be buying a second pair soon!
First Climbing Shoe for me
Familiarity:

I've used it several times

Fit:

Runs small
I usually climb ice, but I decide to finally break down and try this whole rock thing. I usually wear a 10.5 shoe and I could barely get the 10.5 Newton to fit. 11, 11.5 and finally I hit size 12 before I got the right fit. I don't know if its my feet or my lack of experience with climbing shoes. Once I got the right fit I have felt very good on some indoor work. Very sticky rubber and stiff sole. I live in AK so most of my climbing is on nasty rock and in the cold. I expect good things.
Super-comfy great all-around climb shoe.
There's really nothing bad to say about them. I sized mine to fit comfortably, not painfully (sounds weird but...a full size up from my street shoe...) I can walk around in them without wincing even after cranking down on the laces, which are great and give you some fit leeway. You can crank down on them to squeeze out a tight fit or leave 'em loose. The soles are quite stiff and the rubber is insanely sticky, even when wet. Not even really sure how that works or why that same rubber isn't on my hiking shoes...
Anyway...I guess it's a "basic" climbing shoe (it's not shaped like a boomerang), but it's solid and well worth the price.
The suede soaks up rain/sweat, though. Takes awhile to dry, but it's still 5-stars...
Great stiff shoe
Familiarity:

I've used it several times

Fit:

True to size
This is a great shoe with 5.10's characteristically sticky rubber. The sole is rather thick so you get a lot of stiffness and you lose a bit of feel. However, this is not a board lasted shoe. You can bend the sole easily if you try. Love the S-lacing. Very comfortable shoe!
Love them
Familiarity:

I've used it several times
I've had these for over 3 months. I've worn them both indoors and outdoors, bouldering and top roping. There's nothing I dislike about them. Very comfy, not aggressive, solid feel.
Just make sure to keep them in a well ventilated place after climbing, the extra padding on the inside tends to absorb sweat. My regular shoe size happens to fit very well.
Five Ten Newton Lace-Up Climbing Shoe
Real good feel and super sticky rubber helps stick an edge! Great for trad and cracks climbs as well as sport. These are some good all around shoes that can handle multiple types of climbing and not leave your feet feeling abused. I wear size 13 street shoes, so I sized down to the Newton's 12 and have no major discomfort or hot spots. Again not super aggressive bottems, but they have some pretty pointed toes and a good heel. The lace gives it a tighter feel which is nice. Good solid shoes and a great price!
Good, stiff forefoot, but not a heavily aggressive shape. I've only used this indoors, but it's held up well for dozens of uses. The toebox is large enough to fit my hobbit toes, but stills has a firm hold. As per usual, great 5.10 rubber for a solid smear. The only piece of note is that the synthetic material is super thick. It's even to the point of padding. To somebody that's looking for a minimal feel, it's not for you. It's just a lot of shoe. That being said, I've enjoyed it, and it's a great all around shoe for any crag.
One of the best shoes I've ever worn.
Gender:

Male

Familiarity:

I've used it several times
I have strange feet. I'm sure a lot of other climbers feel this way as well. Climbing shoes, as we all know, are so different that it is difficult to really suggest a shoe. It seems to me that the Newton is one of the exceptions to this rule. This shoe is aggressive enough to climb high end bouldering problems, and yet comfortable enough for all day multi-pitch climbs. The only downside is one of the bones on the back of me heel sticks out a little far, and these shoes are incredibly painful to take off, but the pain is never there while they are on. I wear a 10.5 street shoe and the 11 are not only good for the comfort, but I can still boulder rather well in them and get on some tiny precise toe work. Add to this the stickiest rubber on the planet and I don't see why you shouldn't give them a shot. Synthetic with zero stretch. The lacing system also allows for a very precise fit, although watch the eyes, they can bend in the cracks and become sharp.

They are super stiff, but after a bit I'm able to smear in them perfectly well, but some adjustments will need to be made if you're used to flimpsy shoes like the mocs. They crack climb like a dream. Highly, highly recommended.
How well do these shoes preform on thin...
How well do these shoes preform on thin faces? I know they are a great crack shoe, and I'm looking for a shoe that will serve as a great trad and outdoor shoe.
Five Ten shoes have great performance for edging. These will work well for cracks with out being a "crack specific" shoe, which often don't function well on much else. The La Sportiva Mythos could also be a good option for you.
I own L.S. Mythos and would say they are probably going to do everything well , I even Climbed Friction in them... Rather wear my 5-10 Coyotes for Friction...That C4 rubber!!! But for most all other climbs you can pull of in the Mythos...not as stiff as stricky Crack shoes but still do the trick...they will stretch, and are comfy! I also own pair of Muira's which I had to go steet size to fit my wide feet in and they are snug, but not numbing...we'll see if they are going to work out? Thought about the T.C. Pro with my wide feet...anybody have a pair and wide feet? questions on sizing, toeing, smearing, (hear their edging masters), and quality...heard problem with rands coming off??? thinking of trading the Muiras, for the T.C. Pros? to get a a shoe for hard all-around vertical, do it all?

How well do these shoes preform on thin...
How well do these shoes preform on thin faces? I know they are a great crack shoe, and I'm looking for a shoe that will serve as a great trad and outdoor shoe.
Hi TJ, I´ve being using Newtons for the last 12 years, when five ten discontinued the model, I stocked up a few pairs and kept on enjoing. Last winter I bought a new, orange-white, pair. I size them street size for long routes and half size down for more tecnical stuff. The shoe may seem a little stiff and clunky at the begining but will perform fine in small edges, later on it will smear perfectly and even better after a first resole with sportiva´s xsedge rubber, which will hold up in high temperatures ( I live in Spain) better that the original. A shoe that I tried but didn´t fit my foot shape is the Katana Lace, that migh be a perfect shoe for really thin stuff.