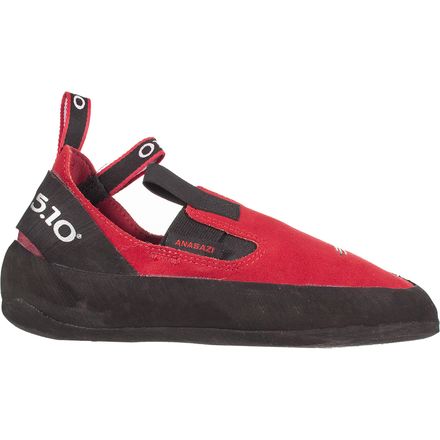 Detail Images

Videos

Community Images
Description
Two decades of legendary performance.
Five Ten has been making the Anasazi Moccasym Climbing Shoe nearly unchanged for the last two decades, and it's certainly not due to a lack of attention. The super soft midsole and narrow slip-on profile have made it the secret weapon of numerous top athletes when the task at hand involves jamming in a tips-only finger crack or maintaining a delicate toe-hook on overhung rock. Point being, a pair of Moccs belongs in every serious climber's bag of tricks.

Full grain leather uppers stretch out overtime for a custom fit
Slip-on design makes for easy on and off and creates a narrow foot profile
Soft fish hook midsole provides the required sensitivity for delicate smears and dime edges
Narrow and flat toe profile makes the shoe a go-to choice for hard crack climbs and difficult toe hooks
Stealth C4 rubber provides legendary traction on the every type of rock imaginable
Stretch is crazy.
Familiarity:

I've used it several times

Fit:

Runs large
This is a great crack climbing shoe as is what most people use this shoe for. For a shoe that you can stand in all day and be comfortable in, it is great for that. The down fall to this shoe is that the stretch is crazy! I have had two different pairs of these shoes. The first pair I had were size 9 and the stretched a full size at least causing them to slip and not being able to climb in them. The second pair I down Sized to a 7.5 and they fit great and I can wear them all day. Another down size is they dye your feet bright red which most people do not mind but it can be hard to wash off.
terrible climber, great shoe
Familiarity:

I've used it several times

Fit:

True to size
I'm a terribleclimber but the shoes work great.
Rad shoe
Familiarity:

I've put it through the wringer

Fit:

True to size
These have been my favorite climbing shoes yet. I sized them with a bouldering fit and they've stretched just enough for a perfect all around fit. I can wear them for long multi-pitched days pretty comfortably and they still perform well as bouldering shoes, although if I really want performance I go for a more aggressive shoe. They also smear amazingly. I usually wear a women's 9.5 (40-41) street shoe size, and bought a 39.5.
So far so good
Familiarity:

I've used it several times
I'm still in the break-in period with these. I sized them to a slightly aggressive sport/boulder fit initially, hoping they'll stretch into a more relaxed size for trad and crack use. I can't be sure I sized them right just yet, but even with the limited break-in time thus far, with my toes slightly bent in the shoes, they're easily comfortable enough to wear for a couple pitches at a time. I imagine they can only get better over the next couple weeks.

Performance-wise, no complaints at all so far. They edge decently right now, but they're really shining where smearing is particularly important, which is exactly what I was expecting of them. I still opt for my Five Ten Arrowheads for steep or pocketed sport routes when outside, but indoors, the Mocs are absolutely perfect.
Gift for the husb.
Familiarity:

I gave it as a gift but have feedback to share

Fit:

True to size
Purchased these for my husband, who was just starting to get into climbing. He had climbed in gym rentals, as well as tried on a few other shoes, and had nothing but terrible (slanderous) words to speak about climbing shoes. Until the Moccasyms. A great shoe for those who hate climbing shoes (or need a comfortable trad shoe). Ran true to size, but be aware: they will stretch, and they will dye your feet red :) Get them a little small if you'll be climbing in them often.
Slippers for life
Familiarity:

I've put it through the wringer
Most comfortable shoe I have ever had. These shoes have never cause any pain in my feet, even after wearing them on long multipitch days. The slipper still provides a tight fit after over a year with the same pair. Easy to slide on and easier to slide off. Why work hard just to put a shoe on?
My Go-To Climbing Shoe
Familiarity:

I've put it through the wringer

Fit:

True to size
Use them in the gym mostly, but work great outside as well. Will always have a pair of these in my line up!
My Go-To Climbing Shoe
Familiarity:

I've put it through the wringer

Fit:

True to size
Use them in the gym mostly, but work great outside as well. Will always have a pair of these in my line up!
Hey team,

I bought these about a month ago. Based on the suggestions here, i sized down 1.5 sizes. Unfortunately, I think i over did it. Any tips or suggestions on how to make them stretch a little bit more?



Other than bunching my toes up a little too much, they are great shoes.
I bought a pair of these about 3 weeks ago and they have stretched almost a whole size. I would recommend wearing them for short periods of time around the house to help stretch them a little bit also. Good luck!
Great shoes
Familiarity:

I've used it several times
Have been using them in the gym. Great shoes, sticky rubber. Handle overhangs nicely. Tight initially but have stretched to fit nicely. Highly recommend.
Chris Sharma crushing 5.14d in the Mocs
Classic clip from the Dosage series! FA of Dreamcatcher
A nice shoe to add to your quiver
Familiarity:

I've put it through the wringer
I bought these shoes for the longer slab and crack climbs at Lumpy ridge because my Muiras were just too much for that kind of climbing. Initially I found them to be great shoes for that job, I took them to the voo and on low grade climbs in eldo and didn't have trouble at all. But, once I moved back to the Adirondacks for school I sent my Muiras in to be resoled and was left with only these... that's when I got frustrated. Once your feet start to sweat in these guys you can kiss all your edging power goodbye. Three weeks of flailing around on technical climbs with these put a damper on my faith in them. In the midst of that time I took a trip to Rumney and I will say they held up great on the overhangs there, found no issue at all in that department. So my verdict is, if you want a shoes for long days on slabs or in cracks, these are great. If your climbing gently overhanging stuff they will do the job, but for anything in between (and theres a lot in between that if you like technical climbing) you may want to resort to a different pair. Also I bouldered a bit with them and they wouldn't be my first choice, but they suffice if its not edge dependent. Ripped a heel hook dependent roof with them and they stayed on.
Smear all over the place!
Familiarity:

I've put it through the wringer

Fit:

Runs large
I've used these more times than any of my other shoes combined. Great, grippy Five-Ten rubber that lasts and lasts. Really great all around shoe that can be used for just about anything. However, these are not great for hard toe hooks or -obviously- heel hooks (you can still heel hook something as long as there's not a ton of pressure on that heel). These shoes do cover everything up to a really technical overhung problem which is why I give them 5 stars. Also come in handy when you find yourself on the few and far-between footholds of PA diabase.



Sizing advice -I went one size down from my normal street shoe size, which was super tight and hard to get on until I used them at the gym for 5 or 6 sessions and now they're perfect.
I'm using five Ten spire size 7us men. It fits pretty well. What size of moccasym should I purchase? The same size? I'm from Brazil and in my town does't have any five ten shoe. Thanks for the help
Anyone to answer my question please?
Best Answer
Go a full size down from your street shoe, they stretch a bunch.
These are my newest shoe acquisition. Get them tight, they stretch and fit like a glove. Overly tight though seems to be needless, since they are reported to just stretch more and end up being the same fit in the end. I would suggest 1 size down. Unless you get them too loose they edge ok for a moc. They are sticky, and smear well. The more I wear them, the better I like the fit!



Sizing: I'm an 11.5 street/running shoe; 11.0 in an Anasazi VCS. I tried a 10 at first and could barely get them on! I need a bit more than average toe space. I'm sure they would have stretched out in time but decided to not put myself through that and exchanged for 10.5 instead. After break-in of 2-3 trips to the gym they fit great, but not too loose. I feel stable on the edges, and once the rubber breaks in they stick like glue.



They are SUPER comfortable... you know that fit you get right before shoes wear out and you have to replace them, like that, but a lot sooner!
Chief Red-Foot's favorite moccasins.
Familiarity:

I've put it through the wringer

Fit:

Runs large
Because they'll dye your feet red. Get it? And he's a Chief so he wears mocassims? Zing.



These are my preferred shoes for all-day moderate multipitch climbing. The Stealth rubber has a little extra durability that's sticky enough for that 6-pitch granite slab and crack route you saw in your buddy's Sierra guidebook.



They're surprisingly high performance on steep sport, great for cracks, excellent for smearing and tenuous slab. They even heel hook somehow! The lip where the stealth rubber sole terminates gives a little bite on certain features, and the shoe's heel cup keeps your gross feet from slipping out and scaring small children.



They stretch A LOT. When you buy them they hurt like crazy, after putting in some time at the crag, you've got this perfectly-fitting shoe that feels like you're walking on God's face, until a week later when they are too loose and sensitivity is somewhat compromised by that. Get a FULL-SIZE smaller and tough it out. I recommend wearing them while you watch climbing videos at home.



Classic, durable, sensitive at times, a top-performer in many circumstances, and valuable too! Snag a pair of these just to fit in.
Always keep a pair of these
Familiarity:

I've put it through the wringer
I love these shoes. I've climbing all day trad to stout boulder problems in these.

Only down side is that they do stretch a bit.
Stretch to fit
Familiarity:

I've put it through the wringer
These rock kicks are really versatile. At home on long trad climbs, or on short boulder problems, and definitely at home in cracks. The rubber is grippy enough so smear just about anything, and while they are built for edging, they do perform well when you need to.



Definitely size down a hair, cause these puppies will stretch for sure.
I'm hooked
Familiarity:

I've put it through the wringer

Fit:

True to size
If you can excuse the bright red tinge that these puppies leave your feet after a good session, you shouldn't think twice about picking up a pair!

Ridiculously comfy, yet snug and oh so sticky (the rubber I mean), these are a perfect all around climbing shoe as you'll hear over and over... because it's true!

If you made the correct choice and want to buy some, you can get away with sizing them at your regular shoe size. If you're a toe-binder, then get a size or half-size smaller than your regular shoe size.

Have Fun!