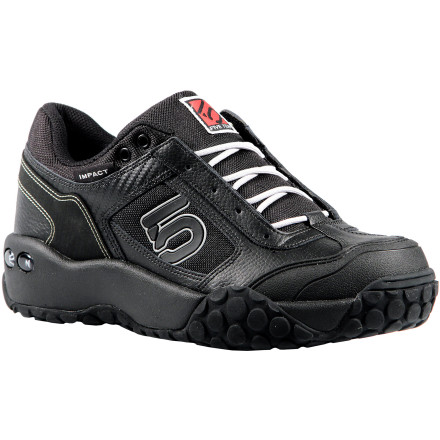 Detail Images

Videos

Community Images
Description
A legend in the making.
The buzz surrounding The Five Ten Impact Shoe is true. Here's a shoe tough enough for the burliest of rides that will fit your feet with slipper-like ease — an unrivaled mix of freeride performance and comfort.
Constructed with abrasion-resistant Action leather, The Impact Low will endure season after season. Mesh panels on both sides of the shoe enhance breathability to keep your feet cool and dry all day long. The Slingshot construction puts an end to heel-lift, and, alongside the Raptor Tongue and barrel-lacing, guarantees that your foot will stay comfortably in place on every ride.
Five Ten uses its unique Stealth S1 rubber for the sole of the Impact Low, providing grip and durability like not other material out there. The shoe's sticky rubber sole will keep you stable and agile — whether you're gripping pedals or scaling sketchy terrain on foot. The Impact Low is also outfitted with a compression-molded polyurethane midsole to absorb shock and reduce overall impact.
Abrasion-resistant Action leather
Lateral mesh venting panels
Stealth S1 Rubber sole
Compression-molded polyurethane midsole
Raptor Tongue and barrel-lacing
Good not great
Familiarity:

I've put it through the wringer

Fit:

True to size
I have been wearing theses for a couple years now and have always liked them but switched to the five ten free-rider contact shoe and base my 3 star rating on that.
Pros: Very durable, quality materials, good for downhill. Can take a beating .
Cons: big/bulky construction, not as comfortable and light weight as the free-rider contact shoe. Very sticky rubber but not as good as the contact shoe. I feel like the only reason to buy these over the contact shoe I have mentioned would be for price and that you are more of a downhill rider.
Great shoe!
Familiarity:

I've used it several times

Fit:

True to size
Great shoe, fits true to size with loads of grip. The only thing better here on Backcountry than their products is their customer service people. Thanks Backcountry I will definitely be back.
Sticky!
Familiarity:

I've used it several times

Fit:

True to size
These shoes make all the difference. I've tried skateboard/bmx shoes/hiking boots and these are way better. Even without toe clips the pedals will stick to your feet.
feels like a clipless clipless
Familiarity:

I've used it several times

Fit:

True to size
The stealth rubber on the sole of these shoes is great. Also climb in a pair of 5.10's. The quality is definitely there! cant wait to get some more rides with them.
THE shoe for MTB'ers who prefer flats
Familiarity:

I've put it through the wringer

Fit:

True to size
As someone who just doesn't like the feeling of being clipped in, these shoes are amazing because they have so much grip to your pedal pins that you don't really feel like you're making a compromise. Also very comfortable for those stretches where you have to hike your bike up something steep, which I do quite frequently. I've put over 1,000 miles on them since last spring and they're holding up great.
Best DH shoe on the planet!
Familiarity:

I've put it through the wringer
Sticky rubber clings to flats especially when cleaned after each ride. Stiff soles protect feat against pedal strikes and big hits. Extra padding is also nice. Buy them! I have gone through 2 pr sam hills, 2 pr free riders and 1 pr impact low. Impacts are my fave for DH for sure. If you want a more supple shoe for DJ or AM go with free rider. BTW- I have had no quality issues with any of my 510s. If i did i know they stand behind their product. Too bad other reviewer did not return delamed shoe. Keep in mind that these are made with climbing shoe rubber. Never store in hot car. They will delaminate for sure!
Insanely grippy
Familiarity:

I've put it through the wringer
This is probably the most tacky shoe on the market. Almost too much, as it makes re-adjusting your foot difficult at times. Unfortunately, it tends to take on water and hold onto it like it does pedals...not good if you are riding in the wet all day long.
What is glue?
Familiarity:

I've put it through the wringer

Fit:

True to size
These shoes have really sticky soles so they stick to the pedals well. But the problem is the sole doesnt stick to the shoe. I had the sole falling off within 2 weeks. I would never recommend spending money on these.
The Ultimate Flat Pedal Shoe
Familiarity:

I've put it through the wringer

Fit:

True to size
I have mediocre pedals and I used to ride with mediocre shoes on. After hitting a few jumps and smacking my shins because my feet flew off the pedals I decided I needed a change. I found these lovely shoes. With Five Tens Stealth rubber these are the best mountain biking shoes ever. There's been times when I felt like I was clicked in and I had to physically rip my foot off the pedal. I will never ride without these. They are also pretty stiff so you have better control of your bike. I wear a size 8.5 and they fit true to size.
The BEST grip for flat pedals
Gender:

Male

Familiarity:

I've put it through the wringer

Fit:

True to size
This version is slightly different from the last - it doesn't have the higher inside ankle cuff, the tongue doesn't sit as high out of the shoe, and the breathable material on the sides is no longer the aerated leather, it's now mesh. For reference, I wore a 10 in my previous Impacts and got a 9.5 in this version. They feel about the same as far as fit and comfort go.



It's still big and clunky compared to other flat pedal shoes, but none of the others can compare to this shoes' level of grip. I have a set of the Five Ten Spitfire low tops, as well as a set of the new Freerider VXi shoes.



The Spitfires are similar to your average skate-style shoe as far as support (i.e. none), fit and weight goes, but with slightly better grip. The Freerider VXi shoes are lighter and less clunky than the Impacts, and on par with them as far as stiffness and support, but they're also less grippy.



For outright support, stiffness and grip, the Impacts can't be beat.
Won't ride without them
Familiarity:

I've put it through the wringer

Fit:

True to size
I broke my foot this spring and so I ordered these shoes because I heard they offer they best protection and I didn't feel like re-injuring myself. These shoes do not mess around. They are heavy duty and I no longer have the fear of jamming my foot and re breaking it. They also offer stiff soles and amazing grip on the pedals so your feet stay put while you're riding. I don't know if Five Ten offers a woman's Impact, but as a female with a narrower foot, these are super comfortable and fit my feet perfectly, there was no break in time. The only con is that because they are such a serious shoe they take a REALLY long time to dry out after a wet ride.
so far so good
Gender:

Male

Familiarity:

I've used it several times

Fit:

True to size
I just got these earlier this week and have 2 day mountain biking on them. Everything I have read about Five Ten biking shoes is that they stick like glue because of there special sole. They do grip very well on the petals, but not all that much more than my DC shoes I had been using. That being said I'm happy about it. I had read that they grip so well that you have a hard time moving your foot on the petal. What I have loved so far is that they have a very stiff sole and feel so solid on my feet when riding. I would say they made some improvement in my riding they feel so good. They feel much more solid on your feet then the Five Ten Freeride. They are on sale right now so pick them up.
Five Ten Impact Low Shoe - Men's
Incredible grip!
Familiarity:

I've put it through the wringer
Pros: Insane grip. Good fit- very comfortable (I've never had blisters even riding cross country all day). Great protection against rock strikes. I cant stress this enough- awesome grip. Stiff soles- great for big jumps, steep descents, and shoveling.



Cons: Heavy on hot and humid days. Do not dry quickly after lots of sweat or a wash.



These shoes inspired so much confidence after switching from years on DC skate shoes. I never realized just how much I shifted my feet before I wore the Impacts. Now I can point my bike down the steepest rough stuff and never worry about my foot slipping. Pair them with a set of Straitlines and you can enjoy the grip of being clipped in while still easily throwing feet out to destroy berms or the jump line.

The rocky advanced downhills at Angel Fire were no match for this shoe.

I highly recommend to anyone on a big bike riding more downhill that up.

(I'd probably go with Freeriders if I did more AM climbs.)
Best decision I have made
Gender:

Male

Familiarity:

I've used it several times
I recently decided to go back to Flats after riding Clipless since 1993.



Best decision I have made mountain biking, these things are unbeliveably sticky and the comfort is second to none. I bought my wife the Five Ten Barons and she loves hers as well!
Does the size 14 come in wide?
Does the size 14 come in wide?
Hi Jutty,



Five Ten only makes these shoes in one width. However, after spot checking a few reviews on other sites and forums, some people did say these were a bit on the wide side. Hope that helps!