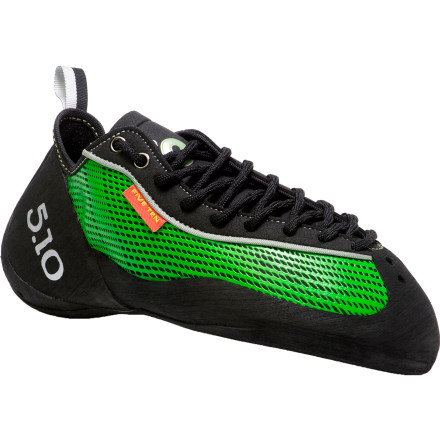 Detail Images

Community Images
Lace up the Five Ten Hornet Climbing Shoe when you're ready to get aggressive on an elusive project. Five Ten's proprietary Mystique outsole sticks to even the most reluctant features whether you're balancing your way up a slabby sequence or pumping out on an overhang. A revolutionary low-volume last complements a downturned toe for a design that offers a precision feel and fit.
Ultra-sticky Stealth Mystique rubber to give you friction on the smallest holds
Cowdura synthetic upper maintains comfort and breathability
Traditional lacing provides custom fit
Polytechnic coating adds upper durability for shoe longevity
Love at first sight
Familiarity:

I've put it through the wringer

Fit:

Runs small
run really small lol

i picked this up at the local climbing shop, i wear size 8.5 i miura and wear this in 9.5 (street size 8.5)!!!!!!! WOW lol

STICKS TO EVERYTHING, no matter what body positions im in weather it's edging or smearing... it perform as well as my miura, the only different is the sensitivity, really sensitive, you can tell how much longer you have to stand on something before you fall off.

only down side is heel cup way too deep, im guessing having it at a size 9.5 is probably why, but i dont think i can fit 8.5 so i guess something gotta give.

definitely not a starter's shoes, but sticks like glue.

Recommended, thump up XP
Great Shoe Without the Sting
If you are going to get an aggressive shoe you really do need to try on a couple different models and get that pair that feels the best for you.



With that disclaimer these are my favorite pair of aggressive shoe for my hyper-mobile fairly low-volume foot. These are a super thin pair of shoes and are great for micro-edging since you can feel everything through the shoe. Since these are so thin they probably shouldn't be your gym or project shoe or you will burn through the rubber pretty fast. These shoes really wont stretch much so don't expect much molding to your feet, size them so that they pretty much fit out of the box.



If it helps, I wear street shoes 8.5-9, 5.10 Anasazi (9), Evolve Defy (8), and these Hornets in a size 9.



Put these shoes on when you are really ready to put down, most of my recent v(double digits) have been in these.



Oh, one thing that I forgot to mention... The spiral shoelace is rad for custom fitting your shoes and they wont slip while you wear them.
I've used these shoes for about a year or so. By the time I finally broke them in, they had lost a lot of their edging ability. (My street shoe is an 8, and I bought these in an 8) I love them on cracks and for heal hooks, but I frequently fall off some of the smaller toe holds because the edge has been used up. Great, soft, sticky rubber, but, they hurt like hell if you wear them too long, and the rubber wears out pretty fast, in my opinion.
If the shoe fits, wear it!
Gender:

Male

Familiarity:

I've put it through the wringer
Let me start out by saying, that if climbing shoes don't fit you, it does not mean that they are "terribly designed" or that sizing is a pain"

For myself, the experience was quite the opposite, I think these fit perfectly and the sizing is easy like Sunday morning.

EVERYONE HAS A DIFFERENT SHAPED FOOT, AND NOT EVERYONE WILL BE ABLE TO WEAR THE SAME SHOES.



My feet are pretty high volume with a low arch. My heels and ankles are not incredibly defined either. I would describe my foot as pretty rectangular- wide foot all the way up to the toes and my second toe is just as long as my big toe. I wear a size 9 street shoe, but my actual foot size is closer to 8.5. in the Hornets, the size 8.5 works perfectly for me. I think people with higher arches will have to size up a little.

The cowdura synthetic upper won't stretch that much, but you can expect them to have molded to your foot really well after the initial break in period.

These have a fairly thin sole, so while you'll wear them out faster, you'll have much better sensitivity for small footholds and desperate smears.

It's soft enough to allow you to really smear your foot, while also being able to edge on a dime, AND wrap your toes around footholds on overhanging routes.

You'll love these shoes for just about every type of climb(except for hand and finger cracks) and if you find that these fit your feet well, you can expect a long and loving relationship between yourself and the Hornet!
Very deep heel cup
Gender:

Male

Familiarity:

I've used it once or twice and have initial impressions
I was super excited about these shoes when I ordered them, but completely disappointed the second I put them on my feet. Having read the other reviews, I sized them just right, snug but not excruciating. However, there was solid quarter to half inch of dead space all around my heels. The heel cup on these shoe is soooo deep, I seriously have no idea how they would fit a normal person adequately. So, unless you have actually noticed that you have abnormally deep heels, I would not recommend these shoes to you. I am giving these shoes two stars because it is possible that for some people these shoes are just right. But for everyone else, no way. My biggest gripe is that I do not get to wear these really cool looking shoes due to the design :(
When will you have more size 11 hornets...
When will you have more size 11 hornets in stock?
Best Answer
right now buddy!
First let me say that these are an amazing shoe with phenomenal grip and feel. I've been climbing with them since they first came out and I love them.
The only real issue I had with them is exactly what everyone else is saying. The sizing seems to be way off. I, like almost everyone else likes their climbing shoe a size or two small but these shoes are ridiculous. I bought my first pair off steep and cheap and after reading the complaints I decided to to with a size 9 1/2 because I usually go with a 9.
I got the shoes, they were way too small, so I returned them and tried for a size 10. (with no questions asked and no issues from back country) I got the 10's and they were still way too small! Fortunately for me, I live in Salt Lake so I was able to drive to Back country to try them on. I ended up trying on every size until a size 12 finally fit me, and that was still considerably tight on me.
I have multiple pairs of 5.10 climbing and approach shoes and I have never had an issue with sizing until these Hornets. Like I said, these are the best shoes I have climbed in but it took a lot of work to get the right set.

as far as the shoe itself goes, I give it four stars. But for the fitment, I have a hard time giving it one star.
Great overhang shoe but the sizing is a mess
I have a small collection of climbing shoes. My favorite all around shoe are my 5.10 5 anasazi blanco/ Lace-up V2. I own those in a Men's 10 and they are great but they are starting to wear out and need a second shoe to use when I send them to get resoled.

I tried a 11 in these and they are a bit to small on my left foot, I thought sizing up a full size would make sure they would fit but they are just too tight. I really liked how they hooked the holds in the overhang section in the gym but on more vertical walls they are too uncomfortable. I would definitely size up around a 1 full size. I am going to order a few other 5.10's and evolvs to see how they compare because there isn't an 11.5 in stock
great shoes but sizing them is a pain
another review complaining about sizing a rock shoe on the interwebs...

let me defend myself: 1) five ten's sizing has been wildly inconsistent recently both model to model and years past to present. 2) i tried a size 10 which is what ive been wearing in five tens my last two pairs and they were at least A FULL SIZE too small. 3) i went up to an 11 (a half size larger than street shoe) and they are still borderline too small. 4) the heel of this shoe is extremely narrow and deep. I cannot get my heel down to the bottom of the shoe creating a small pocket of dead space meaning that if i heel hooked hard enough, i think i could pull these off (and rip my hamstring in the process).

id try them on as they are really sensitive, great rubber, and pretty cool looking. if they fit then go for them... if they fit.
I recently tried on and like the 5.10...
I recently tried on and like the 5.10 Anasazi and was curious if any could help me compare these in fit, feel and performance. I am pretty sure i was told the anisazis would not stretch, can i expect similar from the hornets?

Thanks Jeff
Synthetic Leather, should stretch a bit.
If I wear a size 11 street shoe what size...
If I wear a size 11 street shoe what size of this shoe would I want to wear?
In general, 5.10 runs the same size as your street shoe. I have the 5.10 Team, which is highly aggressive like these, and I wear the same size as my street shoe. They fit suuuper tight and take a while to get used to (aka wear them for more than 30 minutes). Go 11 if you can handle some pain, or go 11.5 if you dont mind sacrificing some precision for comfort
I wear a 10.5 in street shoes and the size 10.5 5.10s did not even come close to fitting me. I am exchanging and going up a full size.
I have a size 11 street shoe and for both these and the dragons I wear 11.5. Weird but it works!