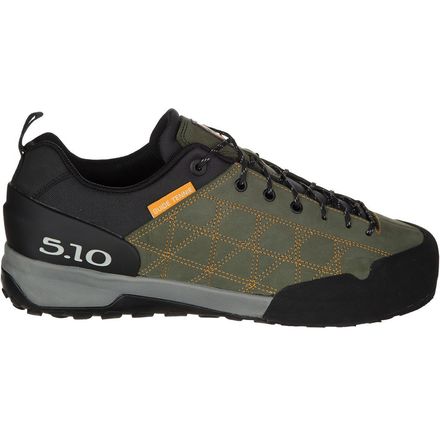 Detail Images

Videos

Community Images
Unanswered Question
I wear a size 11 in the Anasazi VCS and they fit like a glove, anyone have an idea of what size I should be looking at?
Thanks
Unanswered Question
I wear an 11.5 in Pearl Izumi running shoes, 11 in Hoka's. How is the sizing on these? Thinking 11.5 but also thinking 11.
First Impressions
Familiarity:

I've used it once or twice and have initial impressions

Fit:

Runs large
They say first impressions are important. (My way of telling myself my review is worth something.)



Anyways, picked these up because I was tired of falling on my butt on descent trails and freaking out on exposed slabs. I was a little skeptical about approach shoes going into this purchase and thought they might be just a clever marketing tactic to sell more stuff to people with too much money.



I grabbed a pair size 12 (I am normally size 12.5 running shoe) and they fit pretty good. I have narrow feet and getting them tight enough requires a lot of cinching. Right out of the box they feel super comfortable and fit with a little room in the toe box like my normal street or hiking shoes. I think I would prefer them a half size smaller though for aid climbing.



I took them out to Yosemite last weekend to give them a try and I was blown away with how well they climbed! They stick to granite almost too well. We had to hike a descent through a really loose and steep gully and not once did I slip or have to worry about my feet!



I really like the design of this shoe and even though it is still new to me and I don't have much to compare to, I can vouch for every other review that these shoes climb really well!



Sizing can differ a little based on what you want out of it. A little smaller if you want a good aiding shoe or a better climbing shoe. A little bigger if you want a shoe good for more hiking than climbing. Also if you have narrow feet like me and don't mind less room in the toe box, dropping a half size might help.



Overall I am really happy with these shoes and looking forward to many trips of not falling on my butt or freaking out on those exposed slabs.
A redesigned classic
Familiarity:

I've put it through the wringer

Fit:

True to size
Fiveten has redesigned the classic tennie. It now sports a more supportive heel, and instead of classic dot rubber they now have stealth rubber soles with an edging section on the big toe. Still a classic in my opion!
Everyone and their mother wear Five Ten shoes in the Valley, and for good reason! Nothing sticks like STEALTH, gives great protection, and takes the abuse from the outdoor world like these shoes!



Left to Right- Aescent- Guide Tennie- Guide Tennie Mid GTX.. chillin at the base of Generator Crack- Yosemite Valley
Landon practicing his aid game. Guide Tennie's work great for several reasons:

-Their stiff soles make standing in ladders all day much easier on the feet.

-The super sticky STEALTH rubber and edging power give more confidence to you when making those 5.8 mandatory free moves.

-Lightweight, saving you the burden from clunkers attached to your harness.
Stealth rubber making tracks on Red Rock sandstone... definitely the favorite among friends!



I noticed there wasn't a Tech Specs listed, so here are some product specs off FiveTen.com



Upper Material: Nubuck Leather

Closure: Laces

Last: ErgoNomic

Midsole: Compression-molded EVA

Sole: STEALTH C4 rubber

Weight: (size 9) 14.43oz- 407g each, but Caribbean/Grey is slightly heaver at 15.9oz- 450g

Recommended Use: Climbing, Hiking.
great but don't last
Familiarity:

I've put it through the wringer

Fit:

Runs large
These shoes are great and stick to any approach you can imagine, but I've only had mine for 5 months and the soles are de-laminating. I only use them when I go climbing so I cannot figure out why the rubber is falling apart so fast. Overall great for involved approaches, but not built for long at all.
Can you mountain bike in this shoe? They seem to be a good all around outdoor shoe.
Hey,

you could do that however as it is a nice stiff shoe so you will have good transfer to the pedal. My hesitation would be the toe has a large smooth surface for smearing on rock that might be relatively slick on a flat pedal. If you are interested in trying a pair I would be happy to set up an order with a free return label, and if they don't work we can get you into a better shoe. Hit me up at the info below if you have other questions or would like to get an order going.

Dan Gates

Expert Gearhead

Office: 800-409-4502 ext. 4491

dgates@backcountry.com


I wear an 11.5 in my Brooks Cascadias. Should I go with an 11.5 in FiveTen?



Also. Is the juice worth the squeeze? $130 is steep, pun intended.
I went out on a limb and ordered an 11 in the Guide Tennie Mid and they fit perfectly. Been using the heck outta these bad boys for the last few months and the juice is definitely worth the squeeze. Handles up to 5.7 without any issue. Personally I didn't feel comfortable pushing them past that. Also, I'll just say that when the rock is wet, nothing sticks.
if i were to wear this shoe as a everyday shoe would it be uncomfortable?
I don't think they'd be uncomfortable, but they'd probably wear out pretty quickly. The softer, stickier rubber that goes on approach shoes tends to be less durable than the sole of a dedicated street shoe.
Hey Kyle! No these shoes are made to be worn till they're dust. Friends and me wear the Tennies EVERY DAY here in Yosemite Valley. Where you can bike to the El Cap meadow for a pick nick and awesome view, then decide to scramble up the East Ledges or hop on the Big Wall! But like Angus stated, the sticky Stealth Rubber soles are created and designed for rock scrambling or a heinous approach. Life on city streets might cause premature wear, but they're really bomber shoes!
Awesome
Familiarity:

I've used it several times

Fit:

True to size
I haven't pushed the Tennies to their limit on 5th class approaches yet but they definitely feel like they can handle it. Great grip, comfortable and stiff enough to confidently edge on, without compromising in-town walk-ability. Very true to size.
Squeaks when I walk!
Familiarity:

I've put it through the wringer

Fit:

True to size


Well, they only squeak on clean floors. Fits comfortable, true to size, in the sense they are comparable to other manufacture's sizes. Used on the trail, around the house, and on city streets. I was a bit disappointed when the shoe slipped, and I was expecting more "bite" on a rock. If you concentrate on foot placement, no problem. But if you're casually about foot placement on the rock, they will slip. A lot more than expected for

the sticky soles they advertised. My biggest complaint is they lasted only 3 months before the rand started to come apart. Shoes should last much longer and not require the customer to glue the shoe. I believe, if you flex the shoe a lot, like on approaches, the rand will delaminate. Even not wearing the shoe you see the delamination in process. Majorly disappointed.

5.10 should add a tube of glue to each box.




Level IIIA tactical body armor for feet
Familiarity:

I've put it through the wringer

Fit:

True to size
I've tried about every approach shoe out there. La Sportiva, 5.10, evolv, salewa. I have to give these my personal endorsement as they are tough turdkickers that will see you through just about anything you can throw at them.



All machismo aside, these puppies are comfy, supportive, and nurturing. Did your girlfriend just dump you for a backcountry ski nut? Don't worry, the 5.10 Guide Tennie is there for you with a pint of Haagen Daz and a 13 going on 30 blu-ray.



In terms of climbing performance, the rubber is great and puts up with a lot of abuse. Edging is great, and the nylon armored exterior lets you jam these things into cracks with reckless abandon. Smearing is pretty darn good. The evolv cruzers do it better, but only slightly. You'll be keeping these on for the first three 5.8 pitches before you get to the good stuff.



Durability is excellent. I might even resole these, if that's actually a thing.



I've had durability issues with the with my shoelaces sawing through the suede 'eyelets' on my La Spo Boulder X. Every pair of Evolv cruzers I own boasts two ragged holes on either side of the toe, even the venerable Scarpa helix can't even eat at the same table as this glorious pair of rockhoppers.



The insole is very, very cozy, so if your approach involves carrying a 90lb piggie on your back, this is the way to go. The boulder X is pretty supportive for heavy portage, but the salewa and evolv offerings will leave you with sore feet and fallen arches.



The only downside I can think of is that they aren't very breathable. While my feet normally smell like a field of daisies, a July weekend in Joshua Tree funks them up enough to make an onion cry.



Don't let these things get soaked through. The insole expands and never fits quite the same afterwards. You can't skinny dip with shoes on anyhow.



10 split-tip thumbs up. My absolute favorite approach shoes
Runs small, & Rubbers
Familiarity:

I've put it through the wringer

Fit:

Runs small
Got these kicks to travel around the boulders of Europe, and thought they could be diverse to be in the boulders, and ascent simple pitches in the Backcountry (Alps: if you can consider that backcountry) seem to fit small for the size.



I had the guides before they were revamped (they look a lot better if that counts for anything), but the rubber might be more durable for the everyday, but they aren't like rock shoes on rock. Wish I felt confident like the last pair jumping through bloc's.
On my fifth pair.
Familiarity:

I've put it through the wringer

Fit:

True to size
These shoes inspire confidence on sandstone. Yes I go through a pair about once a year as the soft rubber does wear out, but that's just the trade off of having the stickiest rubber out there. I pick the guide tennie canvas as my choice. I go through a lot of water and the canvas version seems to handle the water aspect much better than the leather ones. My leather ones shrunk and cracked. The Canvas ones seem to just keep on going. There isn't much support in these but they are light and nimble. I have yet to see another shoe match stealth rubber on five tens. I have tried La Sportiva's Explorers, Addidas Hydropros, Addidas terrex (stealth as well), and Salawa's Fire Trails. None compare.
so far so good
Familiarity:

I've used it several times

Fit:

Runs large
My first real approach shoes. I have pretty much used trail runners or climbing shoes for most of my ascents but some recent trips required something in between and I picked these up. Good grip so far. Toe box is pretty damn big(tall)which always blows my mind. Since it is an approach shoe you would think the toe would be a little more pointed to jam into small foot holds. that being said because the toe is pretty tall and blunt they do edge well. I've taken these on some wet slabs in the past week or two and surprised how good they gripped. Seem to run a little big, if I was going to do it all again I would order a half size down.