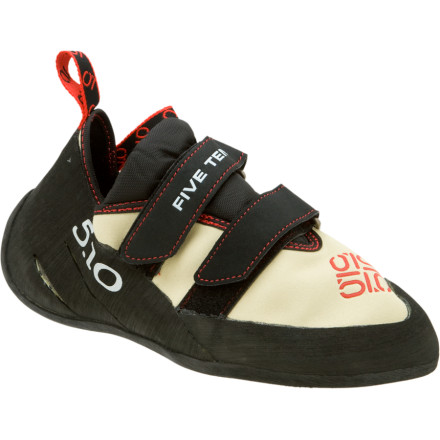 Detail Images

Videos
From the boulders to the big walls, the stiff, supportive Five Ten Galileo Climbing Shoe is the all-around rock ace's weapon of choice. The lined Cowdura synthetic upper and split, padded tongue provide a comfortable fit, and the thick 4.2mm Stealth Onyxx rubber sole gives you solid support and gecko-like friction on any rock type.
Lined synthetic uppers keep stretch to a minimum
Hook-and-loop closures make it quick and easy to put on and take off these shoes
Stealth Onyxx rubber provides top-notch friction on technical pitches
Slightly stiff sole allows edging performance when it really matters
Great shoe of poor quality.
Gender:

Male

Familiarity:

I've put it through the wringer

Fit:

True to size
Galileo climbs great, is very comfortable and even seems to stink not that much.

The problem I faced is that the front rubber got torn afer sth like 50 pitches, so I had to have them resoled much much earlier than I normally would do.

It's not easy to contact 5.10 customer service. I needed to send 4 emails to get the first answer. After beeing redirected a few times I was asked for the receipt by my country distributor in Europe. I explained that I have none, and that I have bought the shoes in the USA. I have received no answers as form the local distributor as from the headquarter.

Bottomline - do not count on their customer service if you do not have luck with the product ...
Been good to me
Familiarity:

I've put it through the wringer

Fit:

True to size
These shoes have been so good to me, for a long time now. They are comfortable but still very strong and precise. I use them outdoor, indoor, bouldering, sport... pretty much everywhere. I wear an 11 street shoe and got these in a 10.5 and they are great. Like everyone else has said, they are painful at first but break in well.
Five Ten Galileo Climbing Shoe
Pros:

- Extremely comfortable

- Fit a wide foot well

- Don't smell (too) bad

- Edge well

- Decent for tow hooking

- Easy on/off

- VERY durable

- Nice and sticky



Cons:

- Not great for heel hooking



I picked up a pair of these several months ago to use as a warm up/comfy shoe, and I'm blown away. They're similar to the anasazis, but more comfortable/less aggressive, with a different heel. I'd buy them again.
Everybody should wear Gals
These are the all around best rock climbing shoe I've owned so far. Never once did i feel like these shoes were holding me back by not being aggressive enough.
Quite different from Anasazi
I was hoping that these would be a stiff velcro equivalent to my beloved Anasazi Verdes.



Compared to Anasazi Verde they're slightly stiffer, with a similar fit and better, deeper heel cup and a much less tensioned rand.



At first I was disappointed with their performance, but at some point realized that as an all-around trad and moderate sport shoe, they're fantastic as they're comfortable and high performance enough. However, it's not a stiffer anasazi, rather a very different sort of shoe. Comfortable enough for cracks and multipitch, precise enough for face climbing.



Super steep or techy climbing and they won't hold a candle to the anasazi. However, I reach for the galileo more often than either my anasazis or my huecos. I've climbed up to easy 5.12 at Smith, plenty of Jtree moderates, and plenty of time in the gym.



They do stretch out a tad, but nothing like a leather shoe.



I don't think they're very stiff, but I weigh 190 lbs and wear a size 13.
How well do these shoes crack climb? Finger,...
How well do these shoes crack climb? Finger, hand, and offwidth.
I know these shoes have a very stiff midsole, and are very supportive on small features. I'm looking for a good outdoor, trad shoe that will excell both in cracks and on very thin faces.
Dean Potter will sometimes wear one Gal and one Anasazi for an off-width climb. He says the Gal is more precise and better for the crack while the Anasazi gives him a more sensitive feel for the wall
Replaced Katanas with Galileo
I got these a few weeks ago and have been satisfied with them. I have been wearing katanas for the last four years as my all around shoe and have never liked the fit of the heel. So i decided to try 5.10. They were pretty tight for the first, but seem to be stretching. I think they climb slightly better than the katanas and fit much better in the heel, however the katanas are leather and fit pretty darn well in the toe box. If these stretch a bit more they will be my favorite shoe for all around climbing. My biggest issue with shoes is that my 2nd and 3rd toe are as long as my big toe.
Street shoe 12
Katana 43.5
Galileo 11
muira vs 43.5
copperhead 11
Evolvz - don't fit me
The Galileos were the first pair of shoes I bought for myself. I wear a 10-10.5 street shoe, and I bought 42.0s in the Galileo. They were excruciating for the first month or so, but soon fit like a glove. Mind you, they still ate my feet up on multi-pitch, but for the short stuff these shoes were a dream. They edge on a sliver, stick to glass, and actually turned my feet down a lot more than this picture would have you believe.

That said, I also experienced many of the small issues mentioned in other reviews, but none of them affected the performance of this workhorse. The velcro straps do indeed come long and quickly wore out on the ends, but the ends are hanging over, so who cares? The rubber DID separate slightly from the uppers, but again, this was only ever a superficial concern for me. I'm sure the white uppers on the shoe would get filthy in a hurry, but I actually decorated them with sharpies, so I loved em.

The Galileos have served me well, and it took over a year of constant abuse before Josh granite finally ripped two irreparable flappers in the soles. RIP.
Nice Shoe, Run Very Small
I wear size 9 US street shoe and got these in 8.5. I could barely get them on. Returned them for a 9, but there is still a pretty painful pressure point on both big toes. My feet are about average--not too wide or narrow, no weird protrusions. After about 15 times at the gym, they've stretched a bit. Excellent performance despite the pain; we'll see how it goes when I've gotta wear 'em for a couple of hours on a route.
Well at first I loved them they have great rubber and fit well once broken in. I still really want to love them however many problems have occurred to me. First and for most is the heel. I got these in a size 10 and I wear an 11 in street shoes so they should have been fairly tight at first which they were however instead of stretching and filling out the heel they stretch primarily around the toes so even broken in these shoes have too much space for me in the heel and if adjustments are made during a heel hook the heel pops off unless you pull it back up first. Second the velcro is too long and wares out much too quickly. Finally if you to hook much the rubber in this area separates from the fabric after a few weeks. Bought these shoes in May and already have quite a bit of ware the toe rubber I can deel with but the velcro is annoying. The heel is unacceptable for me. On a positive note the rubber is great and the shoes edge on most anything. They smear well and heel hook well while they stay in place.
I've been using a pair now for about a year. The edging is now as the sole has worm down from use. I wear them for everything. The only downside is that the heel is loose/has extra space. Maybe that just because of my foot's shape. They do stretch some and mold to your feet. First couple of weeks in them were horrible, they were hard as wood but now I love them.
I am happy with everything about these shoes. They are comfortable, they look great, and they are a great value for your money. I hope to have these shoes in my bag for a long time.
Super Sticky on old slimed really classic (aka beat up) feet! Perfect for small feet and friction that cant be matched.
Even with the problems I have with them they are still worth it
Alright love these shoes, however it did take a bit of time to break in, and they get really hot.
For the fit out of the box they are tight, but in the wrong way for me. I feel that the toe box could have been a bit wider, and the heel should be slightly narrower and tighter too allow for the stretch to come. The rubber is awesome the design of the opening is a step up from my montrail indexes, they are much easier to put on, and now that the toe area has stretched they are quite enjoyable. I do however worry about the heel. It feels like there is empty space that might end up causing the shoe to slip. I have don plenty of heel hooking (even some totally unnecessary heel hooking lol)in them and no trouble what so ever so I am not going to dock it for that. My main complaint was toe box before breaking in though I still have to get my feet in just right, and how ridiculously hot they get. I can live with discomfort because generally it goes away once I start climbing and there is always the knowledge that they just have to be broken in, but the heat I don't like. The shoes are perfect at the gym, but in any whether above 85 they get hot. I climbed a route in them to clean after a buddy of mine had finished his first outdoor route, and I burnt my big toe enough to get a blister setting up to repel after I was done. I thought it was because of the heat out side, which was 114 F at the hottest time of the, however I was at the gym and the air conditioner was off or something and my feet got really hot, nothing unbearable but boy was I glad to get them off at the end of the route. All in all still a good shoe just wish they were perforated in the synthetic material and the tongue was more breathable.
I've been climbing for about a year and a half. The first pair of shoes I had were 5.10 Gambits. I loved them, but since they were my first pair, I took horrible care of them as I had a lot to learn. To keep it brief, I put off buying new shoes because I didn't want to rely on equipment to become a better climber. I finally broke down and got these and wish I would have months ago.
These shoes are incredible. I've owned them for about two months and climbed with them inside and out. First off, this is my first pair of velcro shoes and will never buy lace ups again. This shoe is so snug and fits just right without causing any pain. I can sit in my harness trying to figure out a problem or catch my breath for long periods of time without ever feeling any discomfort from these shoes. When I reach the ground again, they're off in seconds without any struggle.
It goes without saying 5.10's Stealth Onyx rubber is amazingly sticky while retaining its strength. They have a nice, sturdy and comfortable heel for hooking. Toe space is snug but not too tight. The edges are great, I am able to use the smallest of holds where it would be impossible in my old shoes. After I got these shoes, I actually improved quite a bit thanks to the help of these.
I want to keep this brief so you'll read it. I love these shoes and recommend trying them on.
best edging shoe out there
Very stiff shoe, fabric doesn't flex at all making a very powerful shoe.

It excels at hard vertical to slightly over hung routes that require precise edging.

If you size a little larger they would work well for long slab work, or long routes that you need to stand on an edge for a while.

I prefer a more sensitive shoe if there is much smearing involved.

They have hard rubber and don't work the best for hard overhung bouldering.

I would say the lack of sensitivity and the hardness of the rubber that make them excel with precise edging on hard routes...make them junk for bouldering period.

Make sure you get the right tool for the job.
great shoe, i replaced a pair of La Sportiva Nago shoes with these. This shoe is a great shoe for bouldering, it has a good amount of control in the toes and a sticky sole. It does fit VERY small. my toes are curled nicely, but i need to take the shoes off every 10 minutes or so. ill save my sportivas for long days and have these in the gym.
I have a pair of evolv defy shoes that I...
I have a pair of evolv defy shoes that I really like except for one thing. The smell. I live in a really small apartment and don't have anywhere to keep them outside so I end up keeping then in zip lock bags. I was wondering if these had the same smell problem. Thanks
I've got a pair of Gallileo, and they don't smell. Not because of the shoe, but because I wash them, regularly. Buy some soap and a fingernail brush, and get to scrubbing!
Evolv doesn't put extra chemicals in their shoes to keep them from smelling.
All I know is my Evolv Defy shoes stunk like nothing I had ever smelt as well. Like you said, I loved the shoe but couldn't bear the odor enough to continue using them. Glad to hear I wasn't the only one with the problem concerning that particular shoe.