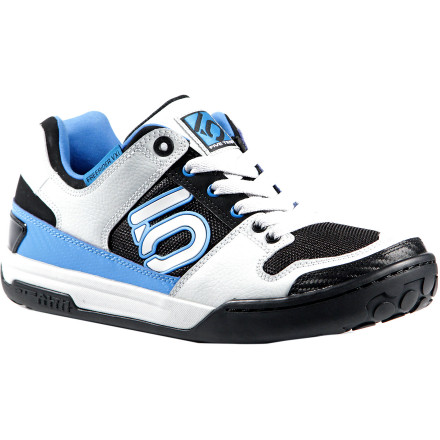 Detail Images

Videos

Community Images
Five Ten changed the flat pedal game forever when it introduced its Stealth Rubber Impact shoes. Not surprisingly, Five Ten has raised the bar, yet again, with its new Freerider VXi Shoes. To accomplish this, the Freerider VXi combines Five Ten's Stealth high-friction rubber with an all new tread pattern for optimized pedal grip.
For the uppers, Five Ten employed action leather in high-wear areas in order to promote durability. Further along these lines, a brand new sole shape provides extra clearance between the upper and your crank arms, effectively increasing the shoes' longevity. To keep them comfortable, Five Ten applied mesh panels to the toe and side panels. Essentially, this creates a positive airflow through the shoe, keeping your feet cool, dry, and comfortable. And the low profile shape, mid-stiff sole, and slightly narrower fit make the Freerider VXi more versatile than a true downhill-oriented shoe like the Impact.
However, the most notable feature of the Freerider VXi is its new tread pattern. Unlike previous Five Ten soles, which maintain a consistent tread from toe to heel, the Freerider VXi features a flat section under the ball of the foot. And although it looks different, the Stealth Rubber and increased surface area provide the same otherworldly grip that you've come to expect from Five Ten. But, you might be asking, why mess with a good thing? Well, the benefit is that this smooth sole design takes the hassle out of repositioning your feet. If you've ever rode a set of Impacts, you know that once your foot is placed on the pedal, it's there to stay. That characteristic is ideal for security, but it quickly becomes an inconvenience when your foot is in the wrong place on the pedal and you're not able to move it. With the Freerider VXi, the smooth sole underneath your foot makes it easy to find the sweet spot for your feet.
The Five Ten Freerider VXi Shoes are available in half sizes from 3-12, in whole sizes from 13 to 14, and in the colors Grey/charcoal., Five Ten Red, and Pumice/black.
Great shoes, sole delams after time
Familiarity:

I've put it through the wringer

Fit:

True to size
Sole is delaming after 3 months. Great shoe apart from that. The sole is nice and flexible for walking, but plenty stiff for riding. Too bad they can't keep the stealth rubber from slowly peeling.
FiveTen family photo
Familiarity:

I've used it several times

Fit:

True to size
My wife and I love our FiveTen's! I had a pair of Teva Links for many years before getting my wife a pair of original Freeriders. Ever since then, I wanted my own. I went with the Freerider VXi because I wanted to step up my shoe game to feel more confident on aggressive and technical trails. They don't disappoint!



Comfortable right out of the box, and of course stick to the pedals like glue. I like the flat tread pattern because, as intended, your feet can move laterally if you don't get your footing correct the first time. I have not had a problem hiking up trails in these either, despite the lack of tread. Not very water tight like the all-leather Tevas, so not as great a rainy/winter shoe. I wear a 10-10.5 in street shoes and the size 10 worked best for me. Grab these at a discount since the new model just landed!
3 rides deep
Familiarity:

I've used it several times

Fit:

True to size
I used to wear some Fox freeride shoes.. bought them in '09 and they've lasted pretty well until now. The rubber was pretty good and I'd only occasionally slip off my pedal.
Finally I tried the five-ten... I should have switched sooner. The grip on these is insane. They fit true to size and I went on a 14mile single track ride to break these in and they were not uncomfortable right out of the box. I haven't had a sole problem yet, but I haven't been on any rowdy/flow trails yet. Hiking slick trails isn't ideal with these on. Climbing and going through some choppy trails and tree roots these cling to my pedal without an issue.
Perfect, except for durability issues
Familiarity:

I've put it through the wringer

Fit:

True to size
Everything is perfect about this shoe EXCEPT that my sole is also peeling.

Fantastic fit, protection, stiff without being too stiff, great fit, great looks, and great performance.

1 star off for the sole coming unglued in a spot after 3 rides.
Freedom with "Freeriders"
Familiarity:

I've used it once or twice and have initial impressions

Fit:

True to size
I love these shoes, been out with them a couple of times this spring.
The easy adjustment of my foot placements is key. I was a bit skeptical at first ( tred design or should i say no tred design) but, these baby's grab the peddles with minimal pressure and adjust with ease as well. The only drawback is if you get bogged in the mud walking or hiking can be a BIG challenge. !!! Might not be the best shoe for spring conditions.
Awesome shoes
Familiarity:

I've used it several times
Awesome shoes, they really grip onto the pedal. I was a bit nervous about the flat surface but it actually grips very very well. They are also not too heavy, I use them for XC training / technical training and they completely changed my way of riding.
Awesome Product
Familiarity:

I've used it several times
The Freerider is a great product and enhances my experience and control on the big bike. Since the base of the shoe is all rubber, you feel the vibration substantially less. Very rarely do my feet slide off the pedals in the air or in technical sections. These things inspire confidence. They run true to size and in my opinion, there is not a lot of extra bulk on the shoe, saving weight. I like the look of the brick red as well. The only con is that I too, have experienced some delamination (crazy glue can fix this easily). I ride downhill and XC in these, so I don't expect them to last forever. At $120, they are a little pricey. If these were at the $70-$95-ish price point these would be unbeatable.
Great on and off the bike
Familiarity:

I've put it through the wringer
I mostly ride clips, but have owned my share of 5.10s in my day. Starting with the OG impacts, then Karvers, then Hellcats, and now these, (I still have the Karvers and Hellcats). These are great for crusing around town, or just a casual shoe. Fit is a bit big, I have a 9.0, and wear a 9.5 running shoe/boot. I'm excited to try these on my DJ bike before the summer is out!
Solid shoe, pretty comfortable
Familiarity:

I've used it several times

Fit:

True to size
So far these seem like a great shoe. I ordered them a half size too small at first and was concerned because my feet went numb just wearing them around the house in preparation to ride, but the issue was much better (almost non-existent) when I sized up. I've only taken these on a few rides so far, but they are very comfortable and super sturdy feeling. I use them for general riding--not downhill specific--on flat pedals because of several knee injuries. I went back and forth about what set-up was best, and I'm really happy with this one so far. They are definitely very grippy on the pedals and I feel very comfortable that I won't slip off but can adjust my footing when I need to. Only time will tell how they hold up!
Side rubber delaminated in 3 hours
Gender:

Male

Familiarity:

I've used it several times

Fit:

True to size
They fit true to size, they work great, and I'm stoked on everything about these shoes accept the fact that the threads holding the rubber edge guard on one shoe have released and the piece is coming loose. Looks like they should have glued it as well as stitched it. Either way a $120 shoe shouldn't start falling apart in 3 hours. Could be an isolated incident as the rest of the shoe is holding up fine.



Update - September 16: Backcountry customer service did a great job of exchanging my defective shoes for a new pair, even going so far as to let me keep using the defective shoes until the new ones arrived. The bad news is that the second pair started coming apart on the (first) ride, and both shoes were delaminating by the fifth ride.



I'm an old guy, don't huck, and ride in dry conditions....If you look at the areas where they are delaminating you won't see evidence of rubbing the cranks or anything that would be causing the failure...basically, the ones I have are just defective and I must have gotten the second pair from the same bad lot.



Specialized is coming out with a flat shoe next month...I'll be going back to Vans until then.
Any idea when shoes will be available? I...
Any idea when shoes will be available? I ordered 2/2/14 and no tracking # yet. I will gladly take another color as long as it is not brick red. Thanks


Best Answer
Dan D,



These shoes have been incredibly popular with 5.10 and hence difficult to keep up with demand. Based on your order/size/color, we have a scheduled delivery at the end of the month. Currently, we only have the Brick Red color available for the size that you had ordered. If you have any additional questions, please feel free to contact our customer service department at 888-276-7130.
Nothing but the best
Familiarity:

I've put it through the wringer
Reasons why I opposed most flat shoes previously:

Heavy

Klunky

Ugly

Lack of grip



These shoes could not be further from my previous opinions. FiveTen created a lightweight shoe, that doesn't stick out like a sore thumb and look great on or off the bike. Grip? They had too much grip previously so they tuned it. What they did was create a super grippy Stealth rubber, but remove some of the lugs on the base of the shoe under the pedal so it is easier to readjust your foot if needed, but still offer all the grip you could want. I can't stress it enough, if you want badass flat shoes that you're actually climbing with, don't look any further, these are what you need. Sizing is true to size, I wear a size 12 and that's what's comfortable, so comfortable that I wear them around all the time, not just spinning circles.
Best Clipless shoe on the market
Familiarity:

I've put it through the wringer

Fit:

True to size
i have bad feet with low arch. I put a pair of off the shelf arch supports and my feet never feel any pain. These shoes are awesome!!
A must for Flat/Platform Pedal owners!!!
Familiarity:

I've put it through the wringer

Fit:

True to size
Five Ten is the GOLD STANDARD of Freeriding/DH Rider Shoe!! Made very well for the sport. Highly recommend these!!!!
Couldn't ask for more
Familiarity:

I've used it several times

Fit:

Runs small
Awesome, I can't say enough. I've been meaning to get a pair of 5.10's for a couple of years, but was always put off by the fairly wide fit throughout their product range. These were rumored to be narrower, and ended up fitting my narrowish feet very well. I haven't tried any other 5.10's, but these run a bit short as well. 11.5's are usually my size, but my toes bumped against the end of the shoe initially. Now that they are broken in , they seem to be just a bit roomier however, with toes no longer bumping.

These are easily as sticky as I need for lift-served and shuttle based gravity riding, and provide great protection and comfort. They pedal well, and are broken in after one day riding Downieville.
Finally Got It Right
Familiarity:

I've put it through the wringer

Fit:

Runs small
They took the stiffness of the Impact and the smoothness of the Freeride shoe. To me the Impacts were bulky and heavy. The old Freeriders were nice but the sole was too flexible and they fell apart. Now they have the perfect balance.
Great shoe, taking over from the impacts
I have been looking for a shoe to replace my aging Five Ten Impacts, the Freerider VXi's came to the rescue, it seems that Five Ten (Adidas) put a lot of thought into exactly what today's riders are looking for, for me it is a durable shoe that still maintains feel on the pedal (much more so then I ever had with the impacts), due to the stealth rubber sole it is almost like being clipped in and just happens to be stylish as well...



The fit is not exactly the same as the previous generation of Five Tens, I think it is very close to any other Adidas shoe, I always though Five Ten's previous sizing ran on the small side.