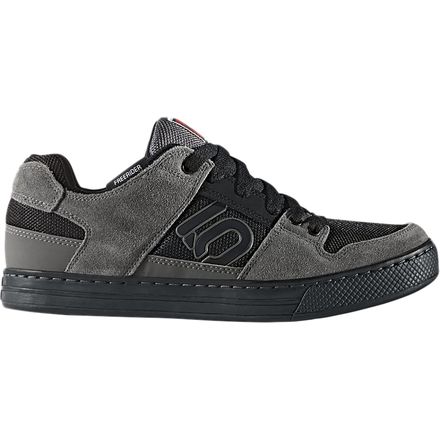 Detail Images

Videos
Description
Looks aren't everything.
Known for its rock climbing shoes, Five Ten made the Freerider Shoes with the same grippy tech to create a shoe that is ideal for platform pedals. Stealth Rubber is not only grippy, it is also durable, designed to withstand the demands of long hours adhering to granite rock. This means that it won't blink at the prodding of your metal pedal spikes, and it will outlast even the most expensive gum rubber soled shoes. The uppers are constructed of brushed nubuck leather and breathable mesh to keep your feet cool.
Nubuck leather uppers with reinforced toe box
Stealth Rubber soles
Casual look Comfortable and True to Size
Gender:

Male

Familiarity:

I've used it once or twice and have initial impressions

Fit:

True to size
Priced at just under $100.00 I would say these are a little on the pricey side but the Stealth Rubber Sole is awesome! Super Tacky in terms of grip and 100% gets the job done! Would recommend these to any rider that doesn't want to make the jump to a clip in as the performance output is on par, yet you get that comfy fit and casual look!!!
What is all the hype about 5 ten
Familiarity:

I've put it through the wringer

Fit:

True to size
I had a different brand shoe. Just thought Five Ten was one of those cool guy apparel until I tried them. They stick!!

There is a reason these are the standard. Not much extra protection hey it is a freeride enduro type shoe not DH.
Falling in love with flat pedals
Familiarity:

I've put it through the wringer

Fit:

Runs large
I've been using clipless for years, but decided to try out the flat pedals this season, as I was doing a bunch of resort riding and got sick of switching my pedals back and forth.
These shoes are very comfortable to ride in and look pretty good too. But the sole is super thin, which means good feel and grip on the pedals, but also means you feel every little rock on the ground if you are walking. Still better than walking in clipless shoes though.
Overall, highly recommended.
Great for mountain biking
Familiarity:

I've used it several times

Fit:

True to size
I bought these to use while mountain biking with my flat pedals. These shoes are super comfortable, stiff enough to use while cycling and they are grippy on the pedals.

The added benefit to these shoes is that they are quite comfortable. If you need to jump off the bike for a little bit, it's easy to hike in them. And they are also great for just walking around town after you are done riding.

I highly recommend these shoes for mountain biking. They would be a little heavy for every day use (though not any heavier than a hiking shoe / boot). They fit true to size. I'm a woman and bought the men's version and they fit me really well.

My only complaint is that the laces are too long! I have to triple knot them so that they don't get in the way of my pedals.
Stylish, Comfortable, True to Size
Familiarity:

I've used it several times

Fit:

True to size
All that and nice sticky rubber. Nice wearing on and off the bike. Recommended.
Sticky Sneaks!
Familiarity:

I've put it through the wringer

Fit:

True to size
I love these and they are great MTB shoes with solid grip! I usually wear a 10.5 in most sneakers but got a 10 in these and they fit perfect. I always wear a 10 in a slip on or sandal, so these run a tad small. Overall I have liked these a lot and they have held up.
A little wide if you are a smaller girl
Familiarity:

I've put it through the wringer
I have a size 6.5 foot and got a 5.5 shoe. I have a very skinny foot and feel like these are pretty wide for my foot. I can't ever lace them tight enough to wear my foot feels snug. Other than that these shoes are great! I definitely will go with a shoe that fits my foot more next time so they aren't sliding around at all, but if you have a wider foot, or are a dude, you will love these shoes!
Great Grippy Bike Shoes
Familiarity:

I've put it through the wringer

Fit:

True to size
This was my first real pair of biking shoes, as I had been using hiking shoes or trail runners for a bit. I can definitely tell the difference with the grippy rubber that keeps me on my pedals. They are stiff through the heel to arch of the foot enough to pedal, without being uncomfortable to walk in or to ride in all day. Sizing is true to size , I wear a 6.5-7 women's and went for the 7 in men's. Durability wise doing well.
Get a Grip
Familiarity:

I've used it several times
Solid shoe at a great price. The stealth rubber is supper supple and grabs platforms like super glue. This does lend to decreased longevity, but its worth it to have such great traction. No one likes pedal-to-shin, and this compound will reduce that from happening. The upper construction is pretty durable, but the stitching has been know to come undone between upper and sole. Rest assured though, 5.10 will take care of you should this occur.
nice shoes
Familiarity:

I've used it several times

Fit:

True to size
I've been wearing these for the downhill park this season and so far I'm really pleased with them. Super grippy and comfortable. Stiff enough that they pedal efficiently but not so stiff that they're uncomfortable.
STICKY!
Familiarity:

I've used it several times
When I wasn't ready to make the plunge into the clipless world, I grabbed a pair of these bad boys and am stoked that I did. I used to ride in my hiking shoes ((what a dummy)). These things have some major grip to them. I am a consistant 7.5 in womens, the size 6 in these were a great fit! If you need a great pair of sticky mountain bike shoes, grab yourself a pair of these!
Love them!
Familiarity:

I've put it through the wringer

Fit:

True to size
Great shoe! Nice and sticky - feet don't slip on my pedals at all. Same thing as another viewer said about the downside to that being that you'll have to pick your foot up off the pedal completely in order to reposition. But, if you've got your foot placement right then you're good! I have a women's size 8 foot and a 6.5 fit perfect. I also have narrow feet with high arches and I found these shoes to be comfortable and snug (not tight) which is really nice. The stitching around the toe is nice - I'm not worried about the rubber separating at the toe or on the sides because of it which is something that has happened with other pairs of shoes that don't have that stitching.
Better than the Competition
Gender:

Female

Familiarity:

I've put it through the wringer
My last job was a bike shop. I used to crack up because the manager told me, "If I ever catch you not clipping in, I will never ride with you again." I insisted he should try these shoes. He couldn't believe they were any good. I used to rock climb extensively (I was a rock climbing hippie for a while that lived in a car) and by far Five Ten sticky rubber was my favorite gripping rubber. Finally, I was vindicated. Customer after customer came in wearing these shoes. "What do you think?" I'd ask. They always loved them. My favorite combination for a fun day are Straitline pedals and these shoes. So. Much. Fun. You can still retain enough grip on the upstroke to feel like you are pulling up. I am one of those weirdos that firmly believes you should use flats before clipping in to get solid in your technique before moving on to clip-in pedals. Currently, I'm training for cross country races, so I'm mostly clipped in, but on days where I want to work on technique I switch to flats and wear these shoes. Love them. Six Six One makes a similar-styled shoe but the rubber is hard and not nearly grippy enough. Can't say enough about this brand. If you are dedicated to being as fast as possible in a cross country situation, stick to clipping in. But if you're out for a good time, give these a go.
yes, these work
Familiarity:

I've put it through the wringer

Fit:

True to size
I like these shoes for biking. Great sticky soles on the pedals. I liked them for general use as well until they got really muddy from biking and now i use them only for that. Really comfy to wear and durability seems good after one season on the bike.
amaze
Gender:

Female

Familiarity:

I've used it once or twice and have initial impressions

Fit:

True to size
If you're like me and have been convincing yourself for a while that trail runners work well enough for biking, and you're also not into the idea of being clipped in to your pedals (like me), invest in some sticky rubber shoes already! These are definitely worth it. Just tried em out for the first time and they were super grippy - my feet didn't move around on the pedals at all (I'm used to my feet squirreling around a lot, so the difference was basically night and day) and I felt really connected to the bike. The soles are really stiff and make pedaling more efficient. I was concerned about these being hotter than the trail runners I normally wear since I climb quite a bit on rides, but their mesh-y upper makes them super breathable. Also really comfy right out of the gate! Super stoked on these A++
Excellent MTB shoes
Familiarity:

I've put it through the wringer

Fit:

True to size
I read a lot of good things about these shoes and they've been on sale lately(mine were $75 but I've seen as low as $50) so I bought a pair as well as Shimano Saint pedals. I've been using these for about 4 months for riding and walking around and besides getting a little stained from mud they are holding up well. Most "skate" style shoes don't have anything besides glue holding the sole onto the upper but, like a pair of boots, these are stitched as well as glued onto the upper. This means you don't have to worry about them falling apart where the ball of your foot flexes. If you don't want to ride clipless and you're looking for a good pedal/shoe setup I cannot recommend the Freerider and Saint combo highly enough. My feet DO NOT slip. The downside is, where you plant your foot is where your foot will stay until you literally lift it off the pedal to reposition. I ride a hardtail on trails with root and rock lines like giant washboards and my feet have never slipped. These also work very well for hike-a-bike situations although they have low ankles so if you kick up soil/gravel expect it to get inside your shoe. If you're looking for a great workhorse pair of MTB shoes, these are them. Wait until they go on sale again and get yourself a pair.
Soft Soles
Familiarity:

I've used it several times

Fit:

True to size
This is advertised as a grippy, mountain bike shoe for flat pedals. It is definitely grippy. Unfortunately, it has a very soft sole. I could feel the pins in my flat pedals after about an hour of mountain biking. I did three rides with these shoes using two different sets of flat pedals. I even tried adding inserts to the shoes to see if that would help. I always starting feeling the pedals through the soles within an hour. I have returned them as they're just uncomfortable on the trail.
Decent
Familiarity:

I've put it through the wringer

Fit:

Runs large
A lot of the eyelets don't have any sort of reinforcement, so I ripped one out on my third or fourth ride when I was just tying my shoes, which was a bummer. Other than that, they're fine.
Unanswered Question
Are these stiffer than Spitfires? I love...
Are these stiffer than Spitfires? I love Spitfires but they are too soft for efficient pedaling. I've tried the Freerider VXi - nice stiffness - but I don't like the flat sole design.
Awesome Shoe!!
Familiarity:

I've used it once or twice and have initial impressions

Fit:

True to size
These shoes are amazing I'm very happy with these shoes they are just overall sweet shoes for riding and have great feel on the pedals also they stick like super glue you really have to twist your foot for it to slip