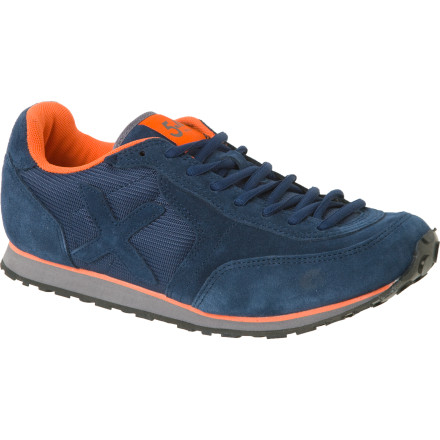 Detail Images
Five Ten styled the Men's Five Tennie Shoe like a classic running kick, but gave it super-sticky Stealth rubber on the sole so you can stick to the rock like a superhero. Lightweight leather uppers protect your feet from abrasion and hazards when you're scrambling through a scree field on your way to the wall. Rather than reaching for your hiking boots on a hot summer day, toss on the Tennie Shoe and go lightweight until it's time to slap on your climbing kicks.
Everyday kicker, not a climber
Gender:

Male

Familiarity:

I've put it through the wringer
Been is use for about 7 months. comfy everyday shoe. Use to play tennis, hit the local dirt on my bike, and kick around town in. Anyone expecting this ti be anything more than an everyday shoe with sticky rubber will be let down.
I have used the Five Tennies on 2 long alpine approaches (about 5 miles each way) and the stitching is already beginning to fall apart. I've had them about a month and I feel that they will only last me one more month. I am not confident in the durability of these and will not be taking them up any big walls.

The sticky rubber is great. They also get me up cracks can edge about as good as you an expect from an approach shoe.

Pros-
Easy to Climb in
Good edging
Sticky Rubber
Comfortable
Retro look

Cons-
Poor construction
Lack of haul loop (big deal, use the laces)
Lack of durability
Nice style but half size smaller than other 5.10's
I like these shoes a lot. I switched the insoles out and have had no problems. They do run a half size small than all of the other 5.10 approach or scrambling shoes I have owned.
Would anybody recomend these for every day...
Would anybody recomend these for every day use? Or will the rubber wear down really fast? I'm looking for a sticky soled shoe, that is some what suportive, stable and durable for hiking and scrambling. Last pair of Five tens I owned were the Warhawks and they gripped every thing from rock to hard wood floors. But they broke in really fast, wore down, and alot of stiching came loose.

My main concern is on and off everyday use.
it wear down really fast on a day to day use...
these are great for everyday use, i live in a colder climate and these shoes get wet from snow and are used to approach in snow and in summer. their durability is great (mine have lasted 6 months), less technical than other approach shoes though...
I've been in my pair for about 6-7 months now and they are just starting to wear a bit. They are a great go to for everyday use, the sole will form to foot pretty well over time, but will definitely not give good support if you are on your feet all day at work. Originally designed by FiveTen founder as a mix between a climbing shoe and a Tennis shoe, he literally played tennis a few times a week after climbing and was sick of changing shoes, so being a crazy smart USC grad and rubber compound guru made these to fill the gap.
The dotted rubber is very sticky and great for scrambling or even climbing easy slab. But I have to agree with Evan below me, my insoles kept slipping and it would be nice to have a sling on the shoe for multi-pitch. But these problems can be solved with new insoles (or glue haha) and a small pack for multipitch. And they are straight gorgeous
Sticky rubber is nice, and the style is cool for an 'approach' shoe. But no clip in point for carrying them on a multi pitch. And the worst was the insoles slipped all the time, bunching up under my heel and leaving a gap under my toes.
Are those sizes US or Uk?
Are those sizes US or Uk?