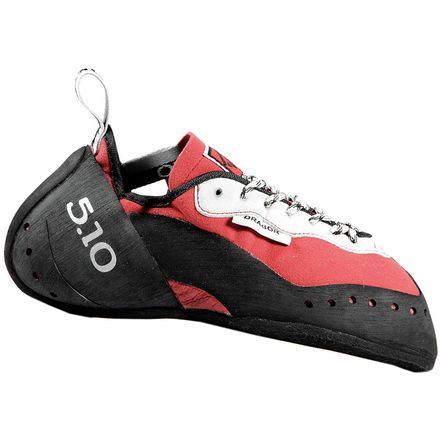 Detail Images

Videos

Community Images
Description
Living Legend.
The Five Ten Dragon Lace-up Climbing Shoe has likely seen more cutting-edge first ascents than any shoe ever made and has earned its place as the go-to choice for many of the world's most talented rock climbers—think Dave Graham, Fred Nicole, and Ty Landman. The down-turned Stealth HF rubber outsole provides the power and sensitivity for some of the worst footholds imaginable, and the lace closure provides a second-skin fit.

Durable Cowdura upper provides next-to-skin comfort and a glove-like fit
Lace closure provides the precise fit ideal for high-difficulty rock climbs
Aggressively down-turned profile allows you to pull into the rock on steep routes and boulder problems
Dragon Stifner in the midsole provides powerful edging performance without compromising sensitivity
Super sticky Stealth HF rubber is specially formulated to perform on overhanging rock
Great Shoes for Hard Stuff
Familiarity:

I've put it through the wringer

Fit:

True to size
I keep these shoes for my "send" attempts. Great fit and the aggressive angle gives me a big advantage when my mocks can't cut it.
Five Ten Dragons
Gender:

Male

Familiarity:

I've used it several times

Fit:

Runs large
When I first got my Dragons, they were almost unwearable but as they broke in they became comfortable without losing their high performance. They excel on anything from roofs (where you have to pull you toe down into holds) to Technical face climbing.
However, they are extremely soft (More then the La Sportive Pythons) This lets them down when you are trying to edge in on tiny footholds. They are however great for smearing.
Great Shoes. Poor CS from Five Ten.
Familiarity:

I've put it through the wringer

Fit:

True to size
I have owned many, many pairs of climbing shoes over the years, and these are my absolute favorite for anything past vertical. Great, snug fit, all the way through the heel, and just enough volume in the toe box. Very nice downturn with enough flexibility for slabby topouts.



Unfortunately, my last pair started delaminating all over both shoes. The rand just started pulling off of the leather. I sent them to Five Ten, and they refused to warranty the shoes, despite the fact that the failure was obviously a defect in materials and/or workmanship. I don't know if their quality control has just gone downhill, or if it's a fluke, but $165 is a lot of money to spend on any shoe, especially a defective pair of climbing shoes. I've owned over 50 pairs of Five Ten climbing shoes over the years, and this is the first pair that has ever failed like this. I haven't decided yet if I'll give these shoes another shot, or move on to another company that hopefully has better QC and stand behind their product.



Five stars for the shoes, if they don't fall apart, one star for my last pair, and an F for Five Ten customer service.
Will these stretch? And also i'm a 37 in...
Will these stretch? And also i'm a 37 in muira vs and solutions would I most likely be a 6 1/2 or a 7 in these shoes? There's no way for me to try them on.
All climbing shoes are going to stretch a little over time, but that shouldn't be a bog issue with lace-ups as any stretch can be compensated for. I have borrowed my friend's pair of Dragons before and have been very impressed by how well they worked for bouldering specific climbing. Size wise I would recommend the 7.0 in the Dragon based on how the Muira SV fits you.
Some of the best
Familiarity:

I've put it through the wringer

Fit:

True to size
I love these climbing shoes! They seem to fit me foot well and feel really great once they get softened up a little bit.

I started with the Hornets, but wanted something a little more aggressive for steeper routes. These fit the bill perfectly. While you're obviously not going to gain that much power on slabs, these shoes definitely provide loads of power on over hanging problems.

The toes are curved a little too much to get hard toe hooks, but everything else is wonderful.



My street shoe size is a 9, but my foot is actually more like an 8.5. The 8.5 Dragons fit me perfectly, and for comparison, I wear a 38.5 in most La Sportiva shoes.
sizing compared to 5.10 blackwing's. Can...
sizing compared to 5.10 blackwing's. Can someone suggest a size of these compared to 5.10 blackwing? I was told that they run true to size and to size them according to my evolv shamans and the same size as the 5.10 blackwing. Any suggestions would be great... thanks in advance.
Size these shoes similar to your street shoe size, maybe a half size smaller if you're into that. I've never tried on the blackwing before sorry, but I wear street 12.5 and had to return the 12.0 dragons for a half size larger. The shape of this shoe is very different from most so I recommend finding someplace you can try them on and get the right size them order them on sale from Backcountry. If you have anything like a morton toes or a fat heel this probably isn't really the shoe you're looking for. hope this helps!
Hey David, thanks for the reply. I wouldn't consider myself to have Morton's toe but I am flush at the tips of my big toe and second toe. I have a very small heel area and I'm finding that evolv shamans come close and the 5.10 black wing fits my foot very well and is staying rather perfectly snug where it's tight enough to climb a climb then take them off. If you wear them for a few boulder problems or some tries on a hard route you gotta take them off cuz they'll hurt is where I'm at and they're great shoes for my feet.
Thanks Dave, I ended up going with 11's and finally found a shoes that fits my obnoxiously petite heel. I was wondering if you have any other suggestions on shoes that fit that way but maybe less aggressive. I was thinking the five ten quantum, having lace up should theoretically should enhance the ability to fit your foot better.
Best Answer
It kinda depends on what you're looking for, the dragon is typically a bouldering junkies wet dream while the quantum is more of a sport climbing shoe. If you're looking for something similar to the dragons for bouldering you may wanna try the lasportiva solutions or the five ten "teams" both of which are just super gnarly bouldering machines if you size them right.



If you're looking for a less aggressive bouldering shoe the lasportiva miura VS is a great shoe. A couple shoes I don't know much about are the blackwing and the anasazi arrowhead these seem to be the equivalent of the laportiva miura vs, but like i said I don't know much about these 2.



If you're looking for more of an aggressive sport climbing shoes the range of options increases dramatically. the quantoms are a good pick, you could go with the lasportiva testarossa. But the good thing about an aggressive sport climbing shoe is you can use those for pretty aggressive bouldering as well which opens up your options and doesn't limit yourself.

I've also seen people size the lasportiva miuras and miura vs in such a way that they become a nice all-around for both bouldering and sport climbing and other.

I myself probably could have sized my laportiva solutions an additional half size down for that extreme tight bouldering fit but I didn't so now I have a moderately comfortable bouldering and super steep sport climbing shoe. THERE ARE SO MANY OPTIONS!!!!



Lastly this is all relative to how these shoes fit you, but in the end the climber makes the shoes not the other way around. On that note I always prefer comfort over performance.
no la sportiva shoe fits my foot at all. I had tried the teams however the new ones are actually to soft for me, I went with the 5.10 quantum and have no regrets.. For now my shoes are the dragon and quantum all the way, they fit my feet so well it would be stupid not to wear them.
Absolutely Gotta Have These
Gender:

Female

Familiarity:

I've put it through the wringer
I absolutely love these shoes! I have a smaller and skinnier foot and the lace up shoes seem to really help keep my foot and heel in place when I am climbing. These shoes are super sensitive and downturned they stick very well to the rock! I have tried multiple pairs of shoes and these are by far my favorite and most trusting pair! I usually wear a 6.5 in street shoes and a got a 5.5 in these shoes and they fit me perfectly. I have a 7.0 in the womens 5.10 Blackwings so you should go down a couple of sizes if you are a women getting these shoes. These are great for bouldering and everyday climbing, I sent my first V9 in them, they are amazing!
I've worn 5.10 team (neon blue) in US 11.5...
I've worn 5.10 team (neon blue) in US 11.5 they were toe crushingly painful, I gave up on them after 3 months and have found a home with the Evolv Shaman in US 11.5 I can wear an 11 but prefer to size up for being on longer routes.. They're still tight and can be uncomfortable after wearing them for longer periods of time. (15-20 min) Can someone recommend a size for me on these?
Best Answer
The the issue with these shoes and all the shoes you mentioned isn't going to be size. Rather the bigger issue here is shape. With all these super aggressive shoes that you are looking at some just might never work for you because the curvature no matter what size you put on. If I had to compare based off my experience, the Dragons fit smaller on my foot then the Teams, and the Teams fit a little smaller than the Hornets. Based on that I would say size up a half size to a full size compared to your Teams.
This is so true.. I can't wear any sportiva shoes. (the heels are so loose and come off while climbing) the evolv fits my foot very well but still slightly loose in the heel only on hard moves with all my weight on the heel (gatson type) the teams would fit some days and others be so terrible. The toe box was smaller than any other shoes I've worn but they fit my foot better than any other shoes I've tried. I have a narrow foot with a shallow and skinny heel then right across the toes it's very wide where the knuckles meet the foot. I've worn scarpa instinct slip on and lace, 5.10 quantum, hornet and team madrock muygen, la sportiva katana and testarossa and finally evolv shaman. I just ordered a pair of the new 5.10 black wings and im going to see how I feel about those. I've gone through 3 pairs of evolvs and currently that's my shoe of choice. However the only downside is sometimes my toes get stuck in little holes/pockets becuase the protrusion for the knuckle. I think I will try the new pair of 5.10 vxi team shoe when they get it in stock and just size up from what I got last time (which was the biggest they had at the time.
just ordered the new 5.10 blackwing in US 11.5. Here I thought the Evolv Shaman was the shoe for my foot, WRONG. These shoes fit me so much better in the heel and they're lighter. Having a smaller knuckle box area on the 5.10's will be better for smaller feet. ( I sometimes get my shamans stuck in small holes or can't establish my feet properly. I have not climbed with them yet only getting them today but just wearing them real quick I could tell they were much better for my foot. I have a wider upper foot being broad across the knuckles where the toes meet the foot itself and then medium length toes. My foot is slightly flatter but extremely petite from that point back with a very small heel that barely sticks out. These shoes out of all the shoes I have worn have fit my foot the best as of now. I may need to size down after trying them with climbing but I'll see.
the blackwings are a little tight in the toe box but I can still climb with minor pain. I've only done the ben moon traning system and worked on pyramids with these shoes Twice this past recent week.. I wish They could have laces for a tighter fit around the ankle area. Idk, They just feel sloppy even thought it has no effect on my climbing or confidence in the shoe while climbing. I do like the heel as it fits well the shoe is very snug and great fitting to my foot.. It does hurt my toes over a few boulder problems or attempts. All around great shoe with the light feel and the ability to have precise confidence in my feet. I will see how they last or what they do if they get broken in or anything.
Five Ten Dragon Lace-up Climbing Shoe
Dave - The Island - Dragon
Dave, Alex, Carlo - plastic - Dragon
Alizee - Siurana - Dragon
The shoe is on the website twice, there...
The shoe is on the website twice, there isn't a new Dragon, right?
No. This is just the 2013 model. There are just some differences in the exterior, such as the hang tag on the side of the stitching.