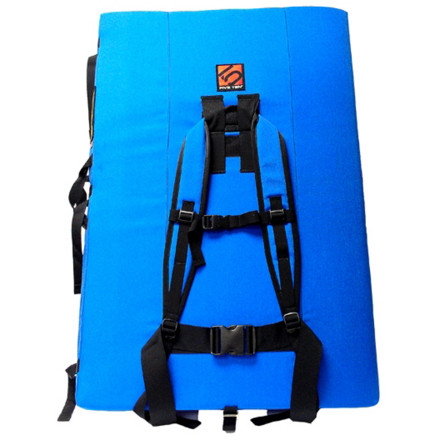 Detail Images

Videos
The Five Ten X Organic Pad is a special 3-inch-thick version of the ultra-classic Organic Simple Pad. This design significantly shaves weight to bring the pad's total to about 8 pounds. Combine that with the fully adjustable shoulder straps and waist-belt, and you have yourself the perfect pad for long approaches. This pad is wrapped up in a bright-blue Cordura shell and stamped with Five Ten's logo so your crew will see you coming a mile away, and everyone will know what team you play for.
With a 48in x 36in surface area when open, the Five Ten X Pad provides great coverage for protecting your favorite problems
This 3-inch-thick version of the Simple Pad features Organic's field-tested and proven Hybrid-Hinge foam design
Weighing in at just 8 pounds, this pad is the go-to choice when a long hike to the boulders is eminent
Fully adjustable shoulder straps and a beefy 2-inch-thick waist-belt make this pad carry like a dream
This pad, like all Organic Pads, is proudly handmade in the USA
How is the 3 in thickness compared to...
How is the 3 in thickness compared to organics regular 4 in thickness?
Best Answer
A buddy of mine has this pad, and we use it mostly for doubling up on higher lines or for protecting awkward obstacles (like throwing over a boulder). As a stand-alone pad, I prefer the 4 inches--but for shorter problems or to have as a second pad the 3inches is just fine
Five Ten Five Ten X Organic Pad
Unanswered Question
Is there any way we could see some other...
Is there any way we could see some other views of the pad. I would like to see what the inside looks like.
First bouldering pad, working fantastically. Taken out 3x already and holding up well. It is super light so i frequently forget I am wearing it. I like the hybrid hinge that organic uses on their pads so this was a no brainer.