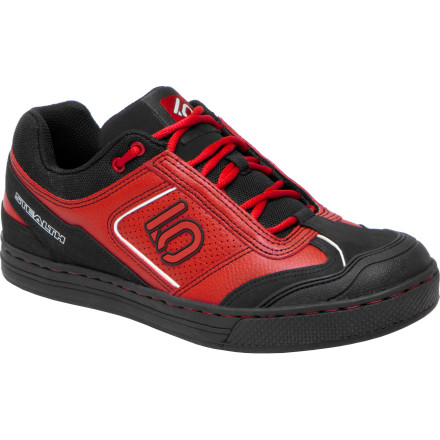 Five Ten built the Baron Shoes with the uncompromising toughness of action leather uppers so your feet stay protected when you're ransacking mountain trails and dropping downhill tracks. Sticky Stealth S1 rubber soles keep you hooked to your pedals but won't scuff your kitchen floor when your scavenging the fridge for a post-ride meal.
Just a little too big...
Gender:

Male

Familiarity:

I returned this product before using it
Got these in, they look great, but are sized big compared to the same size in Brooks or Adidas running shoes. Gonna try to find a similar pair in 10.0 instead since they seem to be out of stock now.



Another reference point is I wear 44.5 in Sidis and they fit snug.
I was skeptical of five tens at first, but got a gray deal on these so I figured why not. I am so glad I got them. They stick like glue and look good too. I have worn them around town a few times a they look like every day shoes. They do seem to run a bit large though, I wear a twelve in skate shoes and even eleven and a half gives me a little bit of wiggle room.
I bought a pair of these to replace my worn out Freeriders and immediately gave them away. They are way too stiff and heavy. I honestly couldn't even imagine riding in them.
Not on par with an Impact
I have a pair of these, felt stiff out of the box, but then softened in a matter of days to the point of being like a gym shoe. Nice rubber sole, very sticky, too bad Five Ten couldn't add a mid sole to match. This is not a Freeride/DH or a hike and bike shoe, more like an urban shoe for people with fat feet; yeah, they're roomy alright. The only shoe Five Ten makes that his DH ready is the Impacts, and those are more like boots than shoes...rumor has it that Five Ten is going to add some stiffness to their Freerider line.
Unanswered Question
I currently own the 510 impact. Love the...
I currently own the 510 impact. Love the shoe but it is heavy and hot in the summer. Has anyone used the Baron and can tell me if it is significantly lighter and how it works for aggressive trail riding.
very good for aggressive trail riding, has just the right amount of grip, even in the rain and mud. The stiffer sole helps prevent power loss while hammering compared to skate shoes. Fairly waterproof, cleans up well, super comfortable fit, nice impact protection.

Only downsides: Skinny feet beware! These run wide! They're not the stickiest that five.10 make.

Love this Shoe!!!
I purchased the Five Ten Baron shoes because I heard they stick well when using flat pedals. It's true, cannot slip off the flats now. They are also great for hike a bike. Comfy all day and I can't wait to try them out rock scrambling.
According to the manufacturers website it...
According to the manufacturers website it uses Phantom rubber not S1. Am I missing something?
Phantom is also known (officially) as Stealth Phantom, it's a non-marking version of the S1 rubber. It's just about as grippy, but now you can wear them around town/work/home wherever and not worry about scuffing the floors. An added benefit that I've found with the Phantom rubber is it has greater longevity because it doesn't wear as fast.