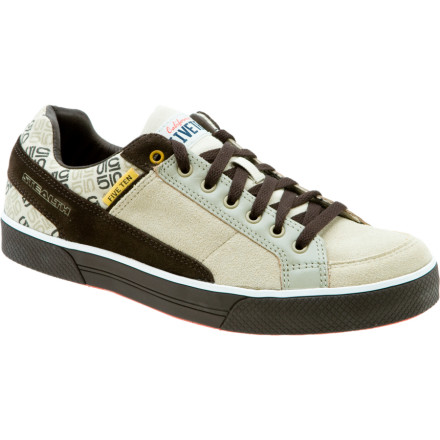 Detail Images
The Five Ten Men's Ba51c 12Line Bike Shoe mixes it up with techy performance features so you can ride hard and casual skate-style so you don't look like a chump after you're done ripping. Five-Ten's non-marking RED Stealth Phantom outsole keeps you glued to your pedals so you don't have to worry about a sudden, unexpected divorce from your lovely two-wheeled wife in mid-air.
I am not sure what the other reviewers mean by stiff soles. 5.10 shoes tend to be a little soft in general. I own mountain approach shoes and have tried on the heavier downhill shoes. When compared to other manufacturers they are a tad soft in my opion. The BA5IC shoe is quite a bit lighter than the freeride/downhill models. Maybe this is what the other reviewers meant. I could see how the extra cushion of a heavier sole would be an advantage on big stunts.

The sole on the BA5IC is definitely stiffer than the vans bmx shoes I was wearing. I am giving these 4 starts for a bmx or lightweight downhill shoe. I do not take 20 foot drops nor do I do big free ride stunts. I do take smaller drops, like kickers, love to suck up bumps and rail the turns. The shoe works well for me and is a step up from my old vans. I cannot comment on their efficacy on big air big stunt biking.

Hope this helps other buyers. I think they are a great value.
nice skate shoes with 5.10 grip. holds pedals well, but not a stiff sole so the 5.10 impacts are better for mtn biking. these shoes are best for skatepark, urban and trial riding, dj, or skateboarding.
This shoe is a pretty good shoe for the money. The stealth rubber is pretty grippy. Even when it's damp. If your looking for a mountain bike shoe, I would spend the extra money and get better five ten.
I love these shoes for non-riding more than riding. They remind of a pair of Converse which isn't a bad thing, but not the best for biking. The soles need to be stiffer and more durable, it feels like they are way too flexy and won't give your foot enough support when things get really technical or rough.
I have a pair of Fox Addition shoes which are stiffer and more durable. They do have a very grippy sole like all 5-10 shoes though. If you want a good mtb shoe to pair with your flat pedals look elsewhere.