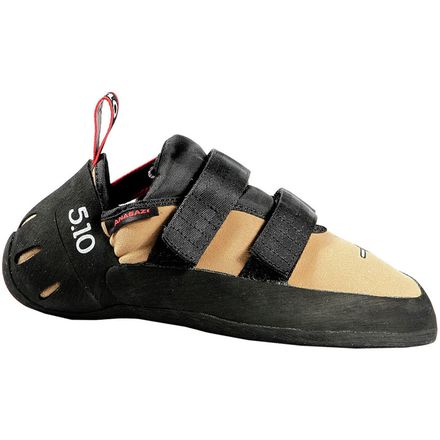 Detail Images

Videos

Community Images
Description
If you only want to own one pair of climbing shoes, these are the ones.
The Five Ten Anasazi VCS Climbing Shoe is perhaps the most adept all-around climbing shoe ever made, which is likely the reason it's also the best selling performance shoe ever made. The medium-stiff midsole combines with the stealth Onyxx rubber for lethal edging ability while the dual hook-and-loop straps make on and off an easy operation.

Durable Cowdura uppers provide next-to-skin comfort and a glove-like fit
Dual hook-and-loop straps provide a secure closure and make for easy on and off
Moderate profile shape allows the shoe to perform on everything from steep boulder problems to slabby test pieces
Medium-stiff Anasazi midsoles provide powerful edging performance with good sensitivity
Stealth Onyxx rubber is harder than other Stealth formulas for enhanced edging performance
Padded tongue works with the hook-and-loop straps to enhance comfort
All around shoe.
Familiarity:

I've put it through the wringer

Fit:

True to size
This shoe can do anything. Great shoe for anything from all day multi -pitch climbing to bouldering. Extremely durable thick soled shoe that lasts. The shoe does fit very true to size but it does take awhile for it to break in. When they do break in, you will love everything about this shoe for a all around moderate shoe. I have used this shoe in a lot of different environments from indoor gym climbing, slab climbing, sport and even crack climbing at Indian Creek. Best shoe I have owned.
Gets the job done.
Familiarity:

I've used it several times

Fit:

True to size
Snagged these for an all day shoe, I am usually a fan of a slight downturn in my shoes. I sized down a full size from my street shoe. I should have just done a 1/2 size for a little more comfort but they still feel great. Gotta love that Stealth Rubber!!
Best all around shoe I've owned. Only bouldered up to V8s in them thus far, but handled well (even in arches). Very comfortable, could use for a multi-pitch day. Super sticky once you've loosened up the rubber. Come out of the box very stiff and slick but after a few good weeks of climbing they stick better than stealth C4 but not quite as good as stealth HF. For sizing: I wear a size 11 street shoe and the size 10 fit nicely. People have complained about the shoe smelling, but I haven't noticed anything and I climb 4-5 times a week. 10/10 would recommend for all around climbing.
Great for edging
Familiarity:

I've used it once or twice and have initial impressions

Fit:

Runs small
I tried on a variety of shoes to replace my Le Sportiva Turantula's which got some holes after 5 months of heavy climbing.

I wanted something a step up that would be more solid on those tiny foot holds the size of a nickel. I tried on about 12 different pairs of shoes before I landed on these ones. I wear a size 10.5 shoe and went with an 11 which is still pretty tight on me. These shoes are synthetic so they won't stretch as much as a leather shoe.

After using them last night they were everything I hoped for - not the most comfortable in the toes (I have wide feet) but that was to be expected, especially when breaking them in.

I would definitely recommend buying these either a half size or a full size up from your normal shoe size - But that being said, you never really know until you try them on.
solid shoe good shoe
Familiarity:

I've put it through the wringer

Fit:

True to size
This was my first pair of climbing shoes that I got as a gift from my cousin (who guides in Yosemite) so I knew they would be good. Right off the bat you can tell they're super roomy, and I need to lash down the straps all the way. I have 11 street shoes and these are a tiny bit big on me lengthwise, but I want mega tight shoes personally. They are also SOOO stinky! I get sweaty climbing and it makes the shoes so putrid no one will be near me. Otherwise they are good shoes, not super aggressive but they can handle most anything I put them through.
I'm a 8.5 in women's street shoes What size would you suggest I get in these both a comfy fit and a performance fit thanks
I wear a size 10.5 mens in most street shoes. I have these in a size 10 and they are a perfect fit, comfy enough to use all day and tight enough for a performance fit. I would suggest downsizing half a size from your street shoe (in men's sizing of course). Great shoe tho.
Don't get the hype...
Familiarity:

I've used it several times

Fit:

True to size
I researched for a very long time trying to find a non-agressive shoe for gym climbing and settled on the Anasazi. Ordered three different sizes to make sure I got the best fit, which I'm quite happy with. However, there is a lot to be desired with these shoes. They seem to be rather high-volume shoes, for one. When I strap them on, I typically have at least an inch of velcro hanging off past the end. The rubber is hard as a rock and couldn't stick to bubble gum. Every review I have read heralded the Stealth rubber as some of the best, and that makes me wonder if there's not something wrong with my pair, but even after a couple months trying to break these things in they're still just as slick as the day they came out of the box. I've even tried a wire brush to avail. The edging on these is fantastic, I will say, but the thick sole makes sensitivity an issue. Precise footwork is certainly needed. These things are durable as a tank, and I don't expect to have to resole them for quite a long while. Overall, the shoe is very 'okay', but I would certainly never buy another pair.
I agree with all comments about how great a shoe this is. Sticky, good edging, smears well after break-in. For me they are pretty comfortable (not like my lovely Mocs though :) ).



Most people wonder about sizing. Here's my input: I wear an 11.5 street/running shoe. I have 5.10 Mocs and Rogue lace-ups, both in a 10.5 that fit great after break-in. The Anasazi does NOT stretch! Size them carefully, in person if at all possible. I drove 120 miles, twice, to get this sorted out and I'm glad I did. My size for this shoe is 11.0, and that's a 2014 shoe, so I assume it's the "new" sizing. My feet are a little wide across the toes, but thin, and I have to tighten them enough that the velcro straps are just a bit long-almost touch the ground. Then can be cut shorter if you know what you're doing, once you wear then a bit to know how long you want them. I left mine as is though-so far.



Break-in is reasonably quick. About4 trips to the gym did it for me. I did some mechanical toe box stretching and they fit great. You can't do much of that though, so take the time to try different sizes and make sure it's snug but no too snug. If they tell you "they'll stretch" they don't know this shoe.



You might try the lace too. I actually like the lace fit better EXCEPT the heel in the lace version jut doesn't work for me. Even though they are supposedly identical, they aren't and it was a deal breaker for me or of would have bought them over the VCS.
Smelly and popular with Brits
Familiarity:

I've put it through the wringer

Fit:

True to size
This was my first high-end shoe. It hurt like a mother for a while but softened up after a few tender caresses. We had a lovely month together before I noticed that these things smelled AWFUL. I've never had a shoe do that before, or since. I'm mostly a no-liner kind of guy, so maybe that's why.



The British seem to love these guys, which is funny to me because they're made an hour away from me.



Now, on to the shoe.

Rubber's great. Sticky, but not too fast wearing.

It's aggressive without being extremely down-turned, which makes it great for steep sport and bouldering, although it shines best on dime-edge face climbing.

The fit is REALLY weird. My foot is somehow both pinched uncomfortably into the heel while still having enough room to store a headlamp in the heel cup. I don't get it. It's a problem with this particular last. The blancos and verdes are the same in this way.

That toe-profile tho! It fits into dimples, dishes, pods, pockets, and splitter cracks like a key into a lock. If you do a lot of splitter crack, this might be a good option. Especially if you don't mind your car smelling like feet.



The velcro is fast, but delicate. Enough contact where the small strap and the metal buckle thingy meet, and you'll have a blown shoe. Crack and off-width climbers beware.



Weird fit, bad smells, cool aesthetics, decent closure system, decent durability, and a sick toe profile make this a top-pick if this were twenty years ago. Not worth the $$$, get lace miuras.
Sizing has changed for the Anasazi
Familiarity:

I returned this product before using it

Fit:

Runs large
I answered my own question. Well I bought a new pair, same size 10 that my last 2 pairs have been.

The shoe is roomier in the toe box and puts little tension on the heel. Which I'm not a fan of.

So even though I'm tightening the shoe to the point I can almost step on the velcro, I can pull the shoe off by the heel.



So be warned if you're buying your "old trusty anasazi" You will need to try on the new ones and either downsize a half or get the LV version.

For reference, I wear FiveTen bike shoes in a 10.5, the Chase in 11. The Arrowhead in 10.5. Anasazi VCS (old version) size 10.

Sportiva Mythos 42, sportiva, scarpa approach shoes in 43.5.



Not stoked that I couldn't find any information about this and ended up buying a new pair. (online, so yes its my own fault)

So off to the big city to try on some shoes!!!
Fantastic all round shoe
Familiarity:

I've put it through the wringer

Fit:

True to size
These were my first climbing shoe, and boy am I happy I didn't skimp out and buy a cheap pair. These are extremely comfortable shoes but they don't sacrifice performance for comfort. They don't stretch much, so you can size them in the shop and go with what feels best. The sole is extremely sticky and maintains stiffness. I have had these for over a year of hard use and are still in almost perfect condition. I would highly recommend this shoe!
Industry Standard
Familiarity:

I've put it through the wringer

Fit:

Runs large
This is my second pair of the Anasazi VCS. I found the fit in the new model to be slightly wider than last years, but they still fit well. You will probably want to size them 1/2 - 1 full size smaller than your street shoe to really take advantage of the amazing edging that this shoe provides. As others have mentioned they don't stretch. Rubber takes some time to break in so don't judge it until after a dozen days. It becomes quite sticky and maintains its stiffness. Less precise than Miura, but better smearing/more versatile and velcro is key for easy on/off gym/sport. Was a tough decision between the two shoes, probably can't go wrong.
This shoe fits like a glove that's made for your feet. I couldn't be happier. It hasn't stretched too much and I hope it doesn't stretch any more. I can basically wear it all day but still perform.
Comfortable Shoe
Familiarity:

I've put it through the wringer
Shoe fits great and i can leave it on all day, great for multipitch climbs. Very little stretch during break in but then again i expected this. Durable shoe, use it several times a week for Bouldering/Sport/TR.



Looked at a bunch of different shoes before choosing the Anasazi but i'm glad i did, love this shoe.
Durable and versatile
Familiarity:

I've put it through the wringer

Fit:

True to size
I've had these over a year, just got them resoled. I wear a 9/9.5 street and got the Anasazi in 8.5. They don't stretch, I got them half a size too small and boy did I regret it (I did all the tricks - hot water, wet newspaper, even went to a cobbler to stretch them). Really in the end it was about six months of inner wear that made them fit, not because they loosened up. Get them in your street size, you have been warned...



Having said that, they are fantastic shoes. I boulder and route climb in them. Great edges to the toe, heel works well for me, and they don't stink after repeated wear. I've washed them a few times over the last year, but really because they get dirty and I don't use detergent. The loops, velcro, suede material, the inner...all bulletproof. There's a reason why this shoe design has been around for so many years!
foot is 9.5 inches, got these in 8.0
Gender:

Male

Familiarity:

I've put it through the wringer
I generally wear tiny uncomfortable shoes when I boulder, but I got my "comfy" size in the Anasazi's for outdoor leading and general bouldering days when my feet have swelled up and I can't fit into my performance shoes anymore. My foot is 9.5 inches long, and I got these in 8.0. I have about a half inch or so of play in the toes when i'm crimping them, so I could have sized down another half size with ease, but this is what I got them for.



The Onyx rubber is incredibly sticky and durable and these have quickly become a shoe I go to day after day just for the sheer comfort, performance, and durability of them. The support is there for micro edging and they smear like a dream too.



The heel cup takes some time to break in, but once they do (i don't have a large heel) they hook like a dream with minimal deadspots. They suction well enough to my feet so i'd say 9 times out of 10 I don't even close the velcro on them. Can send and send in comfort and style. Get a pair. Get two! Get them now!
I tried on these a couple of days ago. ...
I tried on these a couple of days ago. 9.5 felt perfect, but the heel cup didn't feel super firm. 9 was painfully tight and great in the heel. If I purchased the 9 could I expect these to stretch a full half size?
I've had these for about 6 months and they've stretched a tiny bit but I doubt they would go up a half size. I have the same thing with the heel cup being a little loose when I put them on but it's never bothered me while climbing (even when heel hooking). Personally I would go with the 9.5's or find a shoe that fit's better. In my experience, stretching out synthetic shoes begins and ends in tears.



For me though, I will resole these until they fall apart and then buy another pair. They're exactly what I want in a sport shoe.



EDIT: David Graham below says: "when you try them on for the first time, fit them snug then take a step or two and feel heel get set back into the cup to lock the shoe into place, wonderful design!"
Best Answer
These don't stretch much. After 2 years they're ready for a resole but my toes still barely curl as the day I got them. If anything they conform to your foot. Same as nbwp, my heel is slightly loose but never been a problem.
The heel cup in these particular shoes are a little loose in my opinion. I wouldn't go any lower in size, simply because these things don't stretch and I don't think it would help the heel cup situation either. These are great shoes though. Had them for a couple years and they never failed to get me up a wall.
you might want to try the la sportiva muira lace. I had the same sizing issues as you did with these, but the muiras are leather so the stretch out to fit your foot and the heel cup is a much better design for my feet at least.
Has anyone used the new version of the...
Has anyone used the new version of the shoe? Can you compare it to the old ones.

I've heard they had widened the toe box for the Fall 13 version,
I answered my own question.