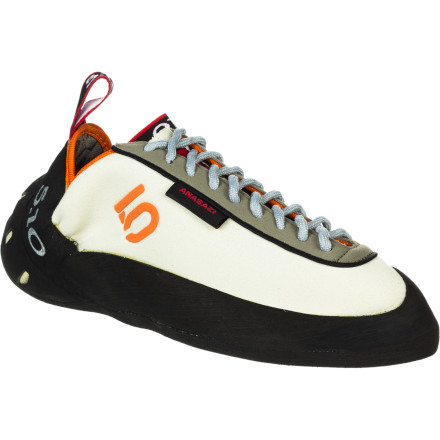 Detail Images

Community Images
Not satisfied with the already-legendary performance of the original Anasazi Lace-Up, Five Ten introduced the Anasazi V2 Climbing Shoe with a new fit and features for improved performance. The Five Ten Anasazi V2 Lace-Up Climbing Shoe edges so well that dime edges feel like sidewalks, so pull on a pair and send your ultra-technical project.
Full-lace design allows a precision fit for ultra-technical pitches
Legendary Stealth C4 rubber soles provide friction on the worst holds
Synthetic lined uppers keep stretch to the absolute minimum
Awesome Shoe
Familiarity:

I've put it through the wringer

Fit:

True to size
This is a great shoe. I've been using them fairly regularly for over a year now and they're showing almost no signs of wear. On top of that, they still edge amazingly well. The rubber has gotten just a little bit softer, but it hasn't affected performance at all. I bought my street shoe size and they're comfortable enough that I can wear them all day without issues.
My size is 10. Do you advise on getting...
My size is 10. Do you advise on getting one size smaller? Is it better? like a 9.5?
Best Answer
I wear a 7 in women's, and I wear a 6 in my climbing shoes. Any new pair you get are going to stretch out a bunch, so I would personally go down an entire size. However, you may want to go try on a pair somewhere and see how they feel.
the sizing on these is kind of weird.. typically I size down between a full size and a size and a half (7/7.5 street shoe, 5.5/37.5 in sportivas) BUT for these, I only sized down a half size.... A full size was far too narrow, and unfortunately, with the half size, the heel felt kind of "baggy..." buying climbing shoes online is tougher than flashing V5.... good luck
These guys show the product well but don't really talk about the downsides, it's more like an advertisement.
Awesome
Familiarity:

I've put it through the wringer

Fit:

True to size
Love 'em, love 'em, love 'em. I use these shoes for everything. indoor, outdoor sport, and bouldering. They really excel outdoors on slab climbs. You can really stand up on virtually nothing. Edging is superb and smearing is bomb with these shoes. They're not the best for really small pocket foot holds but they still do the job. I wear 8-8.5 street shoes and i got these in 7.5. These are the second pair of shoes I've ever bought and i'm sticking with these 'cause they stuck on me.
Great all-around shoe. Very versatile.
Familiarity:

I've put it through the wringer

Fit:

True to size
I am a committed 5.10 customer. I really like the Anasazi verdes, and I have had several pairs. When I saw these on sale I thought it was worth a shot. The shoe feels and climbs almost identical to the verde. They have a different rubber, but to be honest it feels the same. I have used them on hard steep limestone routes in American Fork Canyon, as well as long trad routes on granite in Little Cottonwood and Lone Peak, and they work great for everything. Just have to pop the heel off during belays to give my foot a rest because I size them snug enough to use for sport as well as trad. I wear a street shoe size 9, and got these in 8.5. Very happy with the fit.

They are great edging shoes, and the heel is comfortable and snug for the occasional heel hook.

I definitely recommend these shoes!
i am getting some new climbing shoes for...
i am getting some new climbing shoes for the indoor climbing gym and outside climbing, would this shoes be a good choice?
Best Answer
This shoes would be a good shoe if you are looking for a good comfortable fitting do-everything shoe. If your looking for a good performance shoe I would go with the anasazi vcs which will give you the ability to take them on and off much easier. You will need to take them off and on regularly because your feet will hurt.....BADLY!
I'd say great for anything that's not overhanging slab...But hey still might do pretty well on that. I have these shoes in a 9 and the verdes in a 8.5, I would say the sizing is identical on the two, the v2's feel a 1/2 size larger. I wear an 11 street shoe, Have long flowy brown hair, and enjoy a cold beer on a warm evening.
How does this shoe size compared to the...
How does this shoe size compared to the "Dragon" lace up? I was in a 10.5 in the dragon and the toe box ripped away from the edge of the shoe, a manufacturer defect according to 5.10s warranty department. However, they are letting me replace the shoe with something else and I think this will be my choice for technical sport climbs but I need to know a little more about sizing before I order, as ZERO stores in town carry the shoe. Thank for your help everyone-climb safe!
Best Answer
This shoe is more geared towards a relatively comfortable do-everything shoe where as the dragons are more intended for performance . If you size these way down theyre great performance shoes as well but lack that aggressive downturn which the dragon provides.
Does the anasazi V2 have the same fit as...
Does the anasazi V2 have the same fit as their moccasin version? Thanks
Paul, I think it would vary slightly because you can cinch the lace ups a little more.
These are synthetic, while the mocs are unlined leather. I'd go a half or full size larger with these than the mocs.
How I love you so Five Ten Anasazi! I own you in a 10 and its pretty true to size. If I had more money I would buy you again and a third time in a 10.5 for trad climbing. <3 Best all around shoe that edges so good its almost cheating.
Is the stealth C4 rubber better than the...
Is the stealth C4 rubber better than the stealth onyx rubber?
Five Ten says Onyx is the new standard. I think rubber choice is subjective.
Pros: Good edging, good smearing
Cons: Heel cup shape
Memo: Sole (Stealth C4) feels somewhat softer than their Onyxx rubber used for Anasazi Velcro version. I like it because C4 feels more gripping than Onyxx. But you'll decide that for yourself.
Heel cup leaves some space in back. It could be just me.
Overall, this is a wonderful pair of shoes.
I am not gonna go into a lengthy review of this shoe and mostly because there is no need...

IF YOU CLIMB IN SQUAMISH YOU NEED THIS SHOE
Okey right out of the box they feel pretty stiff and a little baggy in the heel but I think that a half size smaller would been painful, I have this in 9 1/2 US. The sizing is about a half size smaller than the green ones and one and a half size smaller than the miuras. In Miuras I'm 41 EU, in Anasazi verdes I'm 9 US and in street an hiking shoes I'm 9 1/2.
I can't speak to longevity, because I've only worn these a few times so far. These are perfect edging shoes. Great for those tiny nubs, edges and pockets. I haven't used them in cracks yet, but they seem like they'r probably do pretty well. The rubber is as sticky as the Five Ten rubber is rumored to be. The only complaint I have is the fit. It's "interesting" The toe box seems like it's designed for a more loose fit, not a lot of room for your toes to curl up, maybe I have longer toes than usual? But to keep the heel from being super baggy you have to size these so that your toes curl a bit, not a lot, but some and it feels kind of wrong. All that aside, it's something I'll deal with because it's not that bad. I would buy these shoes again in a minute. I wear a size 11.5 street shoe and I went with an 11 in this shoe for the fit that I'm happy with.
I just got a pair of the blancos in a size...
I just got a pair of the blancos in a size 10, which is half a size smaller than my street shoes. The shoe fits my right foot like a dream, but my slightly bigger left foot is much tighter - almost too uncomfortable.

Does anyone know if these shoes will stretch any? Or should I go half a size larger? I know it's synthetic, but synthetic shoes sometimes stretch too...
Hey Victor,

You're right, synthetic shoes will stretch a little....probably about 1/4 a size. If the right foot fits perfectly now and the left is too tight, I'd recommend sticking with this current pair. (Fair warning, I usually boulder and wear my shoes so tight it hurts).

If the left is just too tight, you can sometimes buy a different size for your left foot and right foot (dealers will usually charge a few more bucks, but it's worth it to get a good fit). Happy climbing!
Cutting Edgehttp://content.backcountry.com/images/bcs/buttons/add_review.gif
If I'm going to be micro edging for my life, these are my shoes of choice, and once they are broken in a bit, they really strike the perfect balance between smearability and edgineering. Go to europe for a sport climbing trip, and you'll see these things all over the place!
Greate edging and nice smearing
Greate edging and nice smearing (for such stiff and supportive shoes), thanks to C4 (it's truly more stiky then Onixx)