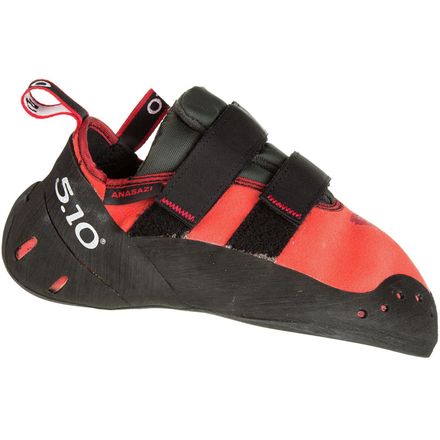 Detail Images

Community Images
Description
You'll be glad it's in your quiver.
Whether you're looking to add an edge-crushing tool to your shoe selection or simply need a quiver-of-one shoe that you can count on in nearly any vertical predicament, strap on the Five Ten Arrowhead Climbing Shoe. Built on an Anasazi G4 last, this moderately downturned shoe gives you all the performance you'd expect without the toe-crushing pain. Not to mention, the Stealth Onyxx rubber eats dime edges for breakfast.

Durable Cowdura uppers provide next-to-skin comfort and a glove-like fit
Dual hook-and-loop straps provide a secure closure and make for easy on and off
Slightly downturned profile shape allows the shoes to perform on everything from steep boulder problems to slabby test pieces
4G Anasazi last provides high performance without painful pinching
Medium-stiff Anasazi midsoles provide powerful edging performance with good sensitivity
Stealth Onyxx rubber is formulated slightly harder than other stealth formulas for precision edging and high friction
I currently wear us6/eu38 for anasazi vcs and it fits comfortably tight. i do alot of sport climbing mostly vertical, sometimes with moderate steepness, seldom overhangs. would this shoe be good? and is the sizing the same as the anasazi vcs?
Hey Jon,



If you're looking for a more downturned shoe than the Anasazi, I'd give these guys a go. Will be great for sport routes. I'd try a 6.5; if it doesn't fit let me know and I can set up a return/exchange.



Ben
Good shoe.
Familiarity:

I've used it several times

Fit:

Runs small
My arches fell some time ago and shoes with an aggressive downturn really hurt my feet and I have a hard time keeping my heel inside. But this shoe is different, it is like this shoe was designed for me. With a moderate down turn I am able to have that nice snug fit that a person wants, but with out any of the unnecessary pain and without worry of my heel slipping out. It does lack some of the stiffness that you would find in a more aggressive shoe, but all in all this is a nice shoe especially if you are just getting into the sport..
I am currently climbing 5 10 rogues and I love them but I now want to move up to a more aggressive shoe. I am deciding between the arrowheads and the blackwings. I've heard they are both really great shoes but I am wondering what would be better for me. I train at my local bouldering gym and climb sport and boulder the outdoors. I currently have a size 9 rogues. what size would fit me the best for both?



Ben
I'd say go and try on 9.5s. Arrowheads are great as an all-round shoe (they can handle slab without destroying your big toe). Blackwings are pretty specific to bouldering steep to overhanging routes.

Also I vastly prefer any other rubber than Onyx. Stuff feels pretty glassy on the polished sandstone I am climbing on. Volcanic sharp stuff takes chunks out of it. Never had a similar issue with C4 or xsgrip2. Arrowheads are my shoe of choice for hard stuff though. Get them resoled in HF and have the best of both worlds?
My shoe of choice
Familiarity:

I've put it through the wringer

Fit:

True to size
I love to boulder and sport climb and in my opinion the Arrowhead is by far the best overall shoe that I've worn. The heel doesn't slip out like other shoes that I've owned and the rubber is super grippy. I have a pair of 5.10 Rogues that I use for longer sport days but when it's time to really send something I rely on the Arrowheads. When my shoes start to get used and stinky I just toss them in the washer and they come out looking like new. They also don't leave your feet stained in the color of the shoe after a long day of climbing either, unlike 5.10's other leather shoes (Those damn Rogues give me the smurf foot every time).
Odd sizing but great shoe!
Familiarity:

I've put it through the wringer

Fit:

Runs small
I went from a La Sportiva where I had to size down from a 43.5 to a 42.0 to this 5.10 where I had to SIZE UP from ym 10 street shoe to a 10.5 in the Arrowhead... and I still felt it was a bit small. After some break in period, Im happy with the 10.5 and love the shoe overall. The rubber is extremely sticky , the shoe is very comfortable with no hot spots caused by odd seams or anything of that sort, and the velcro closure makes it easy on and off. The shoe is built off the tried and true anazasi last but with a bit more downturn. I use it mostly as a gym shoe and I couldnt be happier.
Great, Precise Shoe When Broken In
Familiarity:

I've put it through the wringer

Fit:

True to size
Really like these shoes, precise and sensitive on small edges. Always felt super confident in the sticky rubber. I've only climbed outdoors with them, so don't know how they pull on plastic but they kick ass on granite. It took a while to break them in (sized them the same as my Anasazi VCS, 42) with my wide feet. The heel is a bit hard to pull on, but never them slip once I got them on. Wore through the toe rubber in about a year, which is on par for my climbing shoes given the nature of the rock here. Definitely planning to get them resoled and start pulling hard with them again.



Also have the Sportiva Futura (Size 40.5), which has what is essentially a suction cup for a heel, so I would go with that if I planned to be heel hooking all day
Good shoe but...
Gender:

Male

Familiarity:

I've put it through the wringer

Fit:

Runs small
These were my first pair of 5.10's after owning several pairs of sportivas and evolv. I got these because of the supposed breath-ability of the Cowdura uppers (which sounds really appealing when climbing in Texas summer heat) and I really didn't want to get a pair of Soulutions due to everyone and their mom wearing them. I've had 'em for about 3months now and they're a pretty good shoe. I use them for bouldering and sport climbing both indoor and outdoors. The sole is a little more flexible than I am used to but that makes them great toeing into pockets and the extra sensitivity is kinda nice.



I do have one big issue with them though. There is a large amount of dead space in heel cup and not because I sized them too small. I wear 10- 10 1/2 street shoe and I bought these in size 10. I can barely put these on at first but after the break in period all it takes now is a quick warm up and they fit nice and snug. But with all my toes jammed up in the toe as far as possible the heel cup is still really mushy which makes heel hooking on anything smaller than a mini ledge near impossible. Which really sucks because I love heel hooking whenever I get a chance. I really wanted to like these shoes but due to the really mushy heel cup these will definitely be my last pair of arrowheads.
Great Shoe
Familiarity:

I've put it through the wringer

Fit:

Runs small
I've had these for about a year now and they're still holding up pretty well. The soles are still pretty much in tact and aside from some loss of rigidity, they haven't really broken down at all. They run a little small though, so get at least a half size up.
Any recommendations on size? I currently...
Any recommendations on size? I currently have the Anasazi VCS, size 10.5 which fit great.
I would stick with the same size in the Arrowheads. This is pretty much just a more aggressive version of the Anasazi.
Great shoe but doesn't seem to last long
Familiarity:

I've put it through the wringer

Fit:

Runs small
I used this shoe for a solid 3 months and the sole nearly wore through on the toes and balls of my feet. Mostly gym climbing so the wear was higher then if I had climbed outside. The edges were gone, and the sole was very flexible by the time I decided to buy new shoes. I really love the shoe for over hung stuff but the fit is a little small. I wear a 10.5 street shoe and bought that size thinking they might stretch a bit and that would allow for a better fit. They didn't. Once you had warmed up the rubber and the outsole they fit better, but when you first put them on when you get to the gym they hurt. If you buy it buy a size up. Otherwise they are great shoes. I plan on getting them resoled I liked them that much.
Is the Five Ten Anasazi Arrowhead made for...
Is the Five Ten Anasazi Arrowhead made for wide feet?
Most people I have talked to say this shoe fits very narrow and they would not recommend it to people with wide feet. The 5.10 galileo on the other hand is another velcro shoe that fits wide feet very well.

http://www.backcountry.com/five-ten-galileo-climbing-shoe-2009?rr=t
Great all around shoe
Gender:

Male

Familiarity:

I've put it through the wringer

Fit:

Runs small
I had the older version of these before and recently bought the newer version with the updated Stealth rubber. They fit pretty much the same as the older version, which is great. I've used these shoes for everything from bouldering to multi-pitch sport routes. The heal cup fits really well and the slightly downturned toe helps out on steeper routes. The only downside is that the fingerloops are way too small for my fingers, so they can be kind of a hastle to take on and off. PS - These run smaller than most Five Ten's. I wear a size 10.5 in Mocassyms and an 11.5 in these.